Why everyone's talking about vaping
Trump administration threatens to ban flavoured e-cigarettes after six deaths are linked to them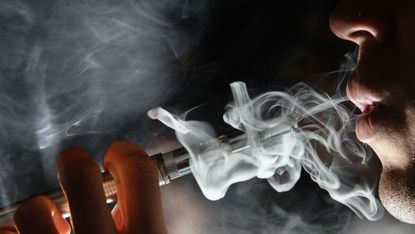 (Image credit: Dan Kitwood/Getty Images)
Donald Trump is considering plans to ban flavoured e-cigarette products after six people reportedly died from vaping-related illnesses.
The US president told a press conference this week that vaping was a "new problem", especially for children, and confirmed that the US Food and Drug Administration (FDA) would soon finalise a plan to take all non-tobacco flavours off the market.
The FDA stated at the same press conference that there have been "six deaths and 450 reported cases of lung illness tied to vaping across 33 states", the BBC reports. And this month Michigan became the first state to ban flavoured e-cigarettes.
Subscribe to The Week
Escape your echo chamber. Get the facts behind the news, plus analysis from multiple perspectives.
SUBSCRIBE & SAVE
Sign up for The Week's Free Newsletters
From our morning news briefing to a weekly Good News Newsletter, get the best of The Week delivered directly to your inbox.
From our morning news briefing to a weekly Good News Newsletter, get the best of The Week delivered directly to your inbox.
Experts are now warning people should avoid all e-cigarettes until the cause of the deaths and illnesses is clear.
Trump told reporters that his administration would implement strong rules to protect "innocent children", referencing his wife Melania and 13-year-old son Barron.
"We can't allow people to get sick and we can't have our youth be so affected," he said. "That's how the first lady got involved. She's got a son, together, that is a beautiful young man and she feels very, very strongly about it.
"She's seen it. We're both reading it, a lot of people are reading it. But people are dying with vaping so we're looking at it very, very closely."
However, despite the concerns that recent deaths have raised, analysts have noticed that the phenomenon appears to be affecting only the US, with Politico describing the issue as "Europe's missing 'vaping sickness'".
Here's why everyone's talking about vaping.
What happened?
In 2019 in the US, there have been 450 reported cases of lung illness tied to vaping, leading to six deaths.
But while hundreds of e-cigarette users in the country have fallen ill, investigators haven't yet identified the cause.
Sky News notes that "no single product, ingredient or additive has been identified, but many cases involve devices that use a substance [THC] found in cannabis".
CNN reports that the most recent death, which occurred in Kansas this week, involved a patient who was older than 50, had a history of underlying health issues and "was hospitalised with symptoms that progressed rapidly".
What have governments done?
FDA spokeswoman Stephanie Caccomo said on Tuesday that ending the issue was a "top priority" for the agency, adding: "At this time, more information is needed to better understand whether there's a relationship between any specific products or substances and the reported illnesses."
She added that in order to "combat the epidemic rise in youth use of e-cigarettes, we're aggressively enforcing the law and investing in campaigns to educate youth about the dangers of e-cigarette use".
In response to the news, the Trump administration is now finalising a ban on flavoured e-cigarettes, a continuation of a growing push by Democrats and Republicans in Congress to implement bans, age limits and other restrictions.
The Vapor Technology Association countered that there was "no indication" that vaping was to blame for recent cases of lung illness, adding that "flavoured vaping products have been shown to be one of the most effective smoking cessation tools", reports Politico.
"Barring flavours would be a public health travesty," the group said in a statement.
However, Europe and the UK in particular, where vaping is hugely popular, have not seen a similar health crisis in relation to vaping.
Politico reports that some health experts have cited tighter regulations on vaping products as a reason for the difference, and that a ban on e-cigarettes would drive people back to smoking tobacco.
"You're terrifying people who are benefiting from vaping by not smoking," said Clive Bates, a former chief of the UK charity Action on Smoking and Health (ASH).
However, the news site also notes that the difference in numbers between Europe and the US is due to inadequate reporting in the EU, where experts aren't "always able to say who's keeping track on this side of the Atlantic. An EU-wide reporting system is still in the works, and a broad analysis of e-cigarette safety is only due in the fall of 2020."
What next?
It depends on what investigators find, but the tide appears to be turning against vaping.
CNN reports that one study published in the Journal of the American College of Cardiology in May found that e-cigarette flavours can "damage the cells that line your blood vessels and perhaps your heart health down the line", while another study in August found that vaping "temporarily impacts blood vessel function in healthy people".
Stephen Amesbury, a pulmonologist and critical care physician at Advocate Condell Medical Centre in Illinois, said scientists are "very early in the stages of finding out what problems may come up from vaping" but added that "there really isn't enough vaping history to say what's going to happen 10, 20, 30 years down the road", CNN reports.
Under Trump's proposal, the crackdown on vaping would require makers of e-cigarette packets to seek approval from the FDA by May 2020.
The Times suggests that such a ban on flavours would "represent a huge blow to the vaping industry", including companies such as Juul, which has "grown into a multibillion-dollar business by selling mint, fruit and dessert-flavoured nicotine products".

Continue reading for free
We hope you're enjoying The Week's refreshingly open-minded journalism.
Subscribed to The Week? Register your account with the same email as your subscription.