What is neoliberalism?
Dominant political ideology of the late 20th century has fallen out of favour in recent times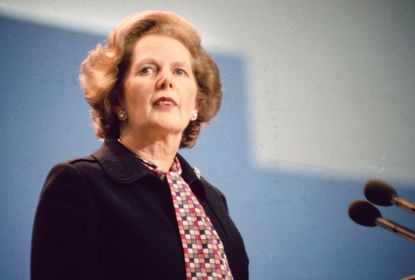 (Image credit: Hulton Archive)
Neoliberalism has become something of a dirty word over the past few years.
Labour leader Jeremy Corbyn said last month: "Neoliberalism is an ideology that ruins communities and ruins lives. It's an ideology that this Government is still absolutely wedded to as they continue to wreak havoc with their incessant cuts."
The term has "become a means of identifying a seemingly ubiquitous set of market-oriented policies as being largely responsible for a wide range of social, political, ecological and economic problems", explains the Handbook of Neoliberalism.
Subscribe to The Week
Escape your echo chamber. Get the facts behind the news, plus analysis from multiple perspectives.
SUBSCRIBE & SAVE
Sign up for The Week's Free Newsletters
From our morning news briefing to a weekly Good News Newsletter, get the best of The Week delivered directly to your inbox.
From our morning news briefing to a weekly Good News Newsletter, get the best of The Week delivered directly to your inbox.
However, the handbook argues, to view the term as merely a pejorative or "radical political slogan" is to "reduce its capacity as an analytic frame".
"If neoliberalism is to serve as a way of understanding the transformation of society over the last few decades then the concept is in need of unpacking," say the book's editors.
So what exactly is neoliberalism and why is it so controversial?
What is the history of the term?
Traditionally, neoliberalism refers to a system of economic and political thought that prioritises private ownership of infrastructure, deregulation of national economies and the extension of marketplace ideas to many domains of life, including education, healthcare and even personal relationships.
The term itself was coined at a meeting of intellectuals and state officials in Paris in 1938. Attendees included Friedrich von Hayek, an Austrian-British economist and philosopher, and Milton Friedman, an American economist, "who rejected government fiscal policy as a means of influencing the business cycle". The pair came to dominate political discussions in the 1970s and 1980s.
Broadly, neoliberalism "sees competition as the defining characteristic of human relations", says political writer and activist George Monbiot.
"It redefines citizens as consumers, whose democratic choices are best exercised by buying and selling, a process that rewards merit and punishes inefficiency," he says.
Neoliberalism maintains that "the market" delivers benefits that could never be achieved by planning, Monbiot adds.
How did it become popular?
Neoliberalism was taken up by political leaders including Margaret Thatcher in Britain, Ronald Reagan in the US and Deng Xiaoping in China. Indeed, many commentators argue that since the 1970s and 1980s, neoliberalism has been a dominant force in most nations and international institutions.
Neoliberal ideology and policies became increasingly influential during the following decades, as illustrated by the UK Labour Party's official abandonment in 1995 of its commitment to the "common ownership of the means of production".
The clearest sign of the new importance of neoliberalism, however, "was the emergence of libertarianism as a political force", says Encyclopedia Britannica. Those who follow the doctrine hold the value of liberty as a core principle.
The EU referendum result in the UK has been widely regarded as a "libertarian dream", a stance backed by Boris Johnson in his famous "independence day" speech in the run-up to the 2016 vote.
Why is it so controversial?
As ever, where you fall on the political spectrum tends to inform your view of neoliberalism.
For the Left, "neoliberalism often connotes a form of liberal politics that has embraced market-based solutions to social problems", says The New Republic magazine.
Although "the insights of Hayek and Friedman about the utility of markets – in particular the access to the socially dispersed knowledge embedded in them – are valuable", says The Independent's Ben Chu, "it's also true that a mentality that presents the extension of markets as the answer to every social question is a destructive pathology".
This "falsehood of 'free choice' demotivates and depoliticises", agrees Ruth Cain, senior lecturer in law at the University of Kent, in an article on The Conversation. In such a world, "depression, anxiety, narcissism are entirely logical responses", she writes.
Cain cites studies that have shown that "neoliberal societies make their citizens physically as well as mentally sick; the effect is magnified the more unequal the society and the more unprotected its citizens from free-market 'competitiveness'".
But others argue that neoliberal economic models are conventional, since they dictate that governments should keep their finances under control, property rights be protected, and that businesses should have space to make decisions without hindrance.
As the left-leaning economist Dani Rodrik has previously pointed out, there is no inherent problem with these principles - but they are not a one-size-fits-all solution, says Sky News's Ed Conway.
"Undoubtedly, following the fall of the Berlin Wall they were overzealously implemented and sometimes misapplied, with the encouragement of the IMF and World Bank (in what became known as the Washington Consensus). This is unfortunate, but hardly equals an ideology," Conway argues.
In fact, he adds, "since the 1960s we have shifted from a world where many of the economic institutions were far simpler, far more regulated and, frankly, more comprehensible, to one which is inherently more complex, chaotic and disconnected".
But it is "far easier to give the impression that your enemies are following a mysterious multisyllabic ideology than to admit that the problems we're facing are far more complex and intractable than that", Conway concludes.

Continue reading for free
We hope you're enjoying The Week's refreshingly open-minded journalism.
Subscribed to The Week? Register your account with the same email as your subscription.