If at first you don't secede: the rise and fall of Nicola Sturgeon
Scotland's first female and longest serving first minister announces resignation, saying 'it's not right to carry on'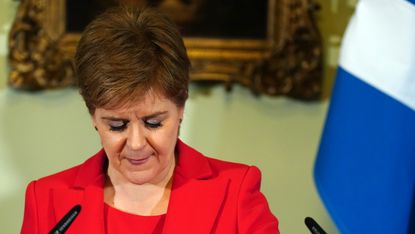 (Image credit: Jane Barlow/Pool/Getty Images)
Scotland's longest serving first minister, Nicola Sturgeon, has resigned after eight and a half years in the role.
Announcing what BBC Scotland's Philip Sim called "a bombshell which will send shockwaves through Scottish politics", Sturgeon told a hastily arranged press conference: "My decision comes from a place of duty and of love.
"Essentially I've been trying to answer two questions. Is carrying on right for me? And, more importantly, is me carrying on right for the country, for my party and for the independence cause I have devoted my life to? I've reached the difficult conclusion that it's not."
Subscribe to The Week
Escape your echo chamber. Get the facts behind the news, plus analysis from multiple perspectives.
SUBSCRIBE & SAVE
Sign up for The Week's Free Newsletters
From our morning news briefing to a weekly Good News Newsletter, get the best of The Week delivered directly to your inbox.
From our morning news briefing to a weekly Good News Newsletter, get the best of The Week delivered directly to your inbox.
Described as "the most formidable British politician of the last 15 years" by The Times's David Aaronovitch, Sturgeon "remains one of the most popular figures in the drive to separate Scotland from the United Kingdom", said Politico.
But she has had a rocky start to 2023 with troubles recently over her backing for gender law reform, the placement of Isla Bryson, a trans woman rapist, in a women's prison and her failure to deliver a promised second referendum on independence.
Her decision remains a shock, though, "because her government stands at a pivotal moment" in the pursuit of independence, Sim added, with a special conference next month being held to decide how it should move the issue on. With "no clear successors waiting in the wings", if Sturgeon isn't running the independence campaign, "it's not clear who will be placed to call the shots", said Sim.
Indeed, "it's hard to see how her departure can do anything but weaken the cause of independence in the short term", said Aaronovitch.
Who is Nicola Sturgeon?
Born in Irvine, Ayrshire, in 1970 and educated at the nearby Dreghorn primary school and Greenwood Academy, Nicola Sturgeon went on to graduate from the University of Glasgow with a law degree.
Her parents were working-class – her father was an electrician and her mother a dental nurse. The family wasn't political, Sturgeon told The Guardian in 2015, and she was an unremarkable child. "There was nothing in my childhood that said, 'She's going to be first minister of the country one day.'" Indeed, when she was younger, Sturgeon had considered becoming a children's author.
Nevertheless, her commitment to Scottish independence runs deep, earning her the title of "the most dangerous woman in Britain", according to the Daily Mail. She joined the Scottish National Party (SNP) at the age of 16 and has been campaigning ever since for Scotland to end its more than 300-year union with the rest of Britain.
She took over as SNP leader in November 2014 and was sworn in as first minister soon after. Her predecessor, Alex Salmond, had quit after the independence referendum two months previously, in which Scots voted to stay in the UK by 55.3% to 44.7%.
Sturgeon and Salmond had worked closely together at the heart of the first SNP administration at Holyrood, but their relationship later soured. The Scottish Government's "botched handling" of harassment complaints against the former first minister triggered their falling out, The Herald said.
A "talented campaigner and confident communicator", said The Times, the first minister "excelled at making life difficult for her opponents". While she has ruled effectively unopposed in Scotland for eight years, even her detractors "don't dispute that she was Scotland's, if not the UK's, champion campaigner", said the Financial Times's Lukanyo Mnyanda.
"No present-day party leader understood the significance of doorstep politics as early as she did," wrote Ian Jack for The Guardian in a profile in 2015. "And no other party leader was so persistent in the face of such frequent defeat".
From invincible to divisive
On the face of it, Sturgeon has been an electoral tour-de-force, guiding the SNP to wins in three general elections, two Holyrood ballots, two council contests and even a post-Brexit European Parliament poll. Even one SNP opponent admitted to Huff Post: "To be fair to Nicola, if I'd been first minister for 10 years and my party was still polling at 44%, I'd be feeling pretty invincible."
But "her critics undeniably have a point", one SNP source told The New Statesman. Until now, Sturgeon "has got away with blaming 'Westminster Tory austerity', but Scots are beginning to realise that austerity begins at home", said The Spectator's Iain Macwhirter. "Mismanagement of the Scottish economy, and the underperfoming tax base, cannot be blamed on Westminster," he wrote.
Where "once her judgement was impeccable", added The Times, now "she is making bad calls that undermine her authority and may be damaging her mission to win independence".
It was this point that Salmond, her former mentor, picked up on, accusing her of having "thrown away" years of work building public support for independence with "self-indulgent nonsense" on reforming gender laws.
Sturgeon "made two important statements" in her leaving speech, said ITV's political editor Robert Peston. That "she no longer has enough energy for the all-consuming fight, and she recognises she has perhaps become too divisive a figure," he tweeted.
Independence missteps
After Sturgeon announced the SNP would fight the next general election as a "de facto" referendum on independence, polling of more than 2,100 people by Lord Ashcroft found a large majority – including many sceptical SNP supporters – were not behind that move.
Writing in Holyrood magazine, Ashcroft said his polling showed that Sturgeon wasn't "immune to the laws of political gravity". He concluded: "Could it be that a party claiming to be uniquely in tune with Scottish people is losing touch?"
Brian Taylor, a former BBC Scotland political editor, told BBC Radio 5 Live: "I think [Sturgeon] is - to use a word Scots will know - I think she's scunnered - a combination of tired, fed up, seen it all, done it all." He added: "The strategy with the independence referendum is thwarted, it's been thwarted by the UK supreme court, it's been thwarted by the UK government. I think she's just had enough."
Inevitably thoughts will turn to Sturgeon's legacy, but that may only be defined by what happens next. "I believe I have led this country closer to independence, I believe we are in the final phase of that journey," she said in her resignation speech. "I believe that my successor, whoever he or she may be, will lead Scotland to independence."
But backing for independence has dropped from its recent 50-plus level: No is once again ahead (56 per cent to Yes's 44 per cent), "close to the 55-45 result of the 2014 referendum", said The New Statesman's Deerin.
"If this is truly a turning point for Scottish democracy," he added, then, "as Ernest Hemingway said of bankruptcy, it has happened gradually and suddenly".

Continue reading for free
We hope you're enjoying The Week's refreshingly open-minded journalism.
Subscribed to The Week? Register your account with the same email as your subscription.