Hey, liberals: Conservatives don't have to be moderate to be smart
Just look at Bobby Jindal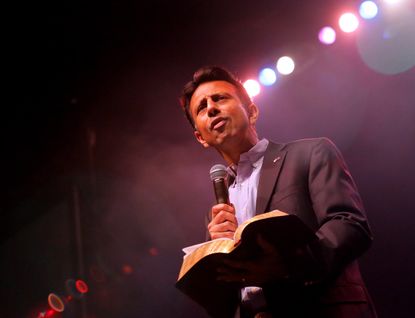 (Image credit: (AP Photo/Jonathan Bachman))
America's political scene is full of false dichotomies.
One of the most prevalent and egregious goes like this: There are only two kinds of Republicans: "moderates" and "conservatives." You either believe in opening the doors to immigration, centralized reforms to education, crony capitalism, and big-government entitlement spending nearly as robust as what President Obama wants, or you believe the Earth is flat, you want toddlers to have guns, you think we should round up illegal immigrants and ship them to Mordor, you want to repeal the income tax, and your health-care reform plan is "Walk it off."
Another false dichotomy embraced by the left: For a conservative to be smart, he has to be moderate. As I wrote on these pages last year:
Subscribe to The Week
Escape your echo chamber. Get the facts behind the news, plus analysis from multiple perspectives.
SUBSCRIBE & SAVE
Sign up for The Week's Free Newsletters
From our morning news briefing to a weekly Good News Newsletter, get the best of The Week delivered directly to your inbox.
From our morning news briefing to a weekly Good News Newsletter, get the best of The Week delivered directly to your inbox.
Nobody likes to peddle these false dichotomies more than the liberal media. And there's no better example of these false dichotomies than Louisiana Gov. Bobby Jindal.
A number of writers, now known as "reform conservatives," have been seeking to show that these dichotomies are false: That there is a middle ground between extremism and moderation, and that you can be smart at any point along that spectrum. In terms of our beliefs about what is good for America, reform conservatives are true deep-red movement conservatives. We just also believe that the standard-issue Republican playbook gives us outdated advice for reaching those conservative goals.
Precisely because conservative governance in areas such as tax bracket creep, welfare reform, and crime have been so successful, middle-class Americans now have other worries at the top of their minds: health care (and not just health-care costs, but pre-existing conditions and portability), education, job security, upward and downward mobility, and so on. Because the Republican Party doesn't care about these issues as much as the voters who decide elections do, the Republican Party is no longer seen as on the side of the middle class, as it was during the Reagan years or the Gingrich Revolution. What reform conservatives have been trying to do, then, is to take those middle-class concerns, take everlasting, true conservative goals and principles, and connect them through smart policy.
Because the political and media establishments are so trapped in their false dichotomies, reform conservatives have had a hard time. For example, some liberal pundits applauded the idea of "moderate conservatives" but expressed puzzlement as to why we weren't endorsing a big-government, socially moderate agenda, not understanding that "smart and creative" isn't synonymous with "moderate." Extremism in the pursuit of justice is no vice! We reform conservatives are actually fans of the Tea Party, precisely because we don't want any more of the "moderate" business as usual of crony capitalism and liberalism lite that Republican governance all too often ends up being. It's no coincidence that thus far it's Tea Party politicians, and not moderates, who have taken up key planks of our supposedly moderate agenda. We are not just fighting for an agenda, but also fighting to finally kill this destructive false dichotomy.
And that brings us back to Bobby Jindal. Everyone I've spoken to who has had serious discussions with Jindal attests to two things: his enormous intelligence, and the sincerity of his religious and conservative convictions.
That's why it's so strange to see him actually endorse the false dichotomy in a recent interview.
Jindal made waves awhile back by saying that the Republican Party should "stop being the stupid party" and come up with an agenda. He started a policy shop, America Next, to come up with such a 21st-century agenda. It has come out with some good ideas in areas such as education. (Jindal is right to hammer Jeb Bush about Common Core, a typical "moderate" GOP idea that thinks central planning is the way to fix our problems.)
Now, one item that was not so good in Jindal's portfolio was his health-care plan, which basically endorses every anti-Republican cliché: It would favor higher-income Americans more, and it would cause millions of people to lose their coverage. Given that there are much better conservative alternatives available, Jindal's plan was a silly idea on the merits. But in any case, it's an absolute political nonstarter.
And when Ramesh Ponnuru, a reform conservative writer, said so, Jindal went off on a bizarre tangent. The problem with people like us, Jindal said, is that we're just writing to gratify the liberal media elite. (Nope, that's moderates, not us.) And the problem with people like Ponnuru is that he can't imagine an Ivy League–educated man who's also a real conservative. (Ponnuru went to Princeton and wrote a book on abortion titled The Party of Death.)
Jindal is absolutely right that there's a stereotype that a smart conservative is a contradiction in terms. But by flailing around and acting dumb on this, he's lending credence to exactly the idea he wants to fight, which is that his true conservative positions are just panders for the rubes, and ultimately, not sincere.
One of Jindal's operatives makes the reasonable point that there are basically two "tracks" to the GOP nomination: Call it the Tea Party track and the Establishment track. Jindal has a key opportunity to travel on both tracks. But to do so, Jindal can't just be Ted Cruz lite.
Because of the dichotomy we've been talking about is false, Jindal can run to the right and run smart. I'd love to see him try it.

Continue reading for free
We hope you're enjoying The Week's refreshingly open-minded journalism.
Subscribed to The Week? Register your account with the same email as your subscription.