Jeb Bush and the amazing never-ending war machine
We're doomed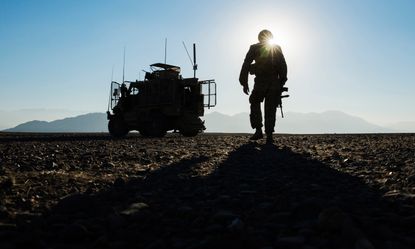 (Image credit: (REUTERS))
Sign up to our 10 Things You Need to Know Today newsletter
A free daily digest of the biggest news stories of the day - and the best features from our website
Thank you for signing up to TheWeek. You will receive a verification email shortly.
There was a problem. Please refresh the page and try again.
In William Gibson's recent book The Peripheral, a near-future United States is portrayed as having decayed to the point of developing-country status, with crumbling communities forced into drug dealing to stave off starvation. One implied reason for the decline is an endless series of wars sapping the nation's strength. One character adds them to the traditional list of life's inevitabilities: "there's death and taxes and foreign wars."
For a few years in the mid-2000s, when the sheer monstrosity of Bush's Iraq War was a major story every day, I thought maybe this time we would finally learn our lesson about the limits of American power. Vietnam didn't do it, but maybe Iraq would. It was the most purely stupid action in U.S. foreign policy history, and one of our clearest, most abject, and most humiliating defeats. We started a war of aggression against a ratty tinpot dictatorship, spent 10 years bleeding away our flower of youth and trillions of dollars, and still lost.
As Kevin Drum points out, we're now 0-4 for recent Middle East conflicts, having outright lost in Afghanistan and Iraq and radically destabilized Libya and Yemen. I would put the score at 0-5, to include our various proxy wars in Somalia. In the Middle East, large-scale aggressive use of U.S. military power has left nothing but failed states and galloping radicalism in its wake.
Subscribe to The Week
Escape your echo chamber. Get the facts behind the news, plus analysis from multiple perspectives.
SUBSCRIBE & SAVE
Sign up for The Week's Free Newsletters
From our morning news briefing to a weekly Good News Newsletter, get the best of The Week delivered directly to your inbox.
From our morning news briefing to a weekly Good News Newsletter, get the best of The Week delivered directly to your inbox.
But I think it's clear by now we as a polity haven't learned the limits of force, and may never will. Public opinion polls show that support for the use of ground troops against ISIS has increased from 39 percent in September to 57 percent last week.
Even 2016 presidential candidate Jeb Bush is unconcerned with appearing too cavalier with the use of force, despite the fact that a failed war destroyed his brother's presidency. Wednesday, when Hugh Hewitt asked Bush whether he would be "overly cautious about using force for fear of having a 'third Bush war' occur," he confidently proclaimed he would not: "I would have a duty to protect the United States...I wouldn't be conflicted by any legacy issues of my family," he said.
Of course, I would not assign all, or even most, of this blame on the public itself. I would rather put most of the blame on two places. First is the press, which on the whole has been utterly shameless in whipping up war fever. When I was on CNN last year a couple times as the token anti-war voice, the entire discussion was framed as if the last decade never happened. American force was presumed to be a vital, near-omnipotent tool, and the major discussion point was whether President Obama was using enough violence.
Jeb Bush illustrated this view later in his interview: "the simple fact is you start with the premise that America's role in the world is a force for good, not for bad things to happen." He claimed this would lessen the chance of military action. And though Bush is only invoking the national mythos, the truth is obviously the opposite. A childish see-no-evil insistence that America is always and everywhere doing good makes learning from any of our several ongoing catastrophes a priori impossible.
The second, probably more important factor, is the complex of institutions Mike Lofgren calls the Deep State. This comprises the president, various security bureaucracies, their many private-sector allies, and a small selection of the congressional leadership. With the abolition of mass conscript armies, making public opinion far less important, and the utter haplessness of Congress on foreign policy, these are the players who actually decide when and where American force will be used.
They aren't omnipotent, or even very competent, of course. And it's important to note that winning a ground war against ISIS would be a stiff task. As Kevin Drum notes, the largest city under their control, Mosul, is four times larger than Fallujah, which took almost a year of brutal house-to-house fighting to subdue back in 2004.
But starting a new war is a different story. There, the immense agenda-setting power of the Deep State, combined with assertions that American power is 100 percent good and noble thundering from media loudspeakers and classrooms everywhere, is what accounts for the change in polling. Even if public opinion matters, which it doesn't, it turns out to be trivially easy to whip the public into a war froth once or twice a decade.
So, here's how long America can evidently restrain itself from wading into a new likely-disastrous war: about 10 years. A new evil has somehow cropped up, which is definitely not related to anything we've done before, no sir, and so we've got to fight the evildoers. I see no end to this cycle. Likely as not, troops will be charging in again in 2016 or so, and again someplace else in the 2020s, and again and again until we suffer the traditional fate of empires: national bankruptcy and ruin.
Continue reading for free
We hope you're enjoying The Week's refreshingly open-minded journalism.
Subscribed to The Week? Register your account with the same email as your subscription.
Sign up to our 10 Things You Need to Know Today newsletter
A free daily digest of the biggest news stories of the day - and the best features from our website
Ryan Cooper is a national correspondent at TheWeek.com. His work has appeared in the Washington Monthly, The New Republic, and the Washington Post.