Why conservatives need an anti-poverty agenda
The first chapter of a five-part series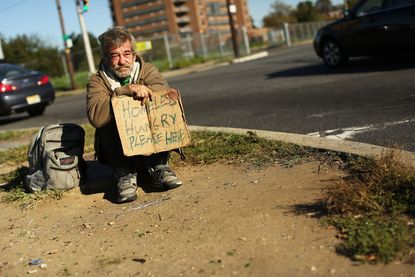 (Image credit: (Spencer Platt/Getty Images))
To some people (and not just liberals!), a conservative anti-poverty agenda sounds like an oxymoron. There are several reasons for this, some valid and some not.
The not-valid reason is the prevalent idea that conservatives don't care about the poor, period. This is one-half of a pithy exaggeration that's been dubbed Krauthammer's Law: "Conservatives think liberals are stupid. Liberals think conservatives are evil." The idea is that conservatives tend to think that liberals hold the views they do simply because they have an erroneous view of reality and of how to solve the problems they laudably care about. And liberals tend to think conservatives hold the views they do simply because they have different (and evil) moral perspectives.
In this view, a conservative anti-poverty agenda is an oxymoron simply because conservatives believe that people who are poor are poor because they deserve it, and so fighting poverty is wrong. This is, of course, a caricature, just as the liberal-insulting part of Krauthammer's Law is a caricature.
Subscribe to The Week
Escape your echo chamber. Get the facts behind the news, plus analysis from multiple perspectives.
SUBSCRIBE & SAVE
Sign up for The Week's Free Newsletters
From our morning news briefing to a weekly Good News Newsletter, get the best of The Week delivered directly to your inbox.
From our morning news briefing to a weekly Good News Newsletter, get the best of The Week delivered directly to your inbox.
Now, like many caricatures, there's a grain of truth here. The conservative writer Reihan Salam put it very well when he explained that most conservatives believe in "reap what you sow economics." The system that will make everyone better off is the system that lets the market work its magic and lets the chips fall where they may. And as a conservative, I have no shame in saying that "reap what you sow economics," while obviously not the be-all end-all of economic policy, is by and large a healthy instinct. But to say that this is the extent of conservative thought on the subject is misleading.
Conservatives do not oppose all social programs. What we do oppose is what you might call an entitlement mentality: the idea that social programs should be as broad and universal as possible. Conservatives oppose this for fiscal reasons (it's very expensive, and that creates a drag on the economy that makes everyone worse off), for practical reasons (the bigger the program, the bigger and more numerous the unintended consequences), and also for philosophical reasons (conservatives value self-reliance and personal autonomy). But aside from the fringes, conservatives typically support programs that are designed to help those who cannot help themselves, and that are designed to get people out of dependency, as opposed to keeping them there. "A hand up, not a hand out" may or may not be a good idea, but it is certainly not a recipe for the night watchman state. Similarly with Reagan's famous phrase from his first inaugural, "A government that rides with us, not on our backs." This means anti-poverty programs that are narrowly tailored but not non-existent.
For example, the conservative prescription for Medicaid is to allow states to experiment with the money spent on the program. This may or may not be a good idea, but it is still an idea that assumes at its core that the poorest among us should get some help from the government when it comes to dealing with healthcare.
You can see a good example of this philosophy in the Bush administration's widely undernoticed but phenomenally successful anti-homelessness initiative. This initiative was based on a simple insight: There are basically two kinds of homelessness. Some people are periodically homeless but still have support networks — they might be living on a friend's couch, or they might sleep in their car when they're between apartments — and will tend to escape homelessness on their own. And some people are chronically homeless — they really do live their lives on the streets, and they are trapped, often because of mental illness. Anti-homelessness programs tended to address the two indifferently, but they actually have very different problems. The Bush initiative targeted only the chronically homeless, and often very actively. One program would put up homeless people in their own apartment and pay their rent. This is an example of public policy that conservatives actually like. Yes, the program might be activist, and yes, it might spend more money, at least in the short run, but it is a narrowly targeted program that tackles a specific problem in a specific way that is measurable.
Now, as I said, there are legitimately good reasons why critics might say a conservative anti-poverty agenda is an oxymoron. Because while conservatives agree fighting poverty is important, they often don't think we should address it directly.
I'm among those conservatives who believe that the best way to fight poverty is (mostly) through an indirect approach. If deregulation creates new innovative industries, which then create millions of jobs directly and an order of magnitude more indirectly, puts more purchasing power in the hands of all Americans (directly in the form of cheaper goods and services and indirectly in the form of innovative goods and services that would not otherwise be available), that is a successful anti-poverty initiative. Over the long run, the computer and internet revolution, in countless ways, will probably become the most successful anti-poverty initiative of its century.
Or consider occupational licensing regulations, which make it harder and more expensive for poor people to find jobs, particularly the kind of jobs that would allow them to rise to middle-class status. Conservatives should push for the federal government to provide incentives to states to scrap those regulations, and also build grassroots efforts at the state level to have those regulations repealed. Just because it's not called an "anti-poverty initiative" and doesn't come with signing ceremonies with "anti-poverty" on the banner doesn't make the anti-poverty effects any less real (and that is what should concern us — right?).
But I admit, these indirect efforts are not enough. They are not enough because, as countless academics have pointed out, and as the Bush anti-homelessness initiative showed, poverty is a deeply entrenched phenomenon that requires some specific responses.
Christian conservatives, in particular, ought to be attuned to this. In the Gospels, Jesus doesn't just say we should care about the poor. He weaves this concern into a broader social critique of all human institutions, always infected by sin. The Gospel's critique of human social institutions culminates in the Cross: The God of Truth and Love visited his people, and in response all the lawful and proper authorities of the world did not just reject him; they put him to death. "The poor you will always have with you": Because this world is marred by sin, poverty is never just a historical accident, but also the result of corrupt systems and power ecologies, and Christians who are serious about fighting poverty — as the Gospel demands of us — cannot be satisfied with good economic policy and private generosity, as important as those are. They also need to fight in the public square for good anti-poverty policies.
And it is ideas for good anti-poverty policies that I hope to sketch out in several columns this week. Stay tuned.
Read chapter two of this five-part series here: A conservative anti-poverty agenda: Strengthening the family.

Continue reading for free
We hope you're enjoying The Week's refreshingly open-minded journalism.
Subscribed to The Week? Register your account with the same email as your subscription.