Why 2016 marks the death of the political campaign reporter
The candidates no longer need the media. And the media knows it.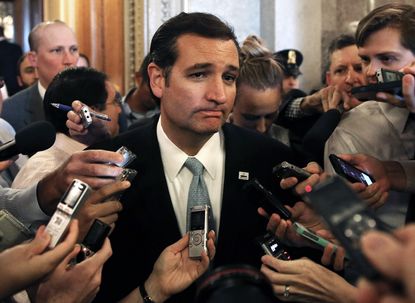 (Image credit: Mark Wilson/Getty Images)
The 2016 election may be the first one in which the political press is totally sidelined. Politicians now have a professional grasp of social media — Barack Obama just got his third Twitter account — and they don't need media middlemen to communicate with voters.
What's more, no journalist has the kind of celebrity and cultural credibility (as Tim Russert used to have) that once made interviews mandatory for aspiring presidents.
Naturally enough, this has sent said reporters into a frenzy. Philip Bump at The Washington Post set up a clock displaying the minutes since Hillary Clinton last answered a question from the press (it was up to 40,150 before she finally took a few on Tuesday).
Subscribe to The Week
Escape your echo chamber. Get the facts behind the news, plus analysis from multiple perspectives.
SUBSCRIBE & SAVE
Sign up for The Week's Free Newsletters
From our morning news briefing to a weekly Good News Newsletter, get the best of The Week delivered directly to your inbox.
From our morning news briefing to a weekly Good News Newsletter, get the best of The Week delivered directly to your inbox.
While I'm all for candidates answering tough questions, I've got a better idea. Journalists ought to simply skip the whole campaign circus, and forget about access journalism when it comes to the presidential race. It's a waste of time and money.
As Jay Rosen points out, the carping is pretty rich coming from elite political journalists, most of whom pride themselves on being cynical, ultra-realistic, savvy interpreters of how politics works. (Setting aside the fact that the great majority of such people merely ape the elite conventional wisdom, and are often badly mistaken as to political mechanics.) The members of what Rosen calls the "Church of the Savvy" are getting a big taste of their own cynical medicine, and they're retreating into the kind of righteous objections about democratic integrity that they scorned for decades.
But it turns out that our political system regards journalism in the same way it regards laws against bribing members of Congress: as a minor inconvenience to be ignored wherever possible. Which these days means most of the time.
The other reason I have little sympathy for campaign reporters is that it's far from clear that they were actually providing anything of value even back when candidates were answering their questions. Instead of concentrating on what has to be the most important question — "how would you govern as president?" — they typically pose inane questions about process, the horse race, or gaffes. Even Tim Russert mostly aimed for pointless gotchas.
And even when the questions are good, candidates rarely answer them! That's why the best examples of campaign journalism have usually been longform pieces written afterwards — see Hunter S. Thompson, David Foster Wallace, or Michael Hastings.
The gaffe-centric media coverage has only gotten worse in the age of social media, where the slightest misstep or embarrassing picture can lead to a days-long internet firestorm.
So what is to be done? First, media organizations can skip sending reporters to follow the candidates and watch them deliver the same stump speech 900 times. Media bigwigs probably think having a slew of reporters scurrying after Clinton's convoy is responsible coverage, but it simply beggars belief that these folks (many of whom are talented reporters) are actually providing any value to their viewers or readers. Let the wire services handle the "Clinton said nothing today, again" beat.
With today's hyper buttoned-down candidates, it's likely journalists could write more interesting and substantive articles using public communications, polling, policy documents, and so forth. Here's a solid look at Clinton's record, by Sam Stein and Amanda Terkel, done just this way. Even interviews can happen over the phone, or they could be demanded when there's a real story found through non-campaign trail reporting, like the seemingly endless series of pieces on weird Clinton advisers.
And if you must do campaign coverage, send someone over to Bernie Sanders, probably the only candidate who will answer most policy questions straightforwardly.
All this, however, would require a shift in mindset among the political press. The traditional focus on getting access to candidates and deeming what is "politically realistic" would take a backseat to reporting on the state of the parties (which is where the most important political wrangling now happens) and policy analysis.
But one thing is clear: When it comes to access journalism and the presidential race, we've long since entered an era of diminishing returns. The Church of the Savvy is going to have to learn some new hymns.

Continue reading for free
We hope you're enjoying The Week's refreshingly open-minded journalism.
Subscribed to The Week? Register your account with the same email as your subscription.