Why social conservatives are freaking out over Caitlyn Jenner
The newest cover model for Vanity Fair represents a chasm in conservative and liberal worldviews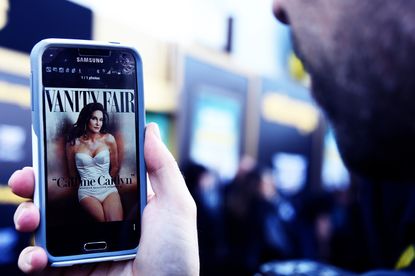 It's been a brutal few months for social conservatives.
When Indiana and Arkansas passed laws to protect the rights of religious traditionalists, a furious backlash ensued, with the media, business leaders, and politicians from both parties uniting in outrage against opponents of same-sex marriage. A month later, the Supreme Court heard arguments in a case that everyone presumes will end with a late June decision declaring same-sex marriage a constitutionally protected right. Then, last week, came a Gallup poll showing sharp rises over the past 14 years in the acceptance of gay and lesbian relations, sex outside of marriage, out-of-wedlock child-rearing, and divorce.
And finally, this week, there was sexy Caitlyn Jenner splashed across the cover of Vanity Fair, dispelling any lingering doubts that transgenderism will be the next front in a culture war that has seen the religious right move from a position of strength under George W. Bush to one of demoralization and retreat less than a decade later.
Subscribe to The Week
Escape your echo chamber. Get the facts behind the news, plus analysis from multiple perspectives.
SUBSCRIBE & SAVE
Sign up for The Week's Free Newsletters
From our morning news briefing to a weekly Good News Newsletter, get the best of The Week delivered directly to your inbox.
From our morning news briefing to a weekly Good News Newsletter, get the best of The Week delivered directly to your inbox.
Given all of this, panic and even a dose of anger on the right are perfectly understandable. Still, I worry that thoughtful conservatives are moving a little too rashly to denunciation, resorting to language about the triumph of "Autonomous Eroticized Individualism," and writing about the advent of a new "diabolic age." (Both phrases come from my friend Rod Dreher.)
Yes, something important in America's moral culture has changed (with the change accelerating in recent years), but that change isn't simply a triumph of "postmodern freedom." (Also Dreher.) What we're witnessing is the withering away of the morality of ends — including a vision of human flourishing rooted in Protestant Christianity — that once prevailed in American public and private life. This comprehensive moral vision is being supplanted by a much more minimalist (but no less absolutist) morality of rights that aims above all to protect individuals from various forms of harm.
Consider that poll.
Same-sex relationships, sex between an unmarried man and woman, having a baby outside of marriage, and divorce — many more Americans are morally accepting of these behaviors now than they were in 2001. But note that all of them can plausibly be said to harm no one, as long as the parties involved have consented. (Divorce is tricky when kids are in the picture. Though it's also the case that many now believe it's worse for children to grow up in a household with parents who are trapped in an unhappy marriage.)
As we move down the list, we come to actions that haven't budged at all — perhaps most surprisingly extramarital affairs, which were approved of by a mere 7 percent of respondents in 2001 and a statistically indistinguishable 8 percent today. If we were well on our way to becoming Autonomous Eroticized Individuals, wouldn't our negative judgments about adultery be receding as well? After all, what's wrong with cheating on your spouse if that's where you're led by eros and individualism?
But of course we're not becoming Autonomous Eroticized Individuals — or at least not simply. We might like to think of ourselves as autonomous individuals, but we're also devoted to a strict morality that treats inflicting harm as a bad thing. That very much includes the emotional harm suffered by someone whose spouse has betrayed a promise of marital fidelity.
And that brings us back to Caitlyn Jenner.
If you're committed to an overarching (religious or philosophical) vision of human flourishing that precludes gender reassignment surgery, then an expression of disapproval and perhaps even disgust at the Vanity Fair cover would seem to be in order. But if you've left behind any such comprehensive morality of ends in favor of a morality of rights, then it's hard to see what's wrong with Jenner's actions, or with the magazine in promoting them publicly on its cover. No one is harmed as a result, and the harm Bruce Jenner felt as a woman trapped in a man's body has (one hopes) been alleviated by undergoing the surgical transformation into Caitlyn.
But of course many people who uphold a morality of rights go further than merely cheering on Caitlyn Jenner's coming out as a woman. They want to protect her from the emotional harm of being judged, disapproved of, and treated as an object of disgust by those who persist in upholding a morality of ends. That's where the gap between the two moralities becomes a chasm, since the morality of rights judges the very act of making a moral judgment in terms of a morality of ends to be harmful — and therefore an act of cruelty, injustice, and even evil.
Conservatives deserve better than to have their comprehensive vision of the human good treated with contempt. But liberals deserve to have their own moral commitments recognized as what they are — expressions of an absolute (if less-than-comprehensive) moral outlook — rather than dismissed as a diabolical drive toward infinite erotic liberation.

Continue reading for free
We hope you're enjoying The Week's refreshingly open-minded journalism.
Subscribed to The Week? Register your account with the same email as your subscription.