Why Republicans should be praying that the Supreme Court upholds ObamaCare
The GOP wants to blame any disruption to the health care market on Obama. But there are limits to that strategy.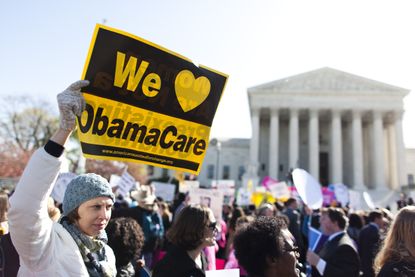 As early as this Thursday, the Supreme Court could hand down a decision in King v. Burwell, and the consequences for American health care could be enormous. You'll recall that after the Affordable Care Act was passed, a team of conservative legal hacks pored over the legislation, looking for a way to blow up the law through legal chicanery. They found a single sentence that, wildly misconstrued and coupled with a preposterous historical account of the law's passage, could shut off all ObamaCare subsidies to the states that did not construct their own insurance exchange websites.
The impact on the insurance markets in those states would be little short of disastrous. Private market premiums in those states would rise by nearly half on average. Those getting subsidies would see their premiums spike by threefold or more (in Mississippi, by 1800 percent). The number of Americans without insurance would eventually rise by roughly seven million, leading to an estimated 9,800 additional deaths annually.
Naturally, the prospect of potential victory at the court has some conservatives feeling a bit queasy. They would be directly responsible for directly harming millions of people, and arguably causing the deaths of thousands. What to do? They could, by inserting a single phrase into the ACA, render the lawsuit null and void.
Subscribe to The Week
Escape your echo chamber. Get the facts behind the news, plus analysis from multiple perspectives.
SUBSCRIBE & SAVE
Sign up for The Week's Free Newsletters
From our morning news briefing to a weekly Good News Newsletter, get the best of The Week delivered directly to your inbox.
From our morning news briefing to a weekly Good News Newsletter, get the best of The Week delivered directly to your inbox.
But ObamaCare has been the bête noire of the GOP for years now. Instead, as my colleague Paul Waldman points out, the plan seems to be a campaign of bald-faced lying: Just blame President Obama himself.
However, there are reasons to think this will not work out so well. Republicans are very good at propaganda, but it may not be enough to overcome a potentially stupendous eruption of public outrage.
In the GOP's favor is the low level of general knowledge about politics and policy. Polls consistently reveal the voting public's massive ignorance of basic political facts, and King is no exception. In the most recent Kaiser Health tracking poll, 72 percent of respondents reported either having heard of the case "only a little" or not at all (up slightly from previous months). Complicating matters, both the law and the logic of the lawsuit are fairly complex. Even a bare-bones explanation of the mechanics is going to run to several pages.
On the other hand, as Greg Sargent notes, the Kaiser poll also asked what people thought should happen if King goes against the government — and conveniently, briefly described what the lawsuit was about, giving some perspective into how people might react. Fully 63 percent thought Congress should restore subsidies. And even in the states without health care exchanges, most of which are conservative, 55 percent thought their states should set one up.
What's more, taking a terrific hit to the pocketbook tends to focus one's mind sharply. People largely ignore politics because it's boring, complicated, and horrible. But when some court case suddenly cuts your legs out from under you, you tend to get a crash course in just how and why that happened. All Democrats will have to do is stick to a simple, correct narrative: ObamaCare was working. Republicans cooked up about the most blatant piece of judicial activism in American history, based on a ridiculous technicality, and slickered five Republican-appointed Supreme Court justices into believing it.
In short: You lost your insurance, and it's all the Republicans' fault. If they hadn't filed this dumb lawsuit, then everything would be fine. In response, Republicans will insist that actually it's Obama's fault, as Sen. John Thune (R-S.D.) did in an instantly infamous tweet. It all boils down to a nonsensical position: "If Obama hadn't given you that insurance in the first place, then you wouldn't have lost it when we took it away!"
As I said, Republicans are very good at propaganda. But there are limits to such strategies. Southern Democrats attempted such a maneuver before the Civil War, when they attempted to simultaneously threaten secession and blame Republicans for breaking up the country. Abraham Lincoln famously skewered this logic:
Much like the run-up to the 2012 election, it appears Republicans have drunk too deep of their own kool-aid. They don't quite realize the raging political firestorm that will ensue if they manage to gut ObamaCare, or how easy it will be to pin the blame on them. Let's just hope the Supreme Court decides against them, and saves everyone a lot of trouble.

Continue reading for free
We hope you're enjoying The Week's refreshingly open-minded journalism.
Subscribed to The Week? Register your account with the same email as your subscription.