The Trump Show: How Donald Trump won the GOP debate and stole the presidential election
What can possibly explain Trump's enduring popularity?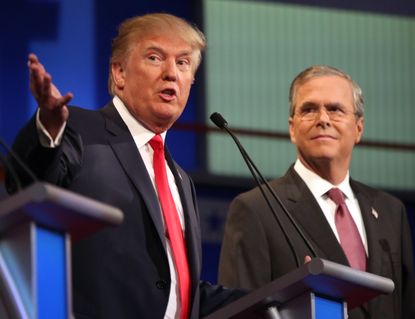 (Image credit: The Associated Press)
Donald Trump landed in the 2016 presidential race like a meteor, displacing his would-be opponents like so much scattered earth and bearing strange portents. Is his popularity the primal scream of an alienated middle class steeped in its own narcissism? Is he the raging id of a dwindling white majority seized by visions of brown hordes spilling over the Mexican border? Is he a lone voice of brash authenticity at a time of unparalleled disgust with the two-faced politicians who have sold out their country? Or is he the Frankenstein monster of the GOP's infotainment complex, an unholy amalgamation of talk-radio bombast, one-percent boosterism, and grievance politics that has broken free of the party's leash?
However you interpret his campaign's success, Trump's outsized presence feels like a premonition, if not of the end of the world, then surely the end of something, for never before have we seen a candidate this exaggerated, this comic, this patently unqualified to be president leading the polls in such dominant fashion. Trump plays the billionaire blowhard so well that it's hard to believe he isn't a creation, a Colbert-like character who shed his satirical skin and wandered off the Comedy Central set to terrorize the GOP with the party's worst tendencies. Come to think of it, are we sure that his campaign isn't some elaborate prank, a collaboration between a reality television star and a comedian who once started a super PAC in character? Is this all a joke?
I ask this because I just watched Donald Trump take center stage at the first Republican primary debate in Cleveland, Ohio. As he stood next to Jeb Bush — who by virtue of his DNA uncannily matches our notion of what a president looks like — Trump never lost his surreal aura, as if he were a bit of CGI grafted onto the scene. My first thought was that Trump had brought the modern presidential campaign to its crude and logical end, turning the race for the Oval Office into a series that would rival The Apprentice. But no, even the obliteration of the age-old tension between politics and entertainment doesn't do the Trump campaign justice, for it is emblematic of an even greater confusion of which we are all a part, one that has dissolved the barriers between audience and performer, between reality and the stage.
Subscribe to The Week
Escape your echo chamber. Get the facts behind the news, plus analysis from multiple perspectives.
SUBSCRIBE & SAVE
Sign up for The Week's Free Newsletters
From our morning news briefing to a weekly Good News Newsletter, get the best of The Week delivered directly to your inbox.
From our morning news briefing to a weekly Good News Newsletter, get the best of The Week delivered directly to your inbox.
The debate was utterly dominated by Trump. In an unexpected twist, the moderators chosen by Fox News went after him with everything they had, while his actual opponents seemed scared to engage him one-on-one. (Bush, trying to preserve his dignity, ultimately wilted in the glare of Trump's supernova.) Trump, unconstrained by diplomatic etiquette and human decency, proved that he is the apotheosis of the conservative tough guy, easily elbowing out the likes of Chris Christie, Ted Cruz, and Scott Walker. ("You're having a hard time tonight," he told Rand Paul, in just one instance of him flattening a rival.)
The moderators challenged him on his threat to make a third-party run, his vulgar remarks against women, his xenophobic remarks about immigrants, his past support for single-payer health care, his past support for abortion, his business problems — to no avail. Trump responded with quips that were designed to be turned into headlines — or more aptly, tweets — and brushed off the critiques with threats ("I've been very nice to you, although I could probably not be"), boasts ("I made a lot of money in Atlantic City"), and a half-hearted soliloquy about his evolution on abortion that sounded like a parody of a pro-life conversion story. After the debate, he released the following statement: "I am not a debater, but I am a winner. If I am elected I will make this country a total winner."
In other words, the debate was great. It was fun. I would be lying if I said I wanted Trump to drop out of the race, ever. But to tally the score is ultimately pointless, because the moderators and the candidates were all boxing with a shadow, or more accurately a fiction. Trump literally has no policy ideas that aren't crazy. He barely has a platform. His solution to every problem is liberal applications of his own mojo. He is, in other words, not a politician, but a character, and this is why the usual arsenal of political attacks — accusations of flip-floppery, insufficient patriotism, sexual deviance — are useless against him.
This is also why the laws of political gravity will eventually start to take effect and he will fall in the polls like a punctured balloon. But the undeniable success of his candidacy to date shows just how far a candidate can go these days on a purely performative campaign, casting the world of politics and policy in the gaudy colors of a World Wrestling Entertainment match, in which everyone in the arena knows that the entire show is a sham, but roots just as lustily for the designated good guys and boos just as angrily for the bad. (It is not at all a coincidence that Trump has, in fact, gotten into the WWE ring himself, most famously participating in a "Battle of the Billionaires" in 2007.)
Performance, of course, is an inherent part of politics. If Donald Trump is playing the larger-than-life persona also known as The Donald, then Hillary Clinton's challenge this cycle will be to give voice to those in the middle and lower classes who feel increasingly left behind, which will require her to play some reasonable approximation of a normal person, the one who we are told lies at the center of her being like a nesting doll surrounded by ever greater layers of Hillary Clinton the public figure. These performances play out on various media, whether it's Fox News or the pages of The New York Times. But usually they are anchored in reality, in experience, which in Clinton's case includes stints representing the state of New York and managing the State Department, just as Bush governed the state of Florida. Even Herman Cain was once chairman of the Federal Reserve Bank of Kansas City, and the centerpiece of his platform in 2012 was an actual tax plan. Trump's campaign, in contrast, is unadulterated fantasy.
How did we get here? There is always the possibility, suggested by many, that America is sinking into an Idiocracy-style dystopia, but that explanation feels too pat. Rather, the success of Trump's campaign is at least partly a reflection of the way the news media has changed. In addition to (sometimes literally) providing the candidate with a stage, the media used to act as a filter between candidate and voter, couching the candidate's unvarnished spiel with context, contrary opinions, facts. This is no longer necessarily the case; instead, the media increasingly tries to collapse the space between the politician and his constituent, thrusting everyone, media included, into a shared chaos known as social media. This is a place where Donald Trump, Anthony Weiner, Megyn Kelly, and that guy you barely remember from high school are all talking in your ear. And as anyone knows who has ever been on Twitter or Facebook — where people are busy performing their lives instead of actually living them — in this arena the performance is king.
Trump recently tweeted, "I love Twitter...it's like owning your own newspaper — without the losses." This is easily the smartest comment Trump has made this campaign season, capturing in less than 140 characters how social media has allowed celebrities to reach their admirers without fact-checkers and nosy reporters getting in the way. This trend has only been exacerbated by news sites themselves, with popular outlets like BuzzFeed and IJ Review creating viral political ads for candidates like Bobby Jindal and Ted Cruz, all in the name of producing shareable content. IJ Review, in particular, recently received a lot of glowing attention for producing a video of Cruz cooking bacon on the smoking hot barrel of an automatic weapon. One of the site's editors argued that the video "on a very rich level… says something on his stance on the Second Amendment," but what's clear to everyone else is that this is another example of performance as politics — a performance that lands in people's Facebook and Twitter feeds in the way that a policy speech or even an old-fashioned news article would not.
Or consider the recent spat between Gawker and Trump, in which Gawker published Trump's cell phone number, prompting Trump to turn his voicemail message into a plug for his campaign. Gawker was trying to turn the tables on Trump for publicly revealing Lindsey Graham's cell phone number earlier this summer, a prank that led Graham to star in a viral video of his own in which he destroyed his cell phone in several creative ways — a video produced by IJ Review. In these and other instances, the journalist is not a God-like observer, trimming his nails as the contestants duke it out, but an active participant, generating storylines and "controversies" that play up conflict and deliver doses of uncut Trump into the media bloodstream. Needless to say, none of this has any bearing on the question of who should be the president of the United States.
These antics are amplified by an entire galaxy of online news sites (including this one), exponentially increasing the chance that the average voter will stumble upon them in her endless, aimless journey across the internet wasteland. And lest you think these stories are the exclusive province of vampiric millennials who live in the blue light of computer screens, they all serve as fodder for the broadcasts on more traditional organs like CNN and Fox News. (That cable giants are quickly becoming secondary players in the news just as Jon Stewart, their most astute critic, steps down from The Daily Show is telling.)
In other words, even if you don't have a Twitter account, you are watching a battle that is primarily being conducted by avatars, in a flattened space about the size of a phone, where everyone, from activists to reporters to campaign flacks to President Obama, is braying for attention. As I type this, dozens of operatives are spinning the debate we just watched, dragging an event from the physical world into the digital realm where we spend more and more of our time, and where every gesture, every upload, every expression of outrage, empathy, kindness, or anger, is simultaneously a performance.
The bard once said that all the world's a stage, a sentiment that is no doubt tattooed on the heart of every politician. But what happens when the stage becomes the world? What happens when the medium through which we view the carnival of a presidential campaign becomes a reality unto itself? In this reality, Donald Trump's word is as good as anybody else's — indeed, it is louder, inescapable. In this reality, Trump's latest song-and-dance is far more interesting, far more newsworthy, than the mealy-mouthed proposals voiced by his opponents. And in this reality, Donald Trump has a shot at being president.

Continue reading for free
We hope you're enjoying The Week's refreshingly open-minded journalism.
Subscribed to The Week? Register your account with the same email as your subscription.