Donald Trump and America's immoderate moment
The 2016 race may turn on whether the country really believes that the GOP's immoderate, breathtakingly dire assessment of the present moment is correct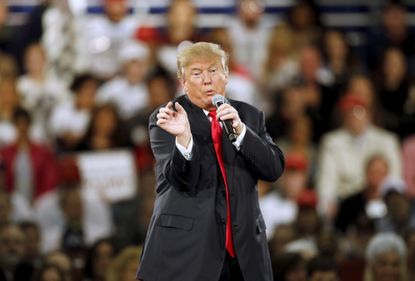 (Image credit: REUTERS/Scott Morgan)
Donald Trump's insurgent campaign for president has so scrambled our assumptions that we can't even decide how to describe it ideologically.
Is Trump an unalloyed extremist? Perhaps even a fascist? Or merely a proto-fascist? Or more Berlusconi than Mussolini? Or Adolf Hitler reincarnated? Or is he instead the heir to segregationist George Wallace? Or actually a would-be reformer in the mold of Ross Perot? Or a kamikaze attack on the Republican Party launched by the Hillary Clinton campaign to assure her victory next November?
Yet another suggestion comes in an important column in The Washington Post by two political scientists who claim that Trump "meets the textbook definition of an ideological moderate." How can this be true of a man who's called for a "total and complete" ban on Muslim immigration, the rounding up and deportation of 11 million undocumented immigrants, the deliberate killing of the families of terrorists, and other radical proposals?
Subscribe to The Week
Escape your echo chamber. Get the facts behind the news, plus analysis from multiple perspectives.
SUBSCRIBE & SAVE
Sign up for The Week's Free Newsletters
From our morning news briefing to a weekly Good News Newsletter, get the best of The Week delivered directly to your inbox.
From our morning news briefing to a weekly Good News Newsletter, get the best of The Week delivered directly to your inbox.
As the authors explain, conventional wisdom defines ideological moderation in such a way that it's perfectly compatible with extremism on specific issues, provided that they end up ideologically canceling each other out in the aggregate. So Trump might be an extreme right-winger on immigration, but if his soak-the-rich rhetoric places him on the left when it comes to tax policy, he ends up looking like an ideological moderate overall — and without necessarily staking out a moderate position on any particular issue.
The point of the Post article is to call this way of thinking into question, suggesting that it is "misleading to call politicians 'moderate' … based simply on their positions on a left-right ideological spectrum."
That's right. Though I don't see any evidence that the authors have done very much to provide us with a more adequate way of judging the relative extremism of Trump and the other candidates running for president. The first step toward doing so would have to involve giving "moderation" and "extremism" more substantive definitions.
A political moderate is someone who bases his policy proposals on incremental adjustments to the status quo in one ideological direction or another. Since the status quo shifts over time, there is no way to identify a moderate outlook with a permanent list of specific policies. This means that political moderation is a virtue relative to the situation at any given moment — and that it's linked through its preference for incremental change to the non-ideological, temperamental form of conservatism cultivated by such writers as Edmund Burke and Michael Oakeshott.
A moderate, according to Oakeshott, is a "trimmer" in the nautical sense — meaning someone who trims the sails of the ship of state in response to changes in the wind and weather, moving sometimes one way and at other times in another, with the ultimate aim not of reaching any destination in particular but of keeping the vessel afloat on constantly changing seas.
To be radical or extreme, by contrast, is to propose a dramatic shift or break with the status quo in any ideological direction. Not trimming the sails a bit one way or the other, but throwing the wheel or the rudder hard to port or starboard to change course quickly and dramatically.
And that points to a further sense in which moderation and extremism are always relative to the situation at any given moment: If the seas are very stormy, keeping the ship afloat might call for extreme changes of direction. The statesman must be willing and able to take such extreme actions when necessary.
But there's a complication: Whereas on a ship, stormy weather is usually obvious, in politics it often isn't. This means that political judgment involves two levels of prudence or practical wisdom: first, a judgment about the character of the present moment (Are seas calm or choppy? How bad are they now and likely to become?); and second, a judgment about how best to respond to that situation (Does it call for trimming? Or something more radical?).
Watching the Republican debate earlier this week, one thing was abundantly clear: Every person on that stage was convinced (or believed it was in his or her political interests to act convinced) that the United States finds itself in the midst of a potentially fatal storm. The country's a total mess. The Middle East is a complete disaster. The Obama administration has been a catastrophe. ISIS poses an existential threat. The list of hyperbolically gloomy pronouncements was seemingly endless.
What makes Trump the most immoderate figure in an unusually immoderate moment in American politics is that his negative assessment of the situation is more extreme and sweeping than anyone else's — with proposals to address the problems and threats to the nation accordingly much more radical, representing a much bigger break from the status quo. If the times are desperate, then desperate measures may well be called for.
But is the situation really so grave?
Media personalities and politicians who benefit from stirring up public anxiety go out of their way to convince us that we're in serious, deep trouble as a nation. But is it true? Is terrorism really a major, let alone an existential, threat? Has the Obama administration actually been a catastrophe? Is it true that the American dream is "dead" — or that the U.S. is "a hellhole" that's "going down fast," "can't do anything right," is a "laughing-stock all over the world"?
The upcoming presidential election will be about many things. But perhaps more than anything else, it will be about whether the country really believes that this immoderate, breathtakingly dire assessment of the present moment is correct.

Continue reading for free
We hope you're enjoying The Week's refreshingly open-minded journalism.
Subscribed to The Week? Register your account with the same email as your subscription.