Can right-wing populism be stopped?
Donald Trump is a demagogue. His followers are a mob. And sensible policy proposals won't change any of their minds.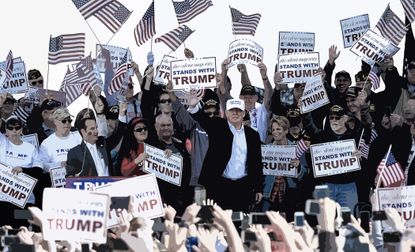 (Image credit: Illustrated | Image courtesy Sara D. Davis/Getty Images)
Sign up to our 10 Things You Need to Know Today newsletter
A free daily digest of the biggest news stories of the day - and the best features from our website
Thank you for signing up to TheWeek. You will receive a verification email shortly.
There was a problem. Please refresh the page and try again.
The Great American Populism Debate is well underway.
Not a single vote has yet been counted in the race for the Republican presidential nomination, but with Donald Trump's campaign leading most polls for six months straight and showing no signs of slumping as we head into the final month before the Iowa caucuses and New Hampshire primary, an array of politicians and commentators, from Barack Obama and Bernie Sanders to the center-left Bill Galston and center-right David Frum, has begun to reflect thoughtfully on just what the hell happened to American politics in 2015.
All of them agree on three points: First, that Trump's campaign is a populist reaction to the economic decline of the white working class. Second, that Trump is exploiting the anger sparked by this decline for his own purposes. Third, that a more conscientious response would involve the Republican Party proposing a series of policies to address the interests and anxieties of these angry white working-class voters.
Subscribe to The Week
Escape your echo chamber. Get the facts behind the news, plus analysis from multiple perspectives.
SUBSCRIBE & SAVE
Sign up for The Week's Free Newsletters
From our morning news briefing to a weekly Good News Newsletter, get the best of The Week delivered directly to your inbox.
From our morning news briefing to a weekly Good News Newsletter, get the best of The Week delivered directly to your inbox.
Here's Frum's list of suggestions along these lines:
Years ago, conservative commentators Ross Douthat and Reihan Salam proposed similar things, and warned about the dangers of Republicans ignoring the struggles of the white working class. Frum himself has been saying it for a long time, too, as have some of the conservatives associated with the "reformocon" movement. A Republican Party that championed this reform agenda would certainly hold more appeal to me than the Republican Party that actually exists, let alone the one that would be left after the election of Donald Trump as its nominee for president.
But would it hold any appeal to the people telling pollsters that Trump is their top choice?
I suspect that the answer is no — and that the reason has to do with the nature of right-wing populism.
When Frum and Galston and Obama and Sanders suggest that Trump's success is fueled by the economic decline of the white working class, I find myself nodding along. But it's important to realize that Trump's supporters don't appear to see it that way — or at least not so straightforwardly.
Yes, they seem drawn to Trump because of his hyperbolic talk of a national crisis that has left the American dream "dead." But there is no evidence at all that they think the proper response is to propose some additional child tax credits and new regulatory tweaks.
To judge from what gets them going at campaign rallies and on Twitter, Trump supporters think the appropriate response to white working-class decline is to shut the border, keep out Muslims, deport 11 million undocumented immigrants, oppose political correctness about race and gender, lash out at the journalists who supposedly encourage all of the social and cultural trends that need to be turned back and reversed, and kick out the elites leading both parties in favor of vastly smarter and tougher men like Donald Trump.
Which means that the response of the white working class to its own economic struggles is to embrace nationalism and identity politics — in a word, to look for solutions to economic problems in culture.
Liberals have been confounded by the incorrigibly cultural character of right-wing populism for a long time. Sociologist Daniel Bell and historian Richard Hofstadter reflected on it in the 1950s and '60s. More recently, commentator Thomas Frank explored the question of why so many working-class Kansans vote against their economic interests by supporting plutocratic Republicans. His answer: Because the Republicans manage to dupe those voters into believing that issues wrapped up with the culture war (abortion, gay marriage) are far more important than economics.
Today, sensible centrists of the left and right are confronting the same issue with Trump's supporters, who appear to be motivated by economic concerns but are uninterested in an economic response — at least as economics is usually addressed by policy experts. They are left cold by the piecemeal, technocratic proposals of candidates like Marco Rubio and Jeb Bush. But neither can one imagine them gravitating to Bernie Sanders, the real economic populist in the race — or, for that matter, to Hillary Clinton, who has been goaded by Sanders' (and Elizabeth Warren's) strength to embrace an economic agenda far more economically populist than the one that her New Democrat husband championed in the White House.
No, what Trump's supporters appear to want is someone to rail rudely against economic, racial, ethnic, and demographic aspects of contemporary American life that they find distasteful, dangerous, and unfair; to place the blame for these trends on somebody besides themselves (immigrants, liberals, big business, stupid people, Muslims, big government, the media, the president); and to promise a magical fix brought about by superhuman feats of commonsense competence. Trump gives them all of this, and his followers love him for it. That makes him a textbook example of a demagogue and them a political force that everyone from Aristotle to Alexander Hamilton would recognize as a mob.
How can the members of this mob be persuaded to abandon their cultural populism and the candidate who assures them he will turn back the tide?
I have no idea. But I'm pretty sure a list of sensible, wonky policy proposals isn't going to do the trick.
Continue reading for free
We hope you're enjoying The Week's refreshingly open-minded journalism.
Subscribed to The Week? Register your account with the same email as your subscription.
Sign up to our 10 Things You Need to Know Today newsletter
A free daily digest of the biggest news stories of the day - and the best features from our website
Damon Linker is a senior correspondent at TheWeek.com. He is also a former contributing editor at The New Republic and the author of The Theocons and The Religious Test.