In praise of Marco Rubio's savvy insult comic act
Enough with the pearl-clutching about Rubio's descent into locker-room taunts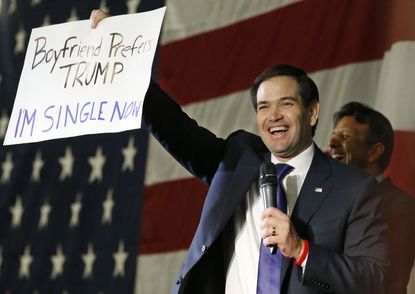 (Image credit: AP Photo/Sue Ogrocki)
Sign up to our 10 Things You Need to Know Today newsletter
A free daily digest of the biggest news stories of the day - and the best features from our website
Thank you for signing up to TheWeek. You will receive a verification email shortly.
There was a problem. Please refresh the page and try again.
The vulgar, cigar-chomping hand puppet Triumph the Insult Comic Dog has been flirting with serious, substantive campaign journalism during the 2016 presidential race. Meanwhile, plausible Republican presidential nominee Sen. Marco Rubio (Fla.), arguably the most serious threat to GOP frontrunner Donald Trump, has resorted to penis jokes.
The setup for that particular joke comes from Trump himself, who has taken to mocking Rubio's propensity to sweat and drink bottled water. Here's the version Rubio told on Sunday at a rally in Roanoke, Virginia: Trump is "always calling me little Marco. And I'll admit, he's taller than me. He's, like, 6'2" — which is why I don't understand why his hands are the size of someone who's 5'2". Have you seen his hands? They're like this. And you know what they say about men with small hands... [pause] You can't trust them!"
He was so pleased with the the joke that his campaign posted his standup routine to YouTube:
Subscribe to The Week
Escape your echo chamber. Get the facts behind the news, plus analysis from multiple perspectives.
SUBSCRIBE & SAVE
Sign up for The Week's Free Newsletters
From our morning news briefing to a weekly Good News Newsletter, get the best of The Week delivered directly to your inbox.
From our morning news briefing to a weekly Good News Newsletter, get the best of The Week delivered directly to your inbox.
It's a very odd moment in American politics when Rubio's one-liners about Trump are more off-color than John Oliver's. But the phallus joke was apparently a hit, as somebody in the crowd at a Rubio event on Monday night reportedly called out "Donald Trump has small hands!" — like a fan at a Don McLean show might yell out "American Pie!" Rubio appears to want to move past his insult-comic phase:
But there's no reason why Rubio shouldn't have his cake and eat it, too. He can mix serious policy talk with sharp elbows thrown in Trump's direction, and he probably should keep up the Trump-baiting. Not that his sharp detour into locker room taunts and crude one-liners aimed at Trump, starting with the Feb. 25 Republican debate, has been universally embraced.
There are critics who decry the quality of Rubio's comedy — and I will grant them that; he should hire better writers. But mostly, commentators and some Rubio supporters seem disappointed that the champion of serious ideas and optimistic Republican-hugging has dipped his heeled boots into the gutter of electoral mud-slinging. Rubio's "carefully prepared one-liners" were bad enough, but then he "went into flat-out 'yo'-momma' mode," says Eugene Robinson at The Washington Post. "Rubio managed to lower himself, and the debate, beneath even Trump's level."
Compared to the Kardashians and sex tapes, "Rubio's infantile jabs at Trump are Gregorian chants," adds Robinson's Washington Post colleague Richard Cohen. But "we are talking about the presidency," a "job for grown-ups."
It's true that Rubio or, more likely, Trump could be the next president, and that neither one of them is acting very presidential at the moment. But I'm sympathetic to the argument from Rubio's campaign that giving Trump a taste of his own medicine is a smart, if distasteful, move. "We came to the conclusion that if being a part of the circus is the price you have to pay in order for us to ultimately be able to talk about substantive policy, then that's what we're going to do," senior Rubio adviser Todd Harris told The New York Times, adding that suddenly, the networks have started broadcasting Rubio rallies.
In other words, if you can't beat Donald Trump with policy, join him in tone. And the tone Rubio is borrowing isn't just one of trash-talking and mockery. It's also jocular. Rubio looks like he's enjoying his new comedy act, and he's the only Trump rival so far who has pulled that off. Until now, Trump has been the sole Republican who looks like he's enjoying this race. Now Rubio is showing moments of merriment, too.
More substantively, some of the jabs at Trump seem to be unnerving the frontrunner and throwing him off his game, especially when Rubio pokes at Trump's spotty business record and murky finances. For the first time in this race, the insults thrown at Trump ("con man," for example) seem to be sticking more than Trump's mockery of one of his rivals.
Rubio risked being forever labeled a factoid-memorizing robot, regurgitating lines but not mature enough to think for himself. That threatened to kill his campaign. Rubio's insult comic act has rid him of that problem. Trump has a bully's sense of finding and exploiting his rivals' weak points, but his sweating, water-guzzling mockery of Rubio comes across as more desperate than cutting and calculating.
The fact that Rubio is willing to risk Trump's wrath and his high favorability ratings also implies that he is willing to actually fight for the nomination. At New York, Jonathan Chait suggests that Rubio is once more falling on his sword for the Republican establishment, ruining his own reputation in a way that ultimately helps Ohio Gov. John Kasich. But Kasich hasn't shown the same fight, or the same will or ability to adapt his campaign to changing circumstances. Jeb Bush looked like he was trying to fulfill some familial, dynastic duty. Ted Cruz really wants the nomination but seems to have run out of Cruz-appropriate ways to shock people.
And have Rubio's critics been watching this presidential race? It's a real stretch to argue that Rubio's safe-for-work penis joke is really dragging the campaign lower that it has already sunk. To his credit and discredit, Donald Trump has seriously upended this election and American politics. It's Donald's world, and Rubio is just trying to survive.
One insult Rubio hasn't used yet on Trump is "narcissist," a label applied on the real estate tycoon by such disparate voices as Glenn Beck, 2016 dropout Sen. Rand Paul (R-Ky.), the Washington Post editorial board, and Rubio surrogate Gov. Bobby Jindal (R-La.). I'm not qualified to assess Trump's psychological health, but I'm familiar enough with Greek mythology to know that Narcissus was driven to despair and eventually suicide after staring at his own reflection in a pond. If Rubio can derail Trump by forcing him to gaze at a younger, snappier version of his own insult comic act for a while, who are we to complain?
Continue reading for free
We hope you're enjoying The Week's refreshingly open-minded journalism.
Subscribed to The Week? Register your account with the same email as your subscription.
Sign up to our 10 Things You Need to Know Today newsletter
A free daily digest of the biggest news stories of the day - and the best features from our website
Peter Weber is a senior editor at TheWeek.com, and has handled the editorial night shift since the website launched in 2008. A graduate of Northwestern University, Peter has worked at Facts on File and The New York Times Magazine. He speaks Spanish and Italian and plays bass and rhythm cello in an Austin rock band. Follow him on Twitter.