The injustice and impossibility of asking immigrants to save the Western welfare state
Western nations expect immigrants to save their economies and sky-high standards of living. It won't work.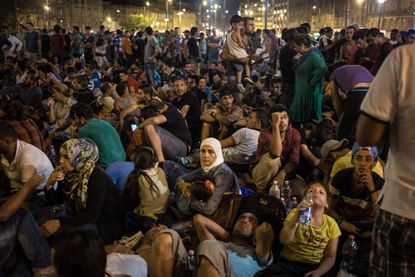 (Image credit: Matt Cardy/Getty Images)
Birthrates in Europe have been dwindling for decades. And now, America's birth rate is slowing, too. The U.S. had 3.98 million births last year, a dip of 0.3 percent from 2014. Meanwhile, the U.S. death rate rose in 2015 for the first time in a decade.
Obviously, this creates a problem. Western welfare states, and even economic growth itself, which is a basis for political stability, depend on populations that grow. Many people believe that migration will solve the demographic problems of the developed West. But there is little good reason to believe this.
Consider this occasionally heartbreaking report in New York magazine on the dangers migrants face coming to Europe. Writer Annie Lowrey argues that Europe can take two problems and solve them with each other.
Subscribe to The Week
Escape your echo chamber. Get the facts behind the news, plus analysis from multiple perspectives.
SUBSCRIBE & SAVE
Sign up for The Week's Free Newsletters
From our morning news briefing to a weekly Good News Newsletter, get the best of The Week delivered directly to your inbox.
From our morning news briefing to a weekly Good News Newsletter, get the best of The Week delivered directly to your inbox.
If you squint until this becomes a math problem, Lowrey's solution almost checks out. The modern welfare state was built upon much higher mid-20th century fertility rates, which kept the working-age population many times larger than the retiree and beneficiary population. The effects of a decades-long birth dearth in Europe can be mitigated by adding migrants, who, in turn usually have and maintain higher birthrates. Mass migration to the United Kingdom means that one of every six babies born in Europe is born in the U.K.
But there are factors to consider. Migration itself imposes costs to political stability. The rise of euro-skeptic nationalism across Europe owes much to panic about migration, especially the kind of crisis-fueled and uncontrolled migration of the past two summers. It is worries about immigration that are driving up the polls for Brexit in the U.K., and for Marine Le Pen in France. Breaking apart the European Union will impose tremendous costs on Europe's economy.
Of course, the "bodies" themselves present other problems, mostly because they are attached to minds with ambitions of their own. Why should recent immigrants and their descendants, most of them poorer than the average European, abide by the welfare promises made by others decades or even a century before their arrival? Why should the resources produced from an immigrant's work go to maintain the relatively high quality of life of older, whiter, richer Europeans who obtained this level of living by over-consuming their resources and refusing to invest in their future by creating a posterity for themselves?
The same is true in America. For years we've conceived of the ongoing retirement of the Boomers and their enrollment into Social Security and Medicare as a generational conflict. But the demographic transformation of America means that this generational conflict will also be a racial one. And it may begin to look like an old, white America is exploiting those non-white "warm bodies" that have crossed into the country over the past 20 years. The welfare states of Europe and America exist on a social bond between generations, a series of obligations and burdens that may not easily transfer to another nation's descendants, especially if they are being asked to carry the heaviest parts of it.
And that's if they even can shoulder the heaviest of Europe's economic burdens. Right now, immigrants from non-E.U. nations are much more likely to drop out of secondary school, and twice as likely to be unemployed. European cities are surrounded by immigrant enclaves that remain socially and economically held apart from the prosperity of the city. Some immigrant groups, like Pakistanis in the U.K., are constantly replenished by new arrivals that help keep the community apart from the mainstream. Even now, 85 percent of third- and fourth-generation British Pakistani babies had a parent who was born in Pakistan.
Europe has not shown that it has America's capacity for integrating new populations into its political community. And even America's proven ability is going to face new challenges in the coming decades.
The demographic challenges of developed Western nations and the migration crisis across the Third World simply can't be tidied up with a simple economic solution. In fact, they are more likely to exacerbate each other over time.
Asking immigrants to adjust to radically different norms of life is already a major request. Asking them to save an entire political system from the flaws of its creators — flaws the immigrants didn't design or cause — is simply asking too much.

Continue reading for free
We hope you're enjoying The Week's refreshingly open-minded journalism.
Subscribed to The Week? Register your account with the same email as your subscription.