How a U.S.-China war could begin
It all starts in the South China Sea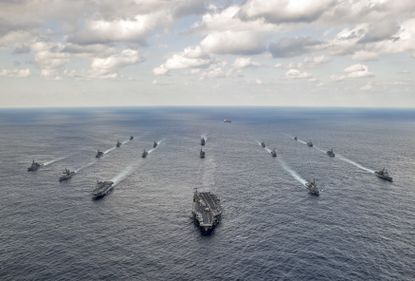 (Image credit: REUTERS/Mass Communication Specialist 3rd Class Chris Cavagnaro/U.S. Navy)
Sign up to our 10 Things You Need to Know Today newsletter
A free daily digest of the biggest news stories of the day - and the best features from our website
Thank you for signing up to TheWeek. You will receive a verification email shortly.
There was a problem. Please refresh the page and try again.
President Donald Trump and China's Xi Jinping sat down for their first superpower summit in Florida earlier this month, and by all accounts, things went well. Still, it is time to consider the sheer magnitude of problems dividing America and China.
A nuclear North Korea, the East China Sea, Taiwan, and now trade all loom large as both leaders attempt to get a sense of one another and who they will almost certainly be working with — for better or worse — over the next few years.
But no challenge looms as large as the South China Sea. A body of water where over $5 trillion of seaborne trade — $1.2 trillion is U.S. trade, by the way — feeds the economic engines that power Japan, South Korea, Taiwan, Vietnam, and others. Whoever dominates the South China Sea dominates the Asia-Pacific — something clearly not lost on the Chinese. By essentially building seven new islands in the area, as well arming them, China might very well have turned the South China Sea into their very own personal lake.
Subscribe to The Week
Escape your echo chamber. Get the facts behind the news, plus analysis from multiple perspectives.
SUBSCRIBE & SAVE
Sign up for The Week's Free Newsletters
From our morning news briefing to a weekly Good News Newsletter, get the best of The Week delivered directly to your inbox.
From our morning news briefing to a weekly Good News Newsletter, get the best of The Week delivered directly to your inbox.
The South China Sea, though, is not just a card to be employed to dominate Asia for China — but a marker of its place in the international pecking order. President Xi has a "Chinese dream" — the restoration of Chinese influence throughout the region. It is a personification of how Beijing sees the region — and itself. To that end, Beijing has come up with the craziest of ideas: a map that it circulates widely of the Asia-Pacific that has a nine or ten-dash line carved into it. On that map, Beijing claims almost 85 percent of the South China Sea, essentially declaring that body of water part of its national territory, something no nation has done in centuries. Such a dream could morph into a nightmare as America has consistently challenged such claims, stating that seas and oceans must remain part of the "global commons" — or a common space for all nations.
Considering the fundamental differences between these nations — the world's two biggest military and economic powers — would they go to war over the South China Sea? The answer is simple: yes. Although how it would start would almost certainly be an accident — it could happen.
Here is a scenario where the unthinkable occurs: A U.S. guided missile destroyer is ordered to conduct what is called a freedom of navigation operation, or FONOP, in the South China Sea. The goal is to challenge Chinese claims of actual sea rights around their newly created islands in the area. The U.S. destroyer travels within eight miles of Woody Island, one of China's most important new bases.
Beijing is not amused — and was ready for this. Chinese satellites detected the course of the vessel and China dispatches what appears to be 25 fishing vessels. But in reality, these ships are part of the country's maritime militia, thousands of non-naval vessels that Beijing uses to press its claims in the area. Many of these so-called fishing ships have massively reinforced hulls for ramming, their fuel is subsidized by the Chinese government for long-distance travel as well as guided by Chinese-based GPS systems provided by Beijing. The ships are ordered to continually cut in front of the U.S. destroyer, a game of near chicken, all to get the ship to turn around and leave the area.
From here, things go all sorts of bad. A ship as big as a U.S. destroyer can't just change course on a dime. After beginning the FONOP, the captain of the destroyer sees on radar the Chinese vessels closing on his location. He orders his vessel to slow to 10 knots. But the Chinese boats close to within almost 500 yards. They hail the destroyer to leave the area, as this is "Chinese historic waters." The Americans reply, stating: "We will sail wherever international law allows." The Chinese fishing vessels come closer. The American captain order all stop, desperate to avoid an incident — all for naught. Two of the Chinese ships venture too close and scrape the sides of the massive naval vessel. Both their hulls are damaged dramatically and sink within 20 minutes. While almost all the crew from both vessels are saved, three Chinese sailors lose their lives.
The Chinese public is outraged. Video of the incident was filmed by several of the crewmen on the so-called fishing vessels, edited by Beijing to look like the U.S. Navy rammed the vessels instead of being an accident. In response, China sends multiple naval vessels that are within intercept range to confront the U.S. ship in a show of force. Within 12 hours, four Chinese destroyers are within 10 miles of the U.S. vessel. Orders from Washington are to avoid a confrontation — at all costs. The Pentagon orders the destroyer to change course and sidestep any contact with the Chinese ships.
Then all hell breaks loose. A Chinese sailor aboard one of the vessels detects what he thinks — but we find out later a lack of sleep causes the officer to misread his instrument panel — is the U.S. navy destroyer locking on its fire control radar and is getting ready to strike with an anti-ship missile. Instead of preparing protective countermeasures, the Chinese vessels open fire first with a massive barrage of seven anti-ship missiles. While the U.S. side is armed with missile defenses, one of missiles hits the target — sinking the ship.
The American public is outraged. President Trump demands the sailors responsible be handed over as war criminals declaring: "If China does not make this right, I will have no choice but to respond." Trump orders U.S. nuclear forces to DEFCON 3 and begins moving an aircraft carrier battlegroup from the Middle East into Asia. He also orders B-1, B-2, and B-52 bombers to Guam, as well a new round of FONOPS to be conducted in the South China Sea.
All of this puts China in a dilemma. Beijing realizes that its military advantage is lost if Washington were to strike — specifically targeting the satellites, computer networks, command and control nodes, and vital systems — attacking with overwhelming force first. Seeing the build-up of forces, China responds. It sends a massive wave of anti-satellite missiles at America's eyes in the sky. It launches cruise and ballistic missiles at all U.S. bases within reach, from Japan to Okinawa to the Philippines and as far as Guam. The goal: take out as much of the ability of Washington to attack and coordinate attacks as possible. In the process, China destroys over 50 percent of U.S. aircraft on the ground, as Washington has not hardened many of the bases that store its bombers and attack aircraft. Additionally, over 75 percent of U.S. satellites that feed vital attack vectors and targeting information are wiped out, as well as an American aircraft carrier. It seems the next great war in the Pacific, with two nuclear armed nations, has just begun.
While we can thank the heavens such an account is fictional, I have been involved in countless simulations where a war between Washington and Beijing starts in this very way. From the above, it would only get worse, as both sides would need to determine the scope of the conflict — and if nuclear weapons were to be used.
With China and America having so much to lose, it is imperative that both sides look to the things they share. Climate change and saving the environment should be an issue both sides work together on. If the trade relationship could be made more equitable, millions of jobs could be created and protected. Cultural ties that span generations, along with the millions of students that study in both countries, bind both nations together. Simply stated: Washington and Beijing have more to gain from peace than war. It is something we must remember.
Continue reading for free
We hope you're enjoying The Week's refreshingly open-minded journalism.
Subscribed to The Week? Register your account with the same email as your subscription.
Sign up to our 10 Things You Need to Know Today newsletter
A free daily digest of the biggest news stories of the day - and the best features from our website
Harry J. Kazianis is director of defense studies at the Center for the National Interest, founded by former U.S. President Richard M. Nixon.