Why not Le Pen?
There are other threats to liberal democracy than populist nationalism, and the technocratic order that Emmanuel Macron represents may well be one of them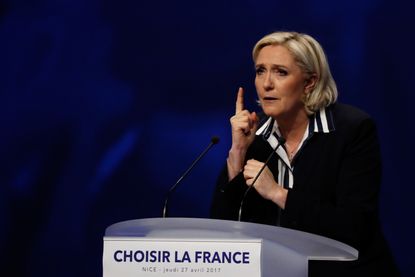 (Image credit: REUTERS/Eric Gaillard)
Sign up to our 10 Things You Need to Know Today newsletter
A free daily digest of the biggest news stories of the day - and the best features from our website
Thank you for signing up to TheWeek. You will receive a verification email shortly.
There was a problem. Please refresh the page and try again.
Back in August 2015, I wrote a column entitled, "Why not Trump?" While hardly an endorsement of the then-candidate, whom I opposed in both the primary and the general election, it was an effort to articulate why Donald Trump was getting traction, and why he would continue to get traction if his opponents continued to focus on his unacceptability rather than engage with his fundamental argument.
My intention here is somewhat different, and my question is both more genuine and less interested, because I am a foreign observer rather than a participant in the French election. But why shouldn't the French elect Marine Le Pen? And why shouldn't we in America be fine with it if they do?
Le Pen's primary issues all relate to the question of national sovereignty and identity. She favors significantly curtailing immigration, pulling out of NATO, and withdrawing from the European Union — which, given the centrality of France to that project, would surely spell its end. More broadly, she is running directly and unequivocally against the establishment policy consensus of the past generation.
Subscribe to The Week
Escape your echo chamber. Get the facts behind the news, plus analysis from multiple perspectives.
SUBSCRIBE & SAVE
Sign up for The Week's Free Newsletters
From our morning news briefing to a weekly Good News Newsletter, get the best of The Week delivered directly to your inbox.
From our morning news briefing to a weekly Good News Newsletter, get the best of The Week delivered directly to your inbox.
Her opponent, Emmanuel Macron, notwithstanding his status as the head of a brand new party organized around himself, is the epitome of that consensus, presenting the capital-friendly right flank of the center-left party that has largely collapsed at the polls. Macron posits himself as the man of the future, while casting Le Pen as a nostalgist for an ugly past, but his is precisely the same future that France has been pursuing for the past quarter century, and Le Pen is arguably the perfect candidate to embody the alternative.
So why not Le Pen?
The most common arguments fall into three categories.
First, the National Front has fascist roots and retains sympathies with Vichy and the generals who tried to stage a coup to retain Algeria, and there must be a united front against any attempt at rehabilitation. Moreover, the party's agenda remains fundamentally racist and xenophobic both in its intent and its effect, and no quarter may be given to these sentiments in a liberal society.
Second, the course that Le Pen is charting is far too risky, economically and politically. Pulling out of the EU would mean enormous economic uncertainty and likely spark a major recession. Pulling out of NATO would imperil the unity of the West in the face of both Russian revanchism and Islamist terrorism. Le Pen threatens to unravel the entire strategy for prosperity and collective security in Europe — and we have very little idea what she would put in its place.
Finally, the Front is part of a worldwide populist-nationalist wave, one that threatens the viability of liberal democracy itself. Particularly in the wake of the Brexit referendum and Trump's election it is essential that a major Western country stand against that tide and for liberal democracy. Angela Merkel cannot shoulder the burden entirely alone.
These are not trivial considerations. But consider the opposing case.
The FN's roots are not in dispute, nor is it unreasonable to assume that an FN victory would result in a certain rehabilitation. But it is also beyond dispute that Marine Le Pen has moved the party considerably away from those roots. If she still appears wildly outside the mainstream, it is partly because that mainstream itself has moved.
Charles De Gaulle once argued that Vichy was not France, but an illegal collaborationist regime, and that therefore France was not responsible for Vichy's crimes. Today, it is Le Pen who echoes those Gaullist sentiments, appalling an establishment that now sees those views as a whitewash of French culpability for crimes against humanity.
The same is true with respect to the question of immigration and assimilation — it was De Gaulle who saw Algerian independence as necessary precisely because the alternative was a merging of French and Algerian culture that he saw as practically impossible. Today, discussing immigration as a practical problem may be enough to brand one an extremist.
It is not reasonable to exile the "national question" from politics entirely — and even if it were reasonable, it is not actually possible to do so. The cordon sanitaire has long since failed; the question now is not how to cure nationalism but how to manage it as an ongoing condition. What Le Pen has done to "modernize" her party may be insufficient, but surely part of the burden is on the mainstream parties to make the case for that insufficiency.
The FN's course is unquestionably risky. But the risks of the status quo have been abundantly in evidence over the past decade, and what is to be done about them? Does anyone, at this late date, really believe that the EU is working? Either it is a failed experiment that needs to be abandoned, or European institutions need to be substantially rethought to make a common currency area work better for the people and not just for the interests of capital. Neither can possibly happen until a major, core country forces the question. What country better than France to force that reckoning?
The same can be said about NATO. Donald Trump argued repeatedly during his campaign that the alliance was obsolete (though he has now reversed himself on this as on so much else), but America could never plausibly reform it because we naturally want it to remain a force-multiplier for American policy rather than a true instrument of collective security. It will take a major European state to force a substantive change. Again, who better than France, which always historically charted an independent course?
Moreover, on neither front is the world going to change overnight were Le Pen to win the presidency. Rather, negotiations would commence for new arrangements. Those negotiations might go well or poorly — but it is a mistake to view any one election in apocalyptic terms.
Finally, it is true that a Le Pen victory would likely be welcomed in Moscow and in Washington, and would be a terrible blow to those who see themselves as the liberal vanguard. But there are other threats to liberal democracy than populist nationalism, and the technocratic order that Macron runs to vindicate may well be one of them. Brussels rules not so much with the consent of the governed as with the conviction that it alone is capable of properly balancing the continent's manifold interests — which is precisely what ordinary democratic politics is supposed to be for. Is it so unthinkable to prioritize the latter threat over the threat of populism?
And consider the contrasts between Le Pen and her fellow populist-nationalists alongside their similarities. Le Pen is not Donald Trump. She's not a lazy, narcissistic, ignorant con artist. She's been at this for years and she knows her stuff. Nor is she Putin, or Erdogan, or even Viktor Orban of Hungary. She's not running to lead a fragile, young, shallow democracy. She's not out to restore a lost imperial glory, nor has she advanced a program for colonizing the state and turning it into an instrument of her party. Of the major exemplars of populist nationalism, she may well be the best of the bunch.
I am not a populist-nationalist. I am far too liberal to be a nationalist and far too conservative to be a populist. Nor do I believe that the advocates of populist-nationalism actually have solutions to the profound economic and demographic transformations that are powering their rise across the globe. But I do believe that populism plays an important part in the ecosystem of democracy. And if that banner is going to advance, I might just rather it be carried by someone who cares about our common liberal heritage than by someone hostile or indifferent to them.
In the end, I can't say that I actually hope for a Le Pen victory. But I can say that I don't really look forward to a triumph by Macron. The future is not a fixed star, and the center will only hold if it is responsive to the concrete needs of the people, and not merely the abstract demands of a hypothesized future. Before he wins, I'd like to see Macron acknowledge that. And if he won't, well ... why not Le Pen?
Continue reading for free
We hope you're enjoying The Week's refreshingly open-minded journalism.
Subscribed to The Week? Register your account with the same email as your subscription.
Sign up to our 10 Things You Need to Know Today newsletter
A free daily digest of the biggest news stories of the day - and the best features from our website
Noah Millman is a screenwriter and filmmaker, a political columnist and a critic. From 2012 through 2017 he was a senior editor and featured blogger at The American Conservative. His work has also appeared in The New York Times Book Review, Politico, USA Today, The New Republic, The Weekly Standard, Foreign Policy, Modern Age, First Things, and the Jewish Review of Books, among other publications. Noah lives in Brooklyn with his wife and son.