France's bonkers election
Macron vs. Le Pen is unprecedented. And it may be driving French voters insane.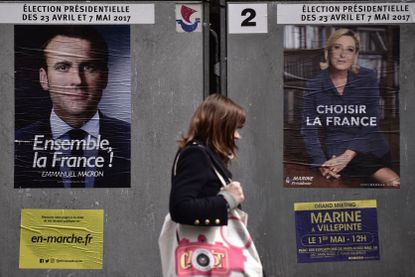 (Image credit: PHILIPPE LOPEZ/AFP/Getty Images)
Sign up to our 10 Things You Need to Know Today newsletter
A free daily digest of the biggest news stories of the day - and the best features from our website
Thank you for signing up to TheWeek. You will receive a verification email shortly.
There was a problem. Please refresh the page and try again.
France is going crazy over its presidential election.
Facing off in the May 7 run-off is the boy wonder centrist technocrat one-time financier Emmanuel Macron and the anti-EU right-wing National Front leader Marine Le Pen. It's crazy.
France's presidential election is already a repudiation of the old left-right divide of French politics. What we have instead is something like an elite-normal people divide. Neither of the two major parties that have governed France for all of the history of its Fifth Republic made it into the runoff. The old guard is out.
Subscribe to The Week
Escape your echo chamber. Get the facts behind the news, plus analysis from multiple perspectives.
SUBSCRIBE & SAVE
Sign up for The Week's Free Newsletters
From our morning news briefing to a weekly Good News Newsletter, get the best of The Week delivered directly to your inbox.
From our morning news briefing to a weekly Good News Newsletter, get the best of The Week delivered directly to your inbox.
That, in itself, is wild.
Now, it has been widely noted that Marine Le Pen's right-wing party has a past that reeks of sulfur. The National Front was founded by various fascists and fascist-friendly sorts. But as my colleague Noah Millman has pointed out, Marine Le Pen has done as much as possible to distance her party from its heinous past and has affirmed liberal democratic norms countless times. It's much more accurate to analyze her not as an actual or proto-fascist but as a populist-nationalist.
Meanwhile, Macron's campaign isn't helping. One of his first stops after the first round was to a factory that is striking because it is slated to close, its jobs to be offshored to Eastern Europe. Sneakily, Le Pen beat him there and took selfies with adoring white working-class Frenchmen while Macron was meeting with union reps in a nearby secure location, presumably out of fear that he would get heckled or worse if he tried to visit the factory.
Le Pen 1, Macron 0.
Sobered up by this half-hearted attempt to make a play for Le Pen voters, Macron seems to have decided to play the Nazi card from here to infinity. Starting with a visit and photo op at a Holocaust memorial. Subtle.
Macron is also playing the race card. He visited Sarcelles, one of those immigrant-rich Paris "Banlieues" you hear so much about and remarked to immigrant youngsters after playing a game of soccer: "Marine Le Pen can't come here." Her response? "That's right, and neither can police or firefighters."
Le Pen 2, Macron 0.
Establishment politicians facing off against populist insurgencies have a basic choice. They can paint their opponents as beyond the pale — racist, sexist, fascist, etc — or they can actually address populist voters' grievances and priorities. Macron is obviously opting for strategy #1.
I'm sure it's reassuring and comforting to believe that you're fighting for all that's great and good and holy, rather than the class interests of a privileged class. Macron's strategy, however, has a number of problems. And it tends to backfire.
Suggesting that some Le Pen supporters are akin to Nazis tends to energize them more, not less. (Look at what happened when Hillary Clinton called Donald Trump's supporters a "basket of deplorables.") In France, the whole "Le Pen is a Nazi" or "Le Pen is a racist" tactic has been tried for decades to stem the National Front's rise and has conspicuously failed to accomplish such a thing. Instead, it has the opposite effect.
But Macron's strategy is more than ineffective. It's morally wrong.
We don't live in a perfect world. Politics will always be emotional and crazy, but insofar as possible, it's incumbent on political leaders to try to talk about practical solutions to practical problems as much as possible, not just tar their opponents with nasty invective.
And make no mistake: Macron's strategy will drive people nuts. Recently, BuzzFeed France (yes, we have them here too) did a survey and reported that "the presidential election is having an impact on people's mental health."
At bottom, the problem is France's obsession with World War II. Even more than other Western countries, France's culture and its commanding heights are dominated by Baby Boomers. The neurosis of French Boomers is that they never went through World War II, our epoch's defining, global, Good-vs-Evil Grand Battle. And ever since then, they have been looking for Nazis everywhere.
As France's Boomers get older, the Nazi obsession gets worse. But the worst thing is that because of their cultural impact, the neurosis is contagious. If elected, Macron would be the youngest president of France in history. And yet, he embodies a neurosis two generations removed from him.
I have long remarked that President Trump has an amazing, almost supernatural skill: driving everybody insane in a literal way. Perhaps, however, this is not just true of Trump, but of politics in a divided nation. The West is being shaken up by a familiar mix of economic and technological change, migration, and sexual liberalization, and is increasingly being cleaved up into a world of winners and losers of this revolution. Because it is bound up with values, rather than looking for practical solutions to ensure that as many as possible win and as few as possible lose, we cast our friends and neighbors as enemies — and drive each other crazy in the process.
Continue reading for free
We hope you're enjoying The Week's refreshingly open-minded journalism.
Subscribed to The Week? Register your account with the same email as your subscription.
Sign up to our 10 Things You Need to Know Today newsletter
A free daily digest of the biggest news stories of the day - and the best features from our website
Pascal-Emmanuel Gobry is a writer and fellow at the Ethics and Public Policy Center. His writing has appeared at Forbes, The Atlantic, First Things, Commentary Magazine, The Daily Beast, The Federalist, Quartz, and other places. He lives in Paris with his beloved wife and daughter.