France is losing its most interesting politician
Marion Maréchal-Le Pen is young, charismatic, and Catholic. I hope she'll be back.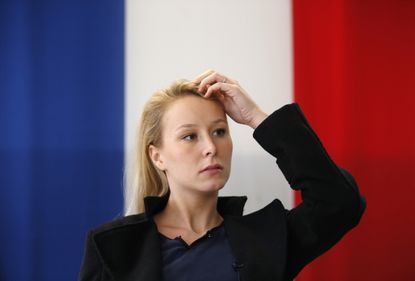 (Image credit: FRANCE-POLITICS/LEPEN REUTERS/Jean-Paul Pelissier)
Back in 2015, I surveyed the French political landscape to find the most interesting French politicians. My first pick was the country's youthful minister of the economy who was only starting to get presidential buzz and who, I argued, might be the best person to beat the National Front's populist leader Marine Le Pen. His name was Emmanuel Macron. I think you know now how that turned out.
But I didn't actually think Macron was the most interesting politician in France. That honor belonged to Marion Maréchal-Le Pen, niece of Marine Le Pen and granddaughter of the National Front's founder. Marion Maréchal-Le Pen isn't just young (she was the youngest person ever elected to Parliament in France's history) and beautiful and endowed with the most notorious last name in French politics. She is smart and tough and charismatic. What's more, she started a movement that might represent the future of French politics.
Which is why it's so frustrating that Marion Maréchal-Le Pen just announced she is taking a step back from politics, resigning from her offices to work in the private sector.
Subscribe to The Week
Escape your echo chamber. Get the facts behind the news, plus analysis from multiple perspectives.
SUBSCRIBE & SAVE
Sign up for The Week's Free Newsletters
From our morning news briefing to a weekly Good News Newsletter, get the best of The Week delivered directly to your inbox.
From our morning news briefing to a weekly Good News Newsletter, get the best of The Week delivered directly to your inbox.
But let's back up. Marion's aunt's goal as leader of the National Front was not just to remove the stains from the party's fascist and racist past, but also to blur the lines of French politics. The National Front would no longer just denounce crime and immigration, but also globalization and corporate power, and therefore become a "full-spectrum" populist party, borrowing elements from far-left and far-right rhetoric to unite France's underclass into a majority.
As this was going on, Marion became — through sheer wattage — the leader of the party's wing that was disaffected by the new direction. Where Marine is conspicuously irreligious and claims not to abhor Islam but instead to defend traditional French secularism against militant encroachments, Marion is public about her traditionalist Catholic faith and is a stalwart defender of France's Christian roots. Where Marine will strike far-left notes on criticism of big business, Marion defends a free market. Where Marine quietly dropped her party's tepidly anti-abortion line, Marion vows to defund Planned Parenthood.
The reason why this is so interesting is because "the Marion line," as it has been called, goes against not just the National Front's official line but against every sacred cow of French politics: religious where secularism is revered, pro-markets in the least pro-market advanced country. It's also interesting because the Marion line could ride on a much more profound phenomenon in society: the resurgence of a proud and assertive, fast-growing Catholicism.
Newly assertive Catholics put a million people on the streets to march against same-sex marriage in one of the most libertine countries on Earth, and put François Fillon over the top in conservative primaries even though the polls and pundits said he was doomed.
To me, one of the most fascinating — and important — questions of the coming decades is how this newly assertive Catholicism might play out politically. Will it invent new, transpartisan ways to engage politically? Will it become an analogue of the American Christian right? Will it end up boosting mainstream conservative parties, or will it feed into the French far right, becoming a kind of French Tea Party movement?
Into this background, then, walked thousand-watt Marion, with the mix of charisma and savvy that enables gifted politicians to turn inchoate social change into cohesive, game-changing movements. Which is why, while I don't necessarily wish her success, as a spectator, I'm still sad that she's stepping back from politics.
Marion has said that she is stepping back to spend more time with her family, which in politics is usually code for a brewing scandal. But in this case, all the reports say this is the genuine truth. She had been considering such a move for months; she has a 3-year-old daughter and was deeply affected by not seeing her as often as she would have liked; having jumped into politics at the tender age of 22, she has always had an interest in working in the private sector.
Her departure now is all the more striking given that the French presidential election results seem to vindicate the Marion line. Marine Le Pen tacked hard to the left after the first round of the election, going after disaffected far-left voters, and dropped in the polls as a result. While only 7 percent of far-left first-round voters chose Le Pen, 20 percent of Fillon voters did so, suggesting that the way for the National Front to grow its vote is to appeal to traditional and mainstream conservatives rather than disaffected lefties. The reports of the death of the left-right divide have been greatly exaggerated.
Emmanuel Macron has shown that it's possible to be elected president of France at a very young age with the right amount of media-savvy, a good grasp on the mood of the country, and a smattering of good luck. Marion has said that she would one day return to politics, and at 27, she certainly has many opportunities ahead of her. And when she does return, we all better watch out.

Continue reading for free
We hope you're enjoying The Week's refreshingly open-minded journalism.
Subscribed to The Week? Register your account with the same email as your subscription.