How Greg Gianforte won Montana's special election — despite an assault charge
Timing, it seems, is everything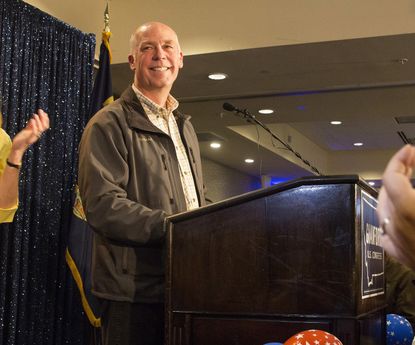 (Image credit: Getty Images)
One of the persistent clichés in politics is that campaigns and elections are all about "momentum." It's an elusive and hard-to-quantify commodity that candidates will loudly and proudly declare to have in their possession, even when — especially when — they do not. That cliché got a thoroughly bizarre twist this week when the special election for Montana's at-large congressional seat came down to literal, Newtonian momentum: specifically, the mass and velocity of Guardian reporter Ben Jacobs as he was being thrown to the ground by Republican candidate Greg Gianforte.
Everything about the incident was irredeemably ugly. Jacobs asked Gianforte for his response to the Congressional Budget Office's scoring of the Republican health-care bill, which apparently was so enraging to Gianforte that he slammed Jacobs to the ground and screamed "get the hell out of here." Jacobs called the police and was taken to the hospital for x-rays. Gianforte and his aides, after leaving the scene, put out a lie-filled statement about the incident in which they brazenly attempted to pin blame on Jacobs and cast Gianforte as the victim. He was later charged with misdemeanor assault.
But viciously attacking a member of the press, lying about it, and being charged with a crime weren't enough to stop Gianforte from winning election to Congress. He defeated Democratic candidate Rob Quist by about seven points.
Subscribe to The Week
Escape your echo chamber. Get the facts behind the news, plus analysis from multiple perspectives.
SUBSCRIBE & SAVE
Sign up for The Week's Free Newsletters
From our morning news briefing to a weekly Good News Newsletter, get the best of The Week delivered directly to your inbox.
From our morning news briefing to a weekly Good News Newsletter, get the best of The Week delivered directly to your inbox.
How did this happen? Well, there were a number of factors at play, the most significant of which was the calendar. By the time Gianforte laid his hands on Jacobs, nearly 260,000 Montanans had already voted via mail-in absentee ballot. Even if they'd wanted to change their ballots, they couldn't. And I suppose that if you're the sort of person to publicly choke-slam a human being while also running for elected office, the least terrible time to commit that grievous offense is just hours before Election Day when partisan loyalty can still override the enormity of your behavior.
Gianforte also benefited from the fact that today's Republican Party values the preservation of political power above literally everything else. Top GOP leaders reacted to news of the Montana Republican's violent outburst by staying quiet, brushing it off, or offering heavily qualified rebukes. Republican voters in Montana called into Rush Limbaugh's radio show to either support Gianforte's violent behavior or make excuses for it (the fact that Gianforte's victim was a member of the much-derided mainstream press helped his supporters rationalize what he did).
In his victory speech, Gianforte acknowledged he made a "mistake" and apologized, confirming that he and his staff lied in their statement blaming Jacobs for the incident. The crowded responded by shouting, "You're forgiven!"
Now Gianforte will take his seat in Congress and all his Republican colleagues will pretend that this whole incident never happened with the hope that it will eventually blow over.
Democrats, meanwhile, once again get to enjoy the thin gruel of having run a closer-than-expected race that they still lost. As The Week's Ryan Cooper wrote, Rob Quist's unique persona (hard-luck musician meets cowboy) and unconventional politics (he campaigned with Bernie Sanders and backed single-payer health coverage while also strongly supporting gun rights) make it difficult to draw any national lessons from the campaign he ran. But the party should absolutely take note of how effectively Quist used the American Health Care Act as a cudgel against Gianforte, who dodged and dissembled on the issue right up until he attacked a reporter for asking about it.
Democrats can also draw some encouragement from the fact that this race was close even before the Republican candidate was charged with misdemeanor assault. Democratic candidates have overperformed their expected vote shares in every House special election of the Trump presidency, all of which have been held in strongly Republican districts. Donald Trump won Montana by 20 points over Hillary Clinton, so Gianforte's seven-point victory over Quist should put the wind up any GOP congressman from a less reliably Republican district.
That being said, the Democrats still haven't put together the right combination of candidate and message to pick off a Republican seat. National attention is now going to shift to Georgia's 6th District, where Democrat Jon Ossoff is staring down a June 20 runoff election against Republican Karen Handel. The Democrats face higher expectations in Georgia than they did in Montana: They've poured a ton of money into the race, and Ossoff is a more polished candidate running in a district that is less friendly to Republicans (Trump carried it by just 1.5 points in 2016).
The pressure on Democrats to flip that seat will be intense. And who knows — maybe they'll get lucky and Karen Handel will elbow-drop a priest or something.

Continue reading for free
We hope you're enjoying The Week's refreshingly open-minded journalism.
Subscribed to The Week? Register your account with the same email as your subscription.