Can this cowboy leftist win Montana?
As the Big Sky State goes, so may go the rest of the Rockies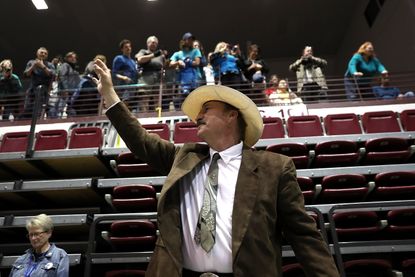 (Image credit: Justin Sullivan/Getty Images)
Montana will hold a special election today to replace Ryan Zinke, who left his House of Representatives seat to become President Trump's secretary of the interior. The major candidates are Rob Quist, a local folk singer who has run a left-populist campaign funded mostly by the grassroots, and Greg Gianforte, a software gazillionaire (and young-Earth creationist) who is attempting to buy himself political office again after failing to purchase the Montana governorship in 2016.
The race was turned on its head Wednesday night, as Gianforte allegedly assaulted Guardian reporter Ben Jacobs for asking a question about the Congressional Budget Office report on TrumpCare. It's hard to say what impact that might have on the race, as many have already voted.
Still, the overall race has been an excellent representation of authentic economic populism against today's Republican Party, with its brutal domestic agenda and Government Sachs Cabinet. Whether or not Quist can eke out a victory is an important test case for whether economic populism can win in red states.
Subscribe to The Week
Escape your echo chamber. Get the facts behind the news, plus analysis from multiple perspectives.
SUBSCRIBE & SAVE
Sign up for The Week's Free Newsletters
From our morning news briefing to a weekly Good News Newsletter, get the best of The Week delivered directly to your inbox.
From our morning news briefing to a weekly Good News Newsletter, get the best of The Week delivered directly to your inbox.
It seemed during the 2016 presidential campaign that Trump might attempt to co-opt some of the left's energy around welfare and jobs, but after becoming president, he has completely abandoned himself to the traditional Republican agenda of spending and welfare cuts, deregulation, and stupendous tax cuts for the rich. About all of his economic advisers are ultra-wealthy Wall Street types, the TrumpCare bill passed by the House would savage health coverage to cut taxes on the rich, and the budget "plan" the administration recently slapped together would further hammer government so as to cut them even more.
Still, the fact that Quist is even close at all is fairly remarkable. Trump won Montana by 20 points, yet the latest polls show Quist and Gianforte neck and neck. Quist has gotten close not by running as a conservative-lite Blue Dog, anxious about abortions and the budget deficit — as Rahm Emanuel might have recommended — but by touring with Bernie Sanders; proclaiming his support for Medicare for all, marijuana legalization, abortion rights, and equal pay; and bashing fat cat bankers. (Though, to be fair, he also supports gun rights.)
Quist has gotten tremendous mileage out of TrumpCare, which would take a wrecking ball to the health security of most Montanans, just like it would in every other state. Gianforte has been two- or three-faced on the ObamaCare repeal bill, telling local media that he was undecided but telling lobbyist donors in a conference call that he supported it, as The New York Times reported. Later, Gianforte changed course again, saying he would vote against the bill. Quist pounced, slamming him as an untrustworthy plutocrat who would gore Medicaid to line his own pockets.
In response, conservative partisans have red-baited Quist relentlessly (sometimes even with handmade signs), pointing to his association with Sanders as proof that he is a socialist alien, out of touch with Montana values. (Ironically, there is nothing more socialist in American history than the federal land and water programs that made settlement of places like Montana possible.)
Even the opposition research dug up on Quist fits with this general theme. Gianforte's campaign and the local press has attacked Quist for having longstanding debt problems — partly the result of a botched surgery which left him with huge medical bills, he says. Perhaps he was guilty of poor personal financial management, but it also gives him a direct view into how the wretched American health-care system grinds people's finances into mulch — something the ultra-rich tend to have little experience with.
At any rate, one shouldn't overstate the importance of this race. Montana is a very small state, with just over a million residents, and has a much larger share of white people than the American average. And Quist's precise formula for success — with his decades-long music career and deep roots in the state — will be impossible to simply replicate.
Indeed, the two special elections on Tuesday for state-level seats in New Hampshire and New York — where Democrats won seats in districts that both went for Trump in 2016 — are probably just as much a bellwether as this race.
Yet it's not meaningless either. Montana partakes deeply of the faintly goofy cowboy mythology that saturates the whole Mountain West. If Quist can win there, then someone similar ought to be able to put up a decent showing in Colorado, New Mexico, Nevada, or perhaps even in Arizona or Idaho — especially given that this is a special, off-year election, meaning Democratic-leaning demographics often fail to turn out.
As the Big Sky State goes, so may go the rest of the Rockies.

Continue reading for free
We hope you're enjoying The Week's refreshingly open-minded journalism.
Subscribed to The Week? Register your account with the same email as your subscription.