Trump, Macron, and the meaning of civilization
On the deeper significance of each president's recent comments on civilization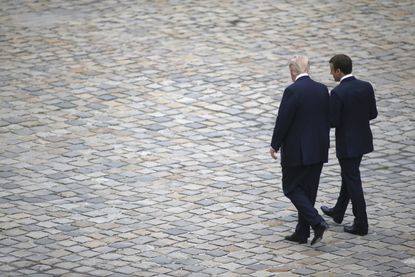 (Image credit: AP Photo / Matthieu Alexandre)
President Donald Trump and French President Emmanuel Macron could have talked about any number of topics over dinner last night. In many ways, they are perfect complements to one another, each grasping opposite ends of the same stick. Both leaders took unlikely and previously-untrodden paths to their respective countries' highest office, and they have a shared Napoleonic appreciation for the role of spectacle and performance in the establishment of authority.
They've both also recently made provocative comments about "civilization." I doubt they talked about it over dinner last night, but I hope they did. Because this is another area where the two leaders have grasped the same stick from opposite ends.
Trump's Warsaw speech proclaimed the urgent need to defend Western civilization from threats from the "south" and "east" — but most especially from within, from a lack of will to defend it and pass it on. Critics from the left expressed alarm, as if any defense of specifically Western civilization was necessarily a variety of white supremacy; critics from the right objected that the problem was not so much the message as the messenger. But regardless, the question was put on the table: Is there such a thing as Western civilization. If so, does it need defending? And of what would that defense consist?
Subscribe to The Week
Escape your echo chamber. Get the facts behind the news, plus analysis from multiple perspectives.
SUBSCRIBE & SAVE
Sign up for The Week's Free Newsletters
From our morning news briefing to a weekly Good News Newsletter, get the best of The Week delivered directly to your inbox.
From our morning news briefing to a weekly Good News Newsletter, get the best of The Week delivered directly to your inbox.
Macron, meanwhile, got into trouble talking not about the West but about another civilization. Asked by a reporter from Côte d'Ivoire about the prospect of a Marshall Plan for Africa, Macron said that the Marshall Plan was a bad model because Europe already had stable structures and just needed to be rebuilt, while Africa?
Macron went on to talk about high birth rates as another source of instability, all leading to a conclusion that a simple cash transfer would be ineffective without first tackling these pervasive social, political, and governance problems.
Of course, the Marshall Plan itself did much more than transfer cash; it tackled important social, political, and governance problems too. But leave that aside, and the question remained: Could Africa's problems be plausibly described as "civilizational?" Or is it problematic to even talk of "African civilization" as opposed to distinguishing between the many, highly distinct countries and cultures on the continent of Africa?
One might say that both men spoke out of a history of Western fear and disdain for non-Western peoples. But I see something different, much more interesting and, in a way, more hopeful.
Consider how these questions would be different if we were speaking not of Western civilization or African civilization, but of a civilization with sharper boundary lines: the Chinese civilization. Would there be any debate about whether there was such a thing? Whether it was appropriate to speak of defending it from foreign influence? Whether it might have a character that required adaptation to thrive in the modern world?
I would maintain that the answer is no. China, the country, contains any number of ethnic minorities, some of them suffering from serious oppression, and encompasses great linguistic diversity. But the Chinese themselves overwhelmingly conceive their civilization as having a clear line of continuity back to ancient times, and both the question of foreign influence and the question of adaptation to modernity have been very live questions for China within living memory, and are still. It is for the Chinese themselves to decide what their civilization is and how it will change over time — but whether it exists really isn't a question.
The West, though, has a far more indefinite character. It has no definite geographic definition, nor linguistic continuity; its native religion has already been supplanted once by an import from the Middle East (Christianity); and its most central pillar in the 20th century — the United States of America — is one of the most ethnically polyglot societies in history. One might define Western civilization as that part of the world that draws its inspiration from Greco-Roman antiquity — but the medieval Muslim world drew heavily on the legacy of Greece for its science and philosophy, and Russia long conceived of itself as the new Byzantium, which in turn saw itself as in continuity with Rome. Yet Russia has rarely been considered part of the West. And yet, the West is something, even if we can't readily define it. It is not a myth, but a blur.
But this very blurriness is precisely what the West shares with Africa. The states of Asia — Japan, China, India, Vietnam, Iran, Turkey — forged their modern identities and their modern nationalisms substantially in response to the Western challenge, and to a greater or lesser degree to Western colonial control. But most of the states of Africa derive from Western intrusion outright. There is a reason why some African statesmen of the early post-colonial period could still have thought to look to the West as part of their patrimony. The West was available to be claimed in this manner, and they were open to claiming it. And the influence runs very much both ways. The two largest countries of the West — the United States and Brazil — are marked in the deepest ways by African influence, from music to cuisine to language to the very constitution of our bodies. Modern European and American art is impossible to imagine without African influence. And the economic contribution of enslaved African labor to the accumulation of Western wealth is incalculable.
If there is an African or a Western civilization, then, they are profoundly intermingled to an extraordinary degree — and they share the characteristic of being able to tolerate, adapt to, and thrive on that intermingling. And we have other things in common as well. Consider the litany of problems Macron attributed to African civilization. Africa's patchwork of states with porous linguistic and ethnic boundaries resembles early modern Europe, as does its religious divisions. Europe has far greater wealth and accumulated cultural as well as physical capital. But it is struggling with many of the same questions of how to coordinate a fractured and fractious continent.
Of course, Europe's and Africa's demographic destinies are quite different. Europe is shrinking, while Africa is exploding, and though Macron has been raked over the coals for calling attention to high African birth rates, they are not a trivial consideration in Africa's destiny, any more than Europe's rapidly-inverting demographic pyramid is. While there is very wide variation across the continent, the fact remains that the overwhelming majority of the highest-fertility countries are African, and these include some of the most populous countries on the continent. Depending on Africa's development trajectory, this might lead to African triumph or tragedy, but either way it will mean that Africa matters, centrally, to the next century of human history.
How will it matter to Western history though? Well that depends on how we respectively define ourselves. The indefinite character of Western civilization is a key reason for anxiety about its future. But the West is not the only civilization that is not so easily defined. Africa is similar that way. And it is precisely that indefinition that makes it possible to define our civilizations expansively, and forge productive partnerships on a more reciprocal basis than has been the case in the past.
They say a good offense is the best defense. Perhaps Europe and Africa are also grasping opposite ends of the same stick?

Continue reading for free
We hope you're enjoying The Week's refreshingly open-minded journalism.
Subscribed to The Week? Register your account with the same email as your subscription.