Trump's recklessness is Republican orthodoxy
The president's absurd bombast reveals the foolishness of Republican hawks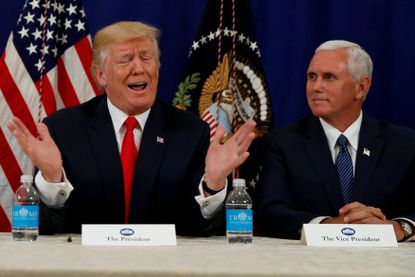 (Image credit: REUTERS/Jonathan Ernst )
Trump might be the most inarticulate mouthpiece for Republican orthodoxy the country has ever seen.
When President Trump warned that North Korea's bellicose rhetoric could bring "fire and fury like the world has never seen" down upon the nation last week, he was speaking off-the-cuff at an opioid epidemic briefing. But two days later, he doubled down on his belligerent warnings to North Korea, telling reporters that his "fire and fury" comment "maybe ... wasn't tough enough." As Daniel Larison noted for The American Conservative, Trump's comments were not just provocative — they were "needlessly alarming to allies and gives them reason to fear that the U.S. might act recklessly at their expense," while putting the U.S "in the absurd position of either backing up the president's mindless bluster or climbing down publicly."
But Trump's language, unrefined though it may have been, is no stranger to the Republican Party. For quite some time, the GOP has been characterized by hawkish foreign policy, touted by politicians who prize rigorous pre-emptive tactics over prudential restraint. Trump's incendiary rhetoric fits a pattern we've seen in years past (and present) from the Lindsey Grahams and John McCains of the Republican Party.
Subscribe to The Week
Escape your echo chamber. Get the facts behind the news, plus analysis from multiple perspectives.
SUBSCRIBE & SAVE
Sign up for The Week's Free Newsletters
From our morning news briefing to a weekly Good News Newsletter, get the best of The Week delivered directly to your inbox.
From our morning news briefing to a weekly Good News Newsletter, get the best of The Week delivered directly to your inbox.
Indeed, when it comes to Trump's grandstanding on North Korea, Graham has expressed full support for the president, even telling radio host Hugh Hewitt that Trump could likely get away with striking North Korea without Congress's permission.
"If there's going to be a war to stop [Kim Jong Un], it will be over there. If thousands die, they're going to die over there. They're not going to die here. And [Trump's] told me that to my face," Graham said on the Today show earlier this week. "That may be provocative, but not really. When you're president of the United States, where does your allegiance lie? To the people of the United States."
Marco Rubio, another staunch interventionist in the Senate, defended the president with this tweet:
It was McCain who — despite having urged hardline policies toward Iran, Syria, and North Korea in the past — actually cautioned Trump against bellicose rhetoric. "I'm not exactly sure the president recognizes that when he speaks, [as] the most powerful person in the world, his or her words reverberate all over the world," he said.
But he did add, perhaps in typical hawkish fashion, that the threat was only uncalled for if Trump's not willing to carry it out: "The great leaders I've seen don't threaten unless they're ready to act, and I'm not sure President Trump is ready to act."
When it comes to North Korea — and indeed to much of his foreign policy positioning — Trump isn't a populist outsider. He's the inheritor of a now long-standing GOP tradition of hawkishness. He's carrying on the legacy of the neocons — though without any of the experience, military background, or rhetorical finesse that might lend credence to his position.
Since 9/11, the Republican Party has increasingly abandoned the principles of prudential foreign policy. War in the Middle East propelled the party toward a plethora of military commitments overseas, and they've refused to scale back those commitments as years have passed. GOP leaders criticized President Obama for "leading from behind," while largely favoring strongman tactics and belligerence. From Afghanistan to Iran, Russia to North Korea, GOP policymakers have advocated for "shows of strength" wherever and whenever necessary.
But with North Korea, there couldn't be a more dangerous methodology. Kim Jong Un is a bully and a narcissist, the leader of a nation determined to display its supposed power and greatness on the world stage. The more belligerent Trump's language, the more Pyongyang will respond in kind. This posturing is all about being the biggest and meanest kid in the room — and has nothing to do with a prudent use of force. Unfortunately, in employing his "fire and fury" rhetoric, Trump has done just what every child is told not to do with the insecure bully: give him attention.
U.S. Secretary of Defense James Mattis has warned that war with North Korea would be "catastrophic," putting lives throughout Northeast Asia and the United States in harm's way. While regime change or political revolution in North Korea is likely impossible, the dissolution of the country would result in a seismic refugee crisis. North Korean citizens have been subjugated to a level of propaganda and isolation that could make them more reluctant to assimilation than many of the Middle Eastern refugees that have passed from Syria and Iraq into Europe and other Western countries.
What's more, unification of North and South Korea — which some have thrown out as a potential result of preemptive strikes against the North — would be difficult in the extreme, largely because of the aforementioned isolation and hostility that Pyongyang has engendered among its citizenry.
There are no easy or perfect solutions to our North Korea conundrum. Considering Trump's lack of military credentials and dangerously blunt rhetoric, however, Republicans should consider the repercussions of their foreign policy positions. Hopefully they may finally realize that hawkishness is not pro-military, or pro-caution: It's careless — both with our global standing with allies such as South Korea, and with the lives of the men and women who serve our country.

Continue reading for free
We hope you're enjoying The Week's refreshingly open-minded journalism.
Subscribed to The Week? Register your account with the same email as your subscription.