Ghost-hunting in abandoned asylums is super messed up
Don't do it. Just don't.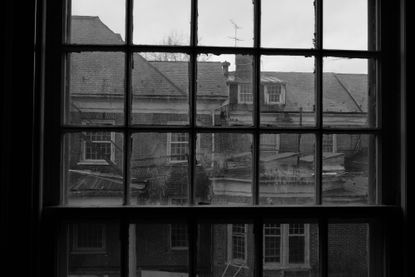 (Image credit: CC BY: Dan Grogan, via Flickr)
Where I live, there are two psych hospitals named St Albans. One is an active hospital; the other is abandoned and serves mostly as a site of paranormal research. It's been called "the most active site on the East Coast." I used to imagine joining one of the paranormal research groups there. I'd borrow equipment so I could pick up EVP from psych patients past. I'd check how much the temperature dropped in certain rooms. I'd stare into mist and fog and think I saw faces staring back at me.
Now I'll never go. I'll never play voyeur to the ghosts and the energy of the abandoned St. Albans. And that's because of the still-open St. Albans.
Last winter, I found myself in a depression and got myself admitted to the hospital. Having been in psych hospitals before, I thought I knew what to expect. I was used to lots of paperwork and tests and having my belongings inventoried and even being strip-searched, which had always been done professionally. Here, I was taken to a supply closet to strip down while two nurses cataloged every detail of my body. They had me hold my breasts up so they could see I wasn't smuggling drugs beneath them. The nurses asked questions as I stood there, still holding my breasts up, wondering why the questions couldn't wait until I was clothed.
Subscribe to The Week
Escape your echo chamber. Get the facts behind the news, plus analysis from multiple perspectives.
SUBSCRIBE & SAVE
Sign up for The Week's Free Newsletters
From our morning news briefing to a weekly Good News Newsletter, get the best of The Week delivered directly to your inbox.
From our morning news briefing to a weekly Good News Newsletter, get the best of The Week delivered directly to your inbox.
At med time, a nurse pulled open a bin with my name on it. I saw that several syringes of a very potent tranquilizer had already been prepared and labeled with my name. The nurse saw me look at the syringes. "It's real relaxing," she said. I became paranoid that anything I did or didn't do would merit an unnecessary injection. I took my meds and went to sit in the common room. That night I slept in terror if I slept at all; they required bright lights to be on all night. I kept making sure all my limbs were under the blanket so they couldn't come in and inject me so easily.
I was fortunate enough to successfully petition for discharge the very next day, but I returned home scarred by the single night I spent there. And of course, in the past, hospitals used to use far more extreme "treatments" for mental illness. Lobotomies and insulin-induced comas were standard practice, as was water therapy that involved patients being strapped into steaming vats of water and left for days. They used these treatments in what is now the abandoned St. Albans. I used to picture myself as one of the ghost hunters, stumbling through labyrinthine halls and hoping to photograph spirit orbs. But now I align myself with the ghosts of St. Albans, a disembodied voice screaming endlessly because she'd lost herself to those who were supposed to heal her.
One room in the old St. Albans is called the Suicide Bathroom. Paranormal investigators and visitors to Halloween festivities go there to find out what the residual energy of a suicide takes place. In St. Albans, a lot of suicides were not so much a direct result of patients' illnesses, but because suicide was the only way out of the torturous methods they endured. I imagine participants in group investigations ($50, which includes snacks and coffee) standing in the bathroom and waiting for suicide ghosts just like people used to line up to see disabled people at freak shows. It's as if, because the patients are dead, it doesn't matter. It's as if real life despair and suicides and negligent care aren't everywhere, aren't actually beyond awful and sad. It's as if we think we can eradicate mental illness while also hoping to glimpse evidence that the insane dead are not resting peacefully.
I know fear. I know the fear of waking under bright lights, tucking in my limbs again because I could be injected at any time. I would not sell tickets and snacks so strangers could witness that fear.
Today is Halloween, and the old St. Albans will surely be an active site. They host plenty of Halloween festivities, including haunted house events where participants are told they could encounter "zombies or mental patients." That phrasing pretty much says it all, doesn't it? Zombies or mental patients.
Wouldn't it be nice to live in a world where psychiatric hospitals are safe places to rest and recover, where we don't sell tickets to see psych patients and zombies portrayed interchangeably? Let's make it happen.

Continue reading for free
We hope you're enjoying The Week's refreshingly open-minded journalism.
Subscribed to The Week? Register your account with the same email as your subscription.