Al Franken is just the beginning
Washington is about to weather a hurricane of sex-abuse allegations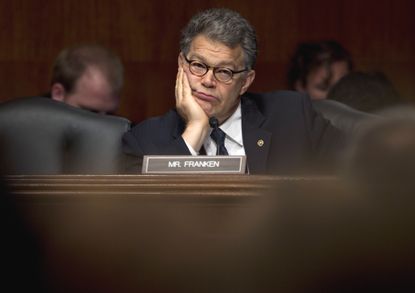 (Image credit: AP Photo/Carolyn Kaster)
Sign up to our 10 Things You Need to Know Today newsletter
A free daily digest of the biggest news stories of the day - and the best features from our website
Thank you for signing up to TheWeek. You will receive a verification email shortly.
There was a problem. Please refresh the page and try again.
The most stupefying question prompted by Democratic Sen. Al Franken being accused of kissing and groping a woman without her consent isn't whether he'll be forced to resign his Senate seat, or whether the news (and Democratic reaction to it) makes it more or less likely that the Republican Senate candidate from Alabama Roy Moore will drop out of the race after multiple accusations of sexual misconduct, or whether the Senate will refuse to seat Moore in the chamber in the event that he stays in and wins the race.
The most stupefying question prompted by the disgusting Franken news, coming as it does amidst the steady drip of disgusting Moore news, and the ongoing deluge of disgusting news about similar (and worse) behavior on the part of a slew of movie producers, actors, comedians, journalists, professors, and other prominent men is: Where will it end?
How many senators and House members and elected and appointed officials at the federal, state, and local levels will be forced to resign? And how many men will remain in these positions when it is all over?
Subscribe to The Week
Escape your echo chamber. Get the facts behind the news, plus analysis from multiple perspectives.
SUBSCRIBE & SAVE
Sign up for The Week's Free Newsletters
From our morning news briefing to a weekly Good News Newsletter, get the best of The Week delivered directly to your inbox.
From our morning news briefing to a weekly Good News Newsletter, get the best of The Week delivered directly to your inbox.
It's far too early to say, because the floodgates have only just been thrown open. But the possibilities are mindboggling.
Consider Joe Biden. A few short weeks ago, the former senator and vice president seemed like he would be a leading contender to win the Democratic nomination for president in 2020 and then the favorite to challenge President Trump's bid for re-election. But now? Biden's polling may look good, but he has a history of wandering hands that is simply incompatible with the new normal. He's a political dead man.
Now think of all the pages and interns and young staffers cycling through all of those offices on Capitol Hill, year after year, decade after decade. And the countless thousands of staffers who've passed through the White House and executive branch departments and agencies across Democratic and Republican administrations. And all the Supreme Court clerks and assistants. How long until one of these pages or interns or staffers or clerks or assistants, or dozens of them, or hundreds of them, begin to talk and make credible accusations against leading public figures of both parties?
How many unwanted advances, kisses, gropes, coerced sex acts, and other forms of harassment, abuse, and assault are we likely to learn about?
I suspect far more than any of us can imagine.
Already we know that the House has paid out $15 million over the last 10-15 years to settle sexual harassment allegations. And that is surely just the beginning.
The reckoning is coming. Washington is going to weather an absolute hurricane of sexual abuse allegations and revelations.
Every man who's behaved this way knows about his own actions but probably no one else's. Every woman who's had to endure this behavior knows about her own experience (or experiences). But as we've learned from so many of the stories published over the past few weeks, until now most of these women have been driven by a mixture of humiliation and fear to keep their suffering to themselves.
The result is almost universal ignorance of the extent of the problem. We're like people stumbling around in the dark in a vast public space, all of us trying to find our way, with many people behaving badly and many others forced to contend with it, but no one really knowing about what's going on all around each of us. Now, for the very first time, the lights have begun to be thrown on, and little by little more and more areas are being illuminated. By the time the darkness has been fully dispelled and our eyes have adjusted to the glare, we are going to find ourselves in a state of profound cultural and moral shock. And there's no telling what the political consequences are going to be.
How many terrible men will go down? There's no way to know. But one thing of which we can be fairly certain is that President Trump will survive. The time for him to suffer the consequences for the appalling behavior he described (and bragged about) on the Access Hollywood tape is long past. He got caught admitting his predatory sexual entitlement and abuse, and he won the presidency anyway.
That's why it's oddly fitting that of all the sexual harassers and coercers who have been and will be exposed, Donald Trump should remain untouched by the rising political maelstrom. In some ways, we owe it all to him. There's no way it's a coincidence that it was within the first year of the Trump administration that women at long last overcame their fear and shame to tell their stories and take down the perpetrators. It's as if each perp is in some small way a vicarious stand-in for the sexual predator in the White House who got away with his offenses so egregiously.
So let the president preside over the bloodbath that's unfolding so brutally before our eyes, serving as an insistent, painful reminder of why the culling must continue until the last abuser has been exposed.
Continue reading for free
We hope you're enjoying The Week's refreshingly open-minded journalism.
Subscribed to The Week? Register your account with the same email as your subscription.
Sign up to our 10 Things You Need to Know Today newsletter
A free daily digest of the biggest news stories of the day - and the best features from our website
Damon Linker is a senior correspondent at TheWeek.com. He is also a former contributing editor at The New Republic and the author of The Theocons and The Religious Test.