Kim Jong Un isn't negotiating for peace. He's just buying time.
Negotiations would be great if they were real. These are not.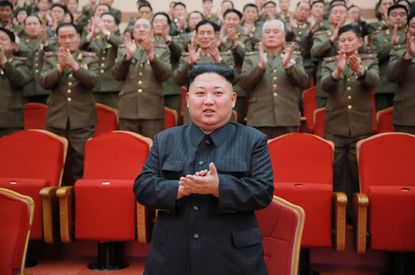 (Image credit: Getty Images)
Sign up to our 10 Things You Need to Know Today newsletter
A free daily digest of the biggest news stories of the day - and the best features from our website
Thank you for signing up to TheWeek. You will receive a verification email shortly.
There was a problem. Please refresh the page and try again.
When it comes to North Korea, President Trump is reportedly torn between using his missiles and his words. Even as the White House debates whether to hit the rogue country with "bloody nose" airstrikes over its nuclear missile tests, his secretary of state publicly talks up unconditional talks with the regime. What is the president thinking? No one seems to know.
But everyone knows what North Korean leader Kim Jong Un is thinking. Even as he does a little backtracking himself, Kim clearly has an actually strategy he is trying to employ — and despite the smokescreen he's trying to throw up, it's as clear as day.
You see, Kim believes the only way to guarantee the security of his regime is by attaining nuclear weapons that can hit the continental Unites States. And he seems willing to put his beleaguered country through whatever pain is necessary to get them.
Subscribe to The Week
Escape your echo chamber. Get the facts behind the news, plus analysis from multiple perspectives.
SUBSCRIBE & SAVE
Sign up for The Week's Free Newsletters
From our morning news briefing to a weekly Good News Newsletter, get the best of The Week delivered directly to your inbox.
From our morning news briefing to a weekly Good News Newsletter, get the best of The Week delivered directly to your inbox.
Now that the White House is seriously debating military action, Kim must realize he antagonized Trump too much last year with his tests of nukes and ballistic missiles. But Kim also knows he's close to figuring out the last technological hurdle to nuclear-tipped ICBMs: ensuring his warheads can survive atmospheric re-entry. He likely only needs a few months to ensure his mad scientists can put the finishing touches on a heat-shield design that works.
Kim knows that the Trump administration will probably not launch any attacks or increase pressure as long as Pyongyang does not fire off any new missiles or test any nukes. But he also realizes Washington's patience won't last forever, so he needs to secure as much time as he can.
Enter the peace talks. Recent negotiations between North and South Korea seem to have been successful, with the North agreeing to military talks and to participating in the Winter Olympic Games in Pyeongchang. But what will really be gained here? More detailed talks — and time.
North Korea will likely seek to parlay the success of Tuesday's talks and its entry into the Winter Games, where the world will fawn over the North's two photogenic ice skaters, into even more detailed negotiations. It will likely offer to discuss stalled joint development projects, family reunifications, and perhaps an inter-Korean summit between the two leaders. The world will falsely hope that the Korean War, which was never concluded with an actual peace treaty, might finally be laid to rest. Some might even predict a day when peaceful reunification might be possible.
But here is where Kim lays his trap. While negotiations will start off promisingly, Pyongyang will slowly add to its list of demands. Talks will stall, never reaching the point of collapse but never resulting in any meaningful concessions either. All the while, North Korea's rocket scientists will be putting the finishing touches on the final design of Pyongyang's ICBM with a working heat shield. We will know South Korea has been had when a breakdown in negotiations thanks to Kim is followed up quickly by a missile test like no other: a 13,000-kilometer strike into the South Pacific sometime in early April, just before delayed U.S.-South Korea military drills are about to begin. And with this test there will be no doubt that North Korea is a nuclear power capable of attacking the U.S. homeland.
At this point, the world awakens to what can only be described as a 2018 version of the Sputnik moment, when the USSR back in 1957 launched a satellite into orbit which proved U.S. cities were in range of Soviet missiles. The news media will go into a rage. Center-right outlets will blame Obama, Clinton, and any other democratic administration they can find in a history book for not making North Korea a top priority or never fully dealing with the problem. Center-left outlets will blame the Trump administration's lack of strategy in dealing with the so-called hermit kingdom. For once, everyone will be correct.
But who is to blame won't matter anymore, as all the sanctions in the world can't reverse time. North Korea will have achieved its ultimate objective, and it will be willing to suffer the consequences. The Trump administration will make a lot of threats, but it won't be able to back them up unless it's willing to risk Los Angeles or Seattle going up in a mushroom cloud. No, if I am right, the White House will have no choice but to slowly embrace the idea that containment and deterrence are the only viable options left when it comes to Pyongyang.
But even if I am wrong, it seems almost certain that North Korea in the coming months will join the infamous club of nations, like Russia and China, which can turn large sections of America into atomic ash. Indeed, some believe it already has.
As scary as that is, we know how to deal with such threats — and tough talk of giving North Korea a bloody nose needs to end. Now.
Continue reading for free
We hope you're enjoying The Week's refreshingly open-minded journalism.
Subscribed to The Week? Register your account with the same email as your subscription.
Sign up to our 10 Things You Need to Know Today newsletter
A free daily digest of the biggest news stories of the day - and the best features from our website
Harry J. Kazianis is director of defense studies at the Center for the National Interest, founded by former U.S. President Richard M. Nixon.