America's lunatic lust for regime change
Regime change never works. So why does America keep trying?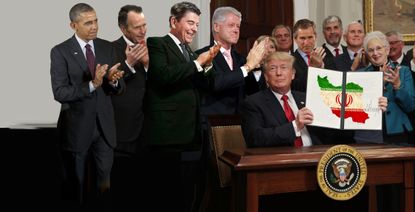 (Image credit: Illustrated | Alex Wong/Getty Images, LUKE FRAZZA/AFP/Getty Images, Stephen Chernin/Getty Images, SAUL LOEB/AFP/Getty Images, AFP/Getty Images, TIM SLOAN/AFP, iStock/alexis84)
They say it's a mark of insanity to do the same thing over and over again while expecting different results.
So what does it tell us about the political establishment of the United States that it repeatedly pursues the same horribly destructive foreign policy?
I'm talking about "regime change" — the idea that the proper response to a conflict with a foreign country is to overthrow its government, on the assumption that whatever follows the (sometimes literal) decapitation will be both a net improvement for the people who live there and geopolitically advantageous for the United States.
Subscribe to The Week
Escape your echo chamber. Get the facts behind the news, plus analysis from multiple perspectives.
SUBSCRIBE & SAVE
Sign up for The Week's Free Newsletters
From our morning news briefing to a weekly Good News Newsletter, get the best of The Week delivered directly to your inbox.
From our morning news briefing to a weekly Good News Newsletter, get the best of The Week delivered directly to your inbox.
This idea is affirmed by a remarkably broad spectrum of powerful people in and around the nation's capital. You can hear arguments in its favor during Republican and Democratic administrations, among leading members of Congress and prominent senators, from the richest donors to both parties, and within the bipartisan foreign policy establishment. It shaped decisions during the hawkish administration of George W. Bush and the supposedly more restrained administration of Barack Obama. It influenced thinking in the McCain, Romney, and Rubio campaigns no less than the policy assumptions of Hillary Clinton and her leading advisers.
And now we know that it even plays an important role in the supposedly anti-interventionist Trump administration, at least when it comes to Iran. In recent days Secretary of State Mike Pompeo, National Security Adviser John Bolton, and even President Trump himself have hurled barbed threats at the Iranian leadership, indicating a strong preference to see, not the establishment of a mutually beneficial relationship, but a change of regime in the country. As Ari Fleischer, the White House press secretary during the Bush administration, put it in an appearance on Fox News, "The more unstable we can help Iran become, the better it is to actually secure peace if we can get rid of that theological regime one day."
This is foolish. There is no reason to think that aiming to change the Iranian "regime" will lead to positive results.
The instinct to seek the overthrow of antagonistic governments spans not just ideologies and parties. It also stretches back in time. During the Cold War, the U.S. often pursued this strategy by using the CIA and other groups to foment coups against regimes we considered too friendly to the Soviet Union or communist China, or too hostile to American economic interests more generally. The results were often bad for the people in those countries, who frequently ended up living under dictators or contending with civil wars or other forms of unrest.
Since the end of the Cold War, we've increasingly favored a more overt and aggressive policy of regime change — first in Afghanistan, then in Iraq, then in Libya, and now, possibly, in Iran. (Along the way, a loud chorus of people during the Obama administration clamored to get Syria added to this list as well.)
Have any of these acts of military destabilization turned out well for anyone?
Overthrowing the government of Afghanistan was the most justified, since the Taliban had given refuge to Osama bin Laden and refused to turn him over after 9/11. But the U.S. military has now been stuck fighting there for over 16 years, with no end in sight, and with the Taliban constantly sowing chaos and threatening to make a political comeback (which is something we've now becoming more open to accepting). In the end, the two most likely outcomes of American involvement in Afghanistan are an interminable semi-occupation underwriting an unstable government contending with a permanent insurgency — or a return to a version of the very fundamentalist rule we deposed more than a decade and a half ago.
But that's nothing compared to the utter disaster of regime change in Iraq. Life under Saddam Hussein may have been awful, but it's hard to imagine a scenario in which the continuation of his rule would have led to the deaths of 600,000 Iraqis (along with roughly 5,000 Americans), the displacement of millions more, the destabilization of the region (including the empowering of Iran and collapse of Syria into a civil war, the latter of which has led to another half-million deaths as well as a flood of migrants and refugees that has helped to catalyze a right-wing anti-immigrant movement across Europe), and the formation of a new terrorist organization (ISIS) that managed to surpass in brutality the one that launched the 9/11 attacks (al Qaeda).
The Iraq War has been a perfect storm of unintended, awful consequences.
But that didn't keep a Democratic president who ran for office in part on his opposition to the Iraq War from making the very same misjudgments as George W. Bush before him. In Libya, Obama overthrew the tyrannical government of Moammar Gadhafi, which cheered American do-gooders, but he made few if any arrangements to guarantee order. The perfectly predictable result was chaos in the resulting power vacuum. Subsequent years have brought economic collapse, the rise of tribal warfare, instability, violence, and even the return of the slave trade — not to mention even more of those migrants and refugees headed to Europe across the Mediterranean.
Given the abysmal track record of regime change, why do our policymakers opt for it again and again?
For one thing, there's a distinctly American form of arrogance and hubris. We like to think we're entitled to rid ourselves of nuisances (instead of learning to live with them) — and we also tend to presume that we're capable of fixing every problem with a minimal exertion of effort. That second assumption is so deeply embedded in our national consciousness that every time it ends up refuted by experience, we find ourselves shocked as if for the very first time by the recalcitrance of reality.
Then there's our very American paranoia about government power and tendency to take our own stability for granted. These lead us to overestimate the awfulness of authoritarianism (the draconian imposition of order) and vastly underestimate the horror of chaos (the absence of order). As a result, we invariably presume that removing a dictator produces a net improvement.
But it often doesn't. Just ask anyone who's endured life in Iraq or Libya since we liberated them into the arms of anarchy.
Finally, there's our most unconservative national trait: an incorrigible optimism about the benefits of change and consequent refusal to entertain the possibility that a bad situation might be made even worse by overturning it.
And now, after so many foolish mistakes and so few signs of self-reflection, we're contemplating bringing our magic touch to Iran. We really must be out of our minds.

Continue reading for free
We hope you're enjoying The Week's refreshingly open-minded journalism.
Subscribed to The Week? Register your account with the same email as your subscription.