How a powerful Russian propaganda machine chips away at Western notions of truth
A potent Kremlin propaganda machine seeks to make ordinary citizens lose faith in the very idea of truth. It's succeeding in Russia — and in the West too.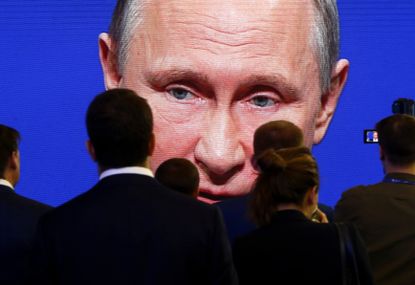 (Image credit: REUTERS/Sergei Karpukhin/File Photo)
Sign up to our 10 Things You Need to Know Today newsletter
A free daily digest of the biggest news stories of the day - and the best features from our website
Thank you for signing up to TheWeek. You will receive a verification email shortly.
There was a problem. Please refresh the page and try again.
Excerpted from an article that originally appeared in The Washington Post. Reprinted with permission.
The initial plan was a Cold War classic — brutal yet simple. Two Russian agents would slip onto the property of a turncoat spy in Britain and daub his front door with a rare military-grade poison designed to produce an agonizing and untraceable death.
But when the attempted assassination of Sergei Skripal was botched, the mission quickly shifted. Within hours, according to British and U.S. officials who closely followed the events, a very different kind of intelligence operation was underway — an elaborate fog machine to make the initial crime disappear.
Subscribe to The Week
Escape your echo chamber. Get the facts behind the news, plus analysis from multiple perspectives.
SUBSCRIBE & SAVE
Sign up for The Week's Free Newsletters
From our morning news briefing to a weekly Good News Newsletter, get the best of The Week delivered directly to your inbox.
From our morning news briefing to a weekly Good News Newsletter, get the best of The Week delivered directly to your inbox.
False narratives and conspiracy theories began popping up almost immediately, the first of 46 bogus story lines put out by Russian-controlled media and Twitter accounts and even by senior Russian officials, according to a tabulation by The Washington Post — all of them sowing doubt about Russia's involvement in the March 4 assassination attempt. Ranging from the plausible to the fantastical, the stories blamed a toxic spill, Ukrainian activists, the CIA, British Prime Minister Theresa May, and even Skripal himself.
The brazenness of the attempt to kill a Russian defector turned British citizen at his home in southwest England outraged Western governments and led to the expulsion of some 150 Russian diplomats by more than two dozen countries, including the United States. Yet, more than eight months later, analysts see a potential for greater harm in the kind of heavily coordinated propaganda barrage Russia launched after the assassination attempt failed.
Variations on the technique existed during the Cold War, when the Soviet Union used propaganda to create alternative realities. But the disinformation campaigns now emanating from Russia are of a different breed, said intelligence officials and analysts. Engineered for the social media age, they fling up swarms of falsehoods, concocted theories, and red herrings, intended not so much to persuade people as to bewilder them.
"The mission seems to be to confuse, to muddy the waters," said Peter Pomerantsev, a former Russian-television producer and author of Nothing Is True and Everything Is Possible, a memoir that describes the Kremlin's efforts to manipulate the news. The ultimate aim, he said, is to foster an environment in which "people begin giving up on the facts."
The same tactics that were observed in the wake of the Skripal poisoning have been employed multiple times since the annexation of Crimea in 2014, in each case following roughly the same script. When pro-Russian separatists shot down Malaysia Airlines Flight 17 over eastern Ukraine, killing 298 passengers and crew members, Russian officials and media outlets sought to pin the blame on the Ukrainian government, suggesting at one point that corpses had been trucked to the crash site to make the death toll appear higher. In October 2015, months after U.S. and European investigators concluded that Flight 17 had been brought down by a Russian missile fired by separatists, then–presidential candidate Donald Trump told CNN that the culprit was "probably Russia" but suggested that the truth was unknowable.
"To be honest with you, you'll probably never know for sure," he said.
By any objective measure, the assassination attempt on Sergei Skripal was an unalloyed disaster, the kind of intelligence-agency face-plant that might have toppled a government if the operation had been carried out by a Western democracy. For the Kremlin, however, the bungled killing was quickly seized on as a public-relations opportunity.
A Russian military intelligence officer who was released to Britain as part of a spy swap in 2010, Skripal was the object of special scorn for Putin, who would publicly deride him as a traitor and a "scumbag." Skripal had been convicted in Russia in 2006 of treason for spying for Britain and was serving a 13-year sentence at the time of the swap.
British investigators say two operatives from the GRU, Russia's military intelligence agency, were dispatched to Skripal's adopted hometown with a perfume bottle filled with Novichok — a deadly nerve agent developed by Soviet scientists in the 1980s — with the aim of quietly poisoning the 67-year-old pensioner.
Almost nothing went according to plan. The operatives came up short in their quest to kill Skripal. He fell gravely ill along with his daughter, but both recovered after being aggressively treated by doctors for exposure to a suspected nerve agent. Moreover, investigators say, the Russian agents compounded their failure with the inadvertent death of a British woman who became ill after her boyfriend stumbled upon the discarded vial of Novichok and gave it to her, thinking it was perfume.
British investigators quickly identified the toxin as a Russian nerve agent and then publicly identified the suspected hit men, who were repeatedly caught on camera as they wandered around in Salisbury on March 4. Their cover story — the two claimed to be tourists visiting the city's 13th-century cathedral — was riddled with holes. Surveillance-camera footage showed the men walking not toward the cathedral but in the opposite direction, toward the residential neighborhood where Skripal lived. The exiled Russian was poisoned the same day.
"They failed to kill their target, and they failed to be covert," said retired Rear Adm. John Gower, who oversaw nuclear, chemical, and biological defense policy for Britain's Defense Ministry. "Because of those failures, Russia had to pivot really quickly." And so, when the real facts became problematic, Gower said, Russia quickly manufactured new ones. Dozens of them.
The Kremlin's propaganda machine swung into action in the immediate aftermath of the assassination attempt. Following a playbook already honed in response to events in Syria and Ukraine, Kremlin-controlled outlets produced a plethora of possible explanations. On March 6, two days after the poisoning, the Russian news agency RIA Novosti was already quoting an anesthesiologist saying that the manner of Skripal's poisoning suggested he was a drug addict and had overdosed.
On March 8 alone, pro-Kremlin news outlets published five phony narratives about the events in Salisbury, offering explanations for Skripal's illness that included an attempted suicide by Skripal and his daughter and a chemical-weapons leak at the nearby military laboratory at Porton Down.
Dmitry Kiselyov — the host of the program Vesti Nedeli (News of the Week) on the Rossiya network and a leading figure in the country's propaganda hierarchy — picked up the baton on March 11. He said that because Skripal was already "completely wrung out and of little interest" as a source, his poisoning was only advantageous to the British to "nourish their Russophobia" and organize a boycott of the summer's World Cup soccer tournament in Russia.
Then it was the Skripals' pets' turn in the spotlight — two guinea pigs and a fluffy Persian cat named Nesh Van Drake. "Where are these pets now?" Russia's U.N. ambassador, Vasily Nebenzya, asked at a Security Council meeting on April 5. "What has happened to them? Why has nobody said anything about them? Their condition is very important evidence."
The theories kept coming: Was it someone from the Baltics? Was Skripal poisoned on MI5-sponsored trips to chemical labs in the Czech Republic and Spain? Could it be a British government plot to distract attention from Brexit — or even from a pedophilia scandal in the western English town of Telford?
British officials and experts who studied the events say the false narratives emerged from a Russian information ecosystem in which news outlets and social media networks are increasingly intertwined with the country's intelligence apparatus and official communications organs.
Putin brought Russia's privately owned, freewheeling TV networks to heel in one of his first major moves as president. The Kremlin now controls all of Russia's main national television channels. They deliver a strident, conspiratorial, pro-Kremlin message in hours of lavishly produced talk shows and newsmagazine programs every night.
Providing further amplification are social media "troll" factories where hundreds of workers are paid to disseminate false stories on the internet, under official direction. Russian politicians and diplomats then chime in, often ridiculing any official investigation and denouncing claims of Russian involvement. The Twitter account of the Russian Embassy in London echoed several of the false stories from social media, suggesting that Skripal was a British spy and theorizing that British military scientists had synthesized their own batch of Novichok, with help from a Soviet chemist who defected to the West.
Some of the attempts to reshape the Skripal narrative backfired. After British officials on Sept. 5 released surveillance photographs of the pair of Russians suspected of carrying out the plot, Russia's English-language TV network RT aired an interview in which the two men claimed that they had been mere tourists in Britain. Their story began to unravel days later when a report by the investigative news site Bellingcat assembled compelling evidence that both men were GRU officers.
The men made no effort in the RT interview to explain the traces of Novichok police discovered in their hotel room and instead made an awkward attempt to explain why they made two quick trips to Salisbury over a wintry March weekend. One of them described a desire to see the Salisbury cathedral's "123-meter spire" and ancient clock, two features that appear in the cathedral's Wikipedia entry.
Pro-Kremlin media also started pushing the story line that the two men might be gay — and, by implication, could not possibly be part of Russia's military intelligence service. The Vesti news show ran a segment depicting Salisbury as imbued with a spirit of "modern European tolerance" and full of gay bars. In fact, a local newspaper said the town's sole gay bar had closed three months before the Skripal poisoning.
Yet, even as the alibi attempt turned into farce, Russia's Foreign Ministry continued to claim that Britain had concocted evidence to frame the men for a crime they could not possibly have committed. By then, it no longer mattered. By multiple measures, Moscow had mostly succeeded in achieving the outcome it wanted most: doubt.
Last month, an independent pollster set out to measure how ordinary Russians viewed the events in Salisbury. The result: Nearly 3 in 10 of the Russians surveyed said they believed Britain was behind the poisoning, while 56 percent agreed with the comment "It could have been anyone," according to the poll by Russia's Levada Center, conducted during the third week of October. Only 3 percent were willing to attribute the assassination attempt to Russia's intelligence agencies.
Indeed, the Kremlin managed to turn the botched assassination and the ensuing Western uproar to Putin's political advantage. The Russian presidential election was on March 18, and Putin was looking for high voter turnout to legitimize another six-year term. The Skripal affair allowed the Kremlin to turn the public's attention away from domestic problems and back to the confrontation between Russia and the West — a winning issue for Putin.
Even in the West, government agencies fear that Russia's efforts are contributing to a growing distrust of traditional sources of information and blurring the line between fact and fiction. While RT's viewership is relatively small in the West, its stories are frequently recycled on right-wing websites and media outlets.
Just as often, the stream flows in the opposite direction. False stories that first appear on obscure conservative news sites become fodder for Russian TV talk shows. Since the start of the Trump era, Russian channels have regularly echoed the U.S. president's allegations about an American "Deep State" and his depictions of the mainstream media as "fake news."
The resulting muddle was highlighted by Putin himself, who, while standing next to President Trump during their July summit in Helsinki, seemed to distill the Kremlin's approach to the news while responding to a question about Russian interference in the 2016 U.S. presidential election.
"As for who to believe, who you can't believe, can you believe at all?" Putin mused, before answering his own questions: "You can't believe anyone."
Continue reading for free
We hope you're enjoying The Week's refreshingly open-minded journalism.
Subscribed to The Week? Register your account with the same email as your subscription.
Sign up to our 10 Things You Need to Know Today newsletter
A free daily digest of the biggest news stories of the day - and the best features from our website