Is Nancy Pelosi's speakership over?
Pelosi may hold the speaker's gavel, but she has lost her grip on her caucus and on the agenda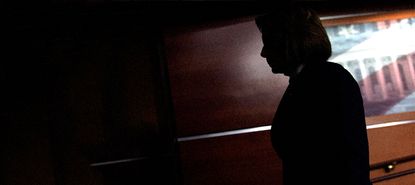 (Image credit: Illustrated | Alex Wong/Getty Images)
In 2007, Nancy Pelosi made history. But in 2019, Pelosi has become history in all but official nomenclature.
Pelosi became the nation's first woman to serve as speaker in the House of Representatives in 2007, but lost the office four years later when Republicans retook the majority in the 2010 midterms. She spent the next four election cycles fighting to regain the majority, refusing to step down and allow newer voices to rise to leadership. When Democrats made a comeback last November by winning back the suburban districts that had abandoned Democrats after the passage of ObamaCare, Pelosi won an internecine fight within the caucus to retain her iron grip on the gavel.
Two months later, Pelosi still has the gavel. But the two-term speaker has lost her grip on her caucus and on the agenda. Instead of organizing the new Democratic majority under her direction, Pelosi suddenly finds herself out of step with the newest generation within it — and retreating rather than taking charge.
Subscribe to The Week
Escape your echo chamber. Get the facts behind the news, plus analysis from multiple perspectives.
SUBSCRIBE & SAVE
Sign up for The Week's Free Newsletters
From our morning news briefing to a weekly Good News Newsletter, get the best of The Week delivered directly to your inbox.
From our morning news briefing to a weekly Good News Newsletter, get the best of The Week delivered directly to your inbox.
The first indications that Pelosi had lost control of her caucus came courtesy of House Republicans and their caucus leader Kevin McCarthy (R-Calif.). After serving as Paul Ryan's right-hand man for several years in leadership and briefly serving as speaker after Ryan's retirement, McCarthy proved himself an adept study on parliamentary tactics. Thanks to a little-known instrument known as a motion to recommit, McCarthy has forced Democrats to take votes on tough issues, and has occasionally scored victories by getting moderates to vote with the GOP on key wedge issues.
Those votes embarrassed Pelosi, who scolded her caucus over the lack of unity. That didn't go over well with newer members, some of whom ran away from Pelosi in swing districts in the first place. They argued that they needed to vote to protect themselves, and that others in Pelosi's leadership structure — notably Majority Whip James Clyburn (D-S.C.) — had told them to do just that.
Pelosi tried rallying the caucus, telling them Congress is a "team" sport. "The fact is a vote yes," Pelosi pleaded with the caucus, "is to give leverage to the other side, a surrender of the leverage." One source close to leadership among moderates in the caucus called that argument "disingenuous." Those members ran on restoring some semblance of bipartisanship to Congress, and knuckling under to progressives on votes doesn't fulfill those pledges — even on procedural votes, as Pelosi characterized them.
All of this was mere prologue to the disaster created by Rep. Ilhan Omar (D-Minn.) and her repeated anti-Semitic comments. After claiming that support for Israel in the U.S. was "all about the Benjamins" — meaning that Jewish money was buying American policy — Omar offered a quasi-apology. When she insinuated that Jews who support Israel aren't loyal to the U.S., the first-term Congresswoman declined to apologize.
At first, Pelosi demanded a retraction and then developed a resolution to rebuke Omar for her bigoted comments. McCarthy had done much the same with Rep. Steve King (R-Iowa) in January after King made positive comments about "white supremacy," proposing and passing a formal and specific reprimand as well as stripping him of his committee assignments. When faced with a member embarrassing the House Republican caucus, McCarthy led from his minority position to impose harsh penalties on the offending member despite his significant tenure in the House.
Pelosi, in contrast, completely bricked the scandal. Rather than act with the same level of power on a repeated offense as McCarthy had demonstrated with King, the speaker hesitated as Omar's fellow progressives — most of them from the frosh class as well — rallied to her side. The vacillation gave room for the Congressional Black Caucus to rally around Omar — in one instance, literally — in a direct challenge to Pelosi's authority. The measure changed from a reprimand of Omar to a non-specific rebuke of anti-Semitism, and then Pelosi retreated further to change the resolution to a generic denunciation of hate in general that was so far removed from the original offense that even Omar voted for it — while laughing.
The contrast between the two episodes could not be more dramatic. McCarthy, who only held the gavel a few months before losing the last election, stood up to a nine-term incumbent who served on a number of important committees. Pelosi retreated when faced with a first-term backbencher and could not even bring herself to remain firm on a resolution denouncing anti-Semitism on its own.
This is not the behavior of someone who commands authority within her caucus. It's the behavior of someone who's afraid of her caucus. Pelosi might hold the gavel and have the office, but she's not wielding any authority or power.
One has to wonder just how long Pelosi will even hold the gavel. On Monday, she told The Washington Post Magazine that the effort to impeach President Trump would be more wisely applied to other Democratic initiatives. "He's just not worth it," Pelosi insisted, saying that the impeachment path would be needlessly "divisive to the country." How long will Pelosi hold that view? Until Ilhan Omar and other progressives insist that she changes her mind, or else?

Continue reading for free
We hope you're enjoying The Week's refreshingly open-minded journalism.
Subscribed to The Week? Register your account with the same email as your subscription.