The case against green nationalism
Mitigating climate change requires working across international lines, not building walls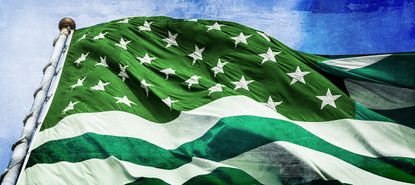 (Image credit: Illustrated | javarman3/iStock, RoschetzkyIstockPhoto/iStock)
In the United States today, nationalist politics usually goes hand-in-hand with a contempt for the environment and climate change denial. Worrying about the climate is seen as girly hippie stuff, while sucking in carcinogenic diesel smoke is manly and tough. But that has not always been the case — witness Teddy Roosevelt, a dedicated imperialist who greatly enjoyed natural beauty and national parks.
As climate change becomes more and more undeniable, it's likely that the American right will pivot from climate denialism to climate nationalism — a sort of Fortress America approach. This perspective can be seen in a recent Thomas Friedman column, who argued for building a "high wall" because "in an era when more and more countries will fracture under environmental, population, criminal and technological stresses, we simply cannot take everyone who shows up at our border."
But this is a terrible approach to climate policy, especially in the United States. As an inherently international problem, climate change can't be solved by selfishness and belligerence.
Subscribe to The Week
Escape your echo chamber. Get the facts behind the news, plus analysis from multiple perspectives.
SUBSCRIBE & SAVE
Sign up for The Week's Free Newsletters
From our morning news briefing to a weekly Good News Newsletter, get the best of The Week delivered directly to your inbox.
From our morning news briefing to a weekly Good News Newsletter, get the best of The Week delivered directly to your inbox.
The United States is the major culprit in terms of historical greenhouse gas emissions, but the plain fact is that China is by far the largest emitter today — with India coming up quickly as well. The major objectives for world climate policy are thus threefold: reduce emissions in the industrialized world, reduce China's emissions, and help India and other poorer countries industrialize in a green fashion (if India, which will soon be the most populous country on the planet, follows China down the path of coal and oil, we are hosed).
That means a lot of very generous diplomacy and trade policy. America needs not just a Green New Deal to decarbonize our own economy, but to develop workable green processes for the rest of the world too. Because we (and Europe) have tons of wealth, it makes sense for the U.S. to fund a crash research program in sustainable manufacturing, smelting, and concrete production, so as to get the rest of the world to take them up as quickly as possible. It would be following in the footsteps of Germany, which helped make solar panels cheap by subsidizing them when they were expensive.
This would surely require lots of loans and grants to help poorer nations leapfrog fossil fuels. Coal and oil are cheap, tempting, and widely available power sources; we want the choice to forego them to be as easy as possible — and it's the right thing to do in any case.
Now, as I have argued before, in certain contexts climate nationalism isn't completely senseless. China, despite being governed by so-called communists, is basically an authoritarian, conservative society. The current Indian government is far-right as well. Both those countries are taking sizable action on climate change, because it makes sense in terms of their own self-interest. (Only American Republicans are loopy enough to deny it's even happening.)
But America does not have the same luxury. When it comes to climate change, rich nations must concern themselves with the welfare of poorer nations. Whereas the best thing for China and India is to get their own affairs in order, the best thing for the U.S. is to help them do that same thing. Either one could blow up the global climate by itself — something which can and should be the basis of climate negotiations and agreements.
One could imagine a future in which America approaches China and India generously, but then cynically keeps out refugees at home. (Friedman proposes something like this.) But this is unlikely. Any progressive government that supports climate diplomacy will surely support at least returning refugee acceptance levels to the Obama years, plus generous foreign funding to stem the crises driving refugee flows in the first place. Any right-wing government — which always will be much more rooted in emotions and aesthetics than logic — will likely respond with irrational belligerence, as Eric Levitz argues. Witness Trump cutting off aid to Central American countries suffering climate-fueled refugee crises, or proposals to attack China and India to slow their emissions:
This kind of lunatic aggressiveness would rule out any chance of a coordinated global plan to reduce carbon emissions. Green nationalism is never going to solve climate change.

Continue reading for free
We hope you're enjoying The Week's refreshingly open-minded journalism.
Subscribed to The Week? Register your account with the same email as your subscription.