Trump's Mexico tariffs make no sense, but maybe that's the point
Unpacking the illogic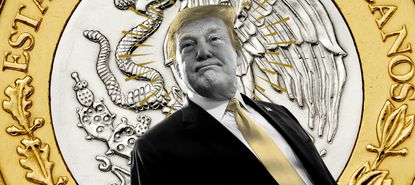 (Image credit: Illustrated | JIM WATSON/AFP/Getty Images, maogg/iStock, iarti/iStock)
President Trump is a self-described "tariff man." But for a while now, he's been dogged by criticisms that he doesn't actually understand how his favorite tool for international economic arm-twisting really works.
This week, Trump apparently decided to prove his critics right: He launched a whole new tariff threat against Mexico, not to curb any trade shenanigans, but to stem northward flow of undocumented immigrants. Specifically, Trump threatened to impose a tariff of 5 percent on all Mexican imports into the U.S., starting June 10. Each month after that, the tariffs will ratchet up another 5 percent, finally topping out at 25 percent in October. And there they will stay, according to the White House, "until Mexico substantially stops the illegal inflow of aliens coming through its territory." It's basically the equivalent of using a hammer to try to turn a lugnut.
Mexican officials, needless to say, were not pleased, and immediately said their country would respond "strongly."
Subscribe to The Week
Escape your echo chamber. Get the facts behind the news, plus analysis from multiple perspectives.
SUBSCRIBE & SAVE
Sign up for The Week's Free Newsletters
From our morning news briefing to a weekly Good News Newsletter, get the best of The Week delivered directly to your inbox.
From our morning news briefing to a weekly Good News Newsletter, get the best of The Week delivered directly to your inbox.
What all is wrong with this picture? At least two big things.
First off, as Trump's critics keep pointing out, when you impose tariffs on another country, it's not actually that country or its businesses that pay the tariffs. Your consumers and businesses pay the tariffs. The whole idea is that your own consumers and business are buying cheaper goods and imports from abroad, so the tariff raises the prices until they're more even with domestically-produced equivalents. Then your consumers and businesses shift their purchases to those domestic alternatives, so their demand leads to job and wage creation in your own country rather than another country.
Now, a side effect of shifting domestic American demand away from Mexican products is that Mexican businesses could lose sales. But it's also a big world out there, and those businesses may well find other foreign buyers for relatively little loss. Even if we interpret Trump's statements very generously, and assume he simply means "suffer economic pain in some form" when he says other countries "pay" tariffs, the pain may be pretty paltry.
What tariffs can actually be good for is protecting domestic industries. Trump seems to at least instinctively get this, since one of his tweets implied that a bonus from the tariffs could be more U.S. auto industry jobs. Supply chains for auto manufacturers in particular rely on complex trades back and forth across the Mexico border, which might be hard for businesses to shift overseas. As a result, some jobs in the intermediate manufacturing steps for cars might well shift back into America from Mexico.
On the other hand, end-product cars manufactured in the U.S. would go up in price too, since Trump's raising costs down the supply chain. Nor will tariffs on Mexican exports protect domestic U.S. manufacturers from cheaper competition in other countries. If you want to use tariffs to protect an industry, you generally need to protect it from everyone. Trump's implied bonus for U.S. autoworkers is likely to be a bust.
Secondly, it's certainly not unheard of for countries to successfully use tariffs as a temporary punitive measure to push other countries into changing their policies. But if that's the route you want to take, you want to make sure the country in question actually has a decent chance of meeting your demands.
In this case, it's hard to see what more Mexico could do to appease the Trump administration. In the first three months of this year alone, Mexico arrested 31,000 and deported another 22,000. The country's dealing with a lot of internal corruption that makes enforcement even harder. As mentioned, a lot of the immigration Trump wants stopped isn't coming from Mexico, but through Mexico: Central American refugees fleeing economic crises, political upheaval, and especially drug cartel violence that the Mexican government can't do anything about. (And that U.S. policies have actually inflamed and made worse.) And if Trump's new tariffs do succeed in inflicting significant economic pain on Mexican businesses, who will bear the brunt of that? Mexico is not exactly known as a labor-friendly place. Many of those newly unemployed workers will likely make their way north, making the job Trump wants to foist on Mexican authorities even harder.
The Trump administration gave Mexico zero objective benchmarks or concrete numbers the government needs to hit for the U.S. to halt the tariffs. "If the illegal migration crisis is alleviated through effective actions taken by Mexico, to be determined in our sole discretion and judgment, the Tariffs will be removed," the White House said in a statement. Basically, the administration's message to Mexico is: we can rip the rug out from under you whenever we want, for whatever reason we want.
The big wrinkle on top of all this is Trump's effort to create a NAFTA 2.0 — the United States-Mexico-Canada Agreement (USMCA). The trade deal still needs to be ratified by both the congresses of both countries. It's hard to imagine Mexican politicians ever agreeing to the deal now, not with Trump's all new tariff insult hanging over the heads. The president has likely made his signature trade initiative un-passable.
But maybe that was the point. It was already unlikely that House Democrats would pass the USMCA without some significant revisions that would then repulse a lot of Republicans. By infuriating Mexico, Trump might drive them to pull out of the deal even before American policymakers can shoot it down. Then Trump can blame Mexican recalcitrance for scuttling the USMCA, while his tariff threat over immigration rallies his base to his corner once again.
In other words, maybe Trump doesn't mean for the tariffs to work. Maybe he just needs a distraction and an out.

Continue reading for free
We hope you're enjoying The Week's refreshingly open-minded journalism.
Subscribed to The Week? Register your account with the same email as your subscription.