The 9 most revelatory moments from Mueller's testimony
Trump's campaign officials lied, and it was a problem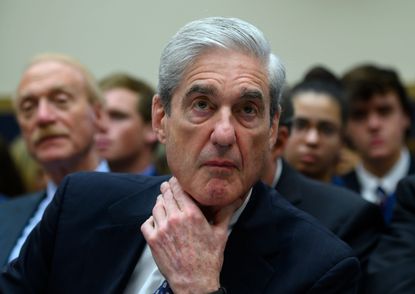 (Image credit: ANDREW CABALLERO-REYNOLDS/AFP/Getty Images)
So Robert Mueller didn't exactly dazzle during his House hearings.
The former special counsel testified before the House Judiciary and Intelligence committees on Wednesday about his report on Russian election interference and possible obstruction of justice by President Trump. Mueller ended up avoiding far more questions than he answered, deflecting a solid 198 times, by NBC News' count. But on a couple of occasions he gave viewers a glimpse of insight.
Here are nine highlights from Mueller's day on Capitol Hill.
Subscribe to The Week
Escape your echo chamber. Get the facts behind the news, plus analysis from multiple perspectives.
SUBSCRIBE & SAVE
Sign up for The Week's Free Newsletters
From our morning news briefing to a weekly Good News Newsletter, get the best of The Week delivered directly to your inbox.
From our morning news briefing to a weekly Good News Newsletter, get the best of The Week delivered directly to your inbox.
1. "We did not address collusion, which is not a legal term."
Anyone who had read Mueller's report would've known this one. But Trump didn't get the message, and just as he broadly tweeted out for the umpteeth time that there was "NO COLLUSION, NO OBSTRUCTION!," Mueller made it clear that wasn't the case.
2. Presidents can be indicted once they're out of office.
During his probe, Mueller was beholden to an Office of Legal Counsel policy that bars indicting a president while they're in office. But early in his first hearing, Mueller affirmed House Judiciary Committee Chair Jerrold Nadler's (D-N.Y.) question of whether "the president could be prosecuted for obstruction of justice crimes after he leaves office." Mueller gave that same answer later on to Rep. Ken Buck (R-Colo.).
3. Mueller wasn't a candidate for FBI director.
Trump claimed in a Wednesday tweet that he had "numerous witnesses" who could affirm Mueller applied and interviewed for the job of Trump's FBI Director the day before he was appointed special counsel. Mueller confirmed to Rep. Louie Gohmert (R-Texas) that he did talk to Trump "about the job," but "not as a candidate."
4. There's more to Trump's non-indictment than policy.
At first, it seemed that Rep. Ted Lieu (D-Calif.) had pulled a bombshell out of Mueller, asking him if he "did not indict Donald Trump" because of the OLC policy. Mueller answered yes, but when his second hearing started, he took it back.
5. Calling Trump's praise of Wikileaks "problematic" is "an understatement."
Rep. Mike Quigley (D-Ill.) couldn't get Mueller to reveal his thoughts on extending a statue of limitations on crimes a president committed in office, but he did elicit one of Mueller's voiciest moments of the whole hearing. Quigley read off quotes from Trump in which he said "I love Wikileaks" in more ways than one, and asked whether Mueller for his reaction. "Problematic is an understatement," Mueller responded, adding that similar comments from Donald Trump Jr. were "disturbing, and also subject to investigation."
6. Russia is still a big problem.
Multiple U.S. intelligence agencies have concluded that Russia interfered in the 2016 presidential election, and that their meddling is a growing problem. Mueller particularly emphasized that lawmakers "underplayed" half of his probe, saying that future interference could "cause "long term damage" to the United States and that "we need to move quickly to address" the matter."
7. Russia worked to help Trump, and the Trump campaign was okay with it.
House Intelligence Committee Chair Adam Schiff (D-Calif.) elicited some clear and concise responses from Mueller that shot down many of Trump's characterizations of his probe. For starters, Mueller agreed with Schiff's assessment that Russia conducted a "sweeping" effort to influence the 2016 election and "made outreach" to the Trump campaign, and that the Trump campaign "welcomed their help." Mueller also affirmed that his investigation was not a "witch hunt" or a "hoax."
8. Trump's campaign officials lied, and it was a problem.
During his probe, Mueller worked out a plea deal with former Trump lawyer Michael Cohen under which he admitted to lying to Congress. Former Trump campaign chair Paul Manafort was also ruled to have intentionally lied to Mueller. When Rep. Val Demings (D-Fla.) asked if "lies by Trump campaign officials and administration officials impeded your investigation," Mueller said he "generally" agreed.
9. "Expediting the end of the investigation" stopped Mueller from subpoenaing Trump.
Early in the first hearing, Judiciary Committee Ranking Member Doug Collins (R-Ga.) asked Mueller if his probe was ever "curtailed or stopped or hindered." Mueller answered "no," but later in the Intelligence hearing, did say he'd have rather had an interview with the president than the written answers he actually got. Here's how Mueller explained the situation to Rep. Sean Maloney (D-N.Y.).

Continue reading for free
We hope you're enjoying The Week's refreshingly open-minded journalism.
Subscribed to The Week? Register your account with the same email as your subscription.