Bernie Sanders' appraisal of a woman's 2020 chances isn't shocking. It's conventional wisdom.
Female nominees do have it harder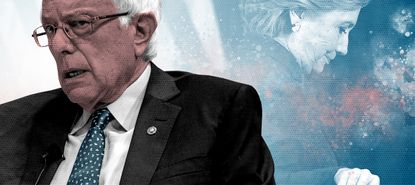 (Image credit: Illustrated | Sergio Flores/Getty Images, JEWEL SAMAD/AFP via Getty Images, Fourleaflover/iStock)
Sign up to our 10 Things You Need to Know Today newsletter
A free daily digest of the biggest news stories of the day - and the best features from our website
Thank you for signing up to TheWeek. You will receive a verification email shortly.
There was a problem. Please refresh the page and try again.
I was 8 years old when I first encountered sexism in presidential politics.
I had expressed to someone — the memory is so far back I can recall neither the setting nor my conversation partner — my ambition to become the first woman president of the United States. The trouble with a female president, my mystery conversationalist warned, is that sexist leaders of other countries, especially repressive ones like Saudi Arabia, wouldn't respect her and might even refuse to deal with her. And it wouldn't matter how worthy of respect she was, they said; the mere fact of being a woman would put her at a disadvantage.
My brain dredged up that conversation this week because if you swap Saudi Arabia for our 2020 election, you've nearly got the comments Sen. Bernie Sanders (I-Vt.) purportedly made to Sen. Elizabeth Warren (D-Mass.) at a closed-door meeting in 2018. While Warren herself has offered only a brief account — "I thought a woman could win; he disagreed" — a New York Times report, citing unnamed sources, presents a more detailed picture of what she apparently told aides after the talk: "In relaying to Ms. Warren the challenges he thought her campaign would face, [Sanders] said not only that President Trump would weaponize sexism, but also that such attacks would preclude a woman from being elected."
Subscribe to The Week
Escape your echo chamber. Get the facts behind the news, plus analysis from multiple perspectives.
SUBSCRIBE & SAVE
Sign up for The Week's Free Newsletters
From our morning news briefing to a weekly Good News Newsletter, get the best of The Week delivered directly to your inbox.
From our morning news briefing to a weekly Good News Newsletter, get the best of The Week delivered directly to your inbox.
That judgment may be too pessimistic. But Sanders isn't wrong that Trump's guaranteed misbehavior on the campaign trail will be a real strategic hindrance for a female candidate — and it doesn't reflect poorly on Sanders to say so. Denying the reality of sexism does women no favors. There is no contradiction between wanting (and working for) a woman to be president and admitting that this election probably will not accomplish it.
The vehemence of Sanders' denial to the Times suggests he expects that distinction to be lost. "Do I believe a woman can win in 2020? Of course! After all, Hillary Clinton beat Donald Trump by three million votes in 2016," Sanders said, before conceding he did tell Warren "that Donald Trump is a sexist, a racist, and a liar who would weaponize whatever he could." (It is easy to see how that more cautious statement might have been misremembered or misunderstood as certainty, but for the sake of argument, let's assume the Times account is right.)
The choice to mention Clinton's Electoral College loss is telling, because it hints at exactly the electability considerations that could convince Sanders a woman would lose to Trump this year. Yes, Clinton got more votes. But she didn't get more of the right votes. Another female candidate could conceivably win the popular vote by an even larger margin in 2020, collecting functionally extraneous support in big blue states like California and New York, and yet fail to win the presidency.
With our electoral system as it stands now, what matters strategically is not how Trump's sexism plays in bastions of Democratic loyalty but how it plays among swing voters in states like Pennsylvania and Wisconsin. In that light, is it really so hard to see why Sanders might conclude a woman at the top of the ticket doesn't give the Democratic Party its best available odds?
Plenty of other Democrats have come to the same conclusion, interviews and polling have shown. A Daily Beast/Ipsos survey last summer found a majority of Democratic and independent voters professing their own willingness to elect a female president while expressing doubt that their neighbors felt the same. Swing state sexism is one possible explanation for weaker performances by Warren than Sanders or former Vice President Joe Biden in head-to-head matchup polling with Trump. In the 2016 Democratic primary, the otherwise dominant Clinton lost to Sanders, sometimes by wide margins, among male voters in the Rust Belt.
Concluding that a man will fare better opposite Trump is not, in itself, sexist. It isn't a knock on women. It's a knock on Trump and on voters who find his sexism appealing. It's a knock on reality as it is, not as Sanders would like it to be. (It is obviously possible to oppose nominating a woman for sexist reasons, but I see no evidence of that here.)
Whether Sanders' strategic take is the best one is debatable. Perhaps it is a sort of defeatism which cedes ground to sexism that, on principle, ought not be ceded regardless of the political consequences. Or a case could be made that running female nominees is the quickest way to break down opposition to female nominees: Risk losing the battle so that you may win the war. Maybe another four years of Trump is worth normalizing the idea of a woman being president in 2024 and beyond.
Or maybe the swing state electorate isn't as favorably disposed toward weaponized sexism as Sanders supposes, or maybe even if it is, other considerations will hold greater sway. This is the flaw in the Saudi Arabia argument, after all: However low the Saudi regime's view of women, it can't afford to offend the president of the United States by refusing to deal with her. Likewise, however much Trump's sexist sleaze may appeal, maybe the other attractions of a nominee Warren would overcome it. Or maybe a female candidate could turn out enough other voters to outweigh the advantage Trump's sexism produced.
Any of these objections of principle and practice could be correct without negating the truth at the core of Sanders' strategic calculus. And that truth is that Trump plays dirty, and that his visible contempt for women, his persistent refusal to see women as equals, is an added difficulty a female nominee will constantly have to handle. Precious time a male candidate could use for policy or biography, a woman will have to allot to plucking out Trump's sexist barbs without exposing herself to another volley.
That isn't fair. It isn't right. And, for a strong candidate, it may not be the fatal disadvantage Sanders seems to think it is.
But it is the reality, and Sanders isn't wrong to acknowledge it.
Continue reading for free
We hope you're enjoying The Week's refreshingly open-minded journalism.
Subscribed to The Week? Register your account with the same email as your subscription.
Sign up to our 10 Things You Need to Know Today newsletter
A free daily digest of the biggest news stories of the day - and the best features from our website
Bonnie Kristian was a deputy editor and acting editor-in-chief of TheWeek.com. She is a columnist at Christianity Today and author of Untrustworthy: The Knowledge Crisis Breaking Our Brains, Polluting Our Politics, and Corrupting Christian Community (forthcoming 2022) and A Flexible Faith: Rethinking What It Means to Follow Jesus Today (2018). Her writing has also appeared at Time Magazine, CNN, USA Today, Newsweek, the Los Angeles Times, and The American Conservative, among other outlets.