30 of the best true crime podcasts
Featuring cold cases, ongoing investigations and chilling witness testimonies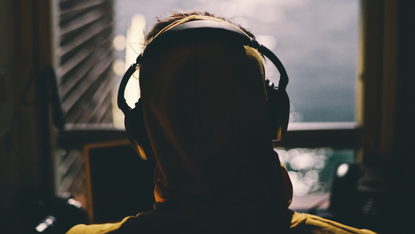 (Image credit: Reynier Carl/Unsplash)
When you make a purchase through links on our site, we may earn a commission
1. The Coldest Case in Laramie
Serial Productions' "The Coldest Case in Laramie" follows host and The New York Times journalist Kim Barker as she looks into the death of a college student, Shelli Wiley, who died in the Wyoming city in 1985. Barker is granted a "stunning amount of access" to material surrounding the cold case, including the original case files and recorded police interviews, said Slate's Laura Miller.
But if you're a true crime fan who needs "a definitive resolution pinning down who did it and why", then "this is not for you". This isn't a "clear-cut story of police incompetence", Miller noted. It's more of an "unsettling call and response between then and now", as sources remember – and appear to misremember – what happened on the fateful night of Shelli's death.
Subscribe to The Week
Escape your echo chamber. Get the facts behind the news, plus analysis from multiple perspectives.
SUBSCRIBE & SAVE
Sign up for The Week's Free Newsletters
From our morning news briefing to a weekly Good News Newsletter, get the best of The Week delivered directly to your inbox.
From our morning news briefing to a weekly Good News Newsletter, get the best of The Week delivered directly to your inbox.
2. I Am Not Nicholas
Audible's "I Am Not Nicholas" is a "bizarre, chilling story", said The Sunday Times radio and podcast critic Patricia Nicol. Two years ago, in December 2021, police arrived at a Glasgow hospital with an international arrest warrant for one of its patients, Arthur Knight. Except that police said this man was in fact the convicted sex offender Nicholas Rossi.
Investigative journalist Jane MacSorley's story provides a "knock-out listen", said Nicol. MacSorley was invited to dinner with "Knight/Rossi", and began wondering "if this was, genuinely, a case of mistaken identity".
3. Bone Valley
Here is a real treat for "all you fans of true-crime-cold-case-clue-by-clue-to-the-truth podcasts", said Miranda Sawyer in The Observer. "Bone Valley" is about the 1987 murder of an 18-year-old from Florida called Michelle Schofield. Despite a lack of either physical or eyewitness evidence, her husband Leo – then 21 – was convicted of the crime, and 35 years later, he remains behind bars.
This is "not one of those true-crime shows that starts brilliantly and then falls away because the investigator can't track down the real perpetrator", or finds them but isn't able to interview them. In the course of this "gripping" nine-parter, the Pulitzer-winning journalist Gilbert King and his colleague Kelsey Decker not only identify the real killer and extract a confession – they also extract a second confession related to a separate unsolved murder. "Dogged and meticulous, with a spine of moral certainty, it makes other true-crime podcasts look lazy" by comparison.
4. Filthy Ritual
True crime podcast writers have "already mined a rich seam of stories about fraudsters", said The Times, but "Filthy Ritual" is "a doozy". From the late 1990s to the early 2000s, Juliette D'Souza "conned £1 million out of credulous clients".
Her "new age racket", run out of Hampstead in north London, saw people part with envelopes of cash as "a 'sacrifice' to be hung on a money tree in the Amazonian rainforest", among other activities. "Kudos" to this podcast's creators for "reshaking this money tree to bring listeners an eye popping tale".
5. The Evaporated
"The Evaporated" has elements of true crime, said Fiona Sturges in the FT. Concerning the thousands of people who deliberately disappear in Japan each year, it starts with the case of Morimoto, an accountant who'd been embezzling funds. But the podcast isn't really focused on solving such cases: it explores why people feel the need to vanish, and how they do it.
In Japan, this can involve engaging the services of a "yonige-ya", or "night-moving company". In the second episode we hear from Miho Saita, whose business "helps people find new homes and jobs, organises the removal of their belongings and assists them in creating a new identity".
6. Who Killed Daphne?
Not all true-crime podcasts reward "the hours devoted to them", said Gerard O'Donovan in The Daily Telegraph. But good ones keep coming, and "Who Killed Daphne?", by the Reuters reporter Stephen Grey, proves that at their best, "such series are vital outlets for investigative reporting".
In 2017, the assassination of the Maltese investigative journalist Daphne Caruana Galizia made global headlines, exposed a network of corruption in the island nation, and ultimately brought down its government. The story is well-known, but what Grey "brings to the table is extraordinary detail and deep links with many of those directly affected" – plus a "veteran journalist's flair" for "gripping storytelling".
7. Vishal
The BBC's nine-part series investigates the disappearance of Vishal Mehrotra, an eight-year-old boy who was abducted from the streets of London as the country celebrated Prince Charles and Lady Diana Spencer's wedding on 29 July 1981. The boy's remains were found eight months later.
Suchin Mehrotra, Vishal's half brother, and investigative journalist Colin Campbell "attempt to piece together" the events that took place more than 40 years ago, said the Financial Times. Vishal's family are put "at the heart" of the series, and Campbell's "methodical linking of seemingly unconnected pieces of information makes for remarkable listening". The series shares "a story of a family left in limbo, a murder mystery and a vivid portrait of a moment in time".
8. West Cork
"Is 'West Cork' the next 'Serial'?" asked The Irish Times after the show premiered in February 2018. As it turned out, the Irish podcast failed to win as much attention as the US hit had four years earlier, but for many Irish listeners, Sam Bungey and Jennifer Forde's series represented "the first time a podcast approaches a local story with the same depth".
The reporters investigate the case known simply in West Cork as "the murder". Sophie Toscan du Plantier was found dead near her home in the area in 1996. There was no known motive for the crime. Over the series, they introduce a cast of characters involved in a case that still makes headlines today.
9. Broken: Seeking Justice
Tara Palmeri told Marie Claire magazine that in much of the coverage surrounding the Jeffrey Epstein case, she felt the women making the accusations, which include sex trafficking and sexual abuse, "weren't getting their fair due". "There was just so much fixation on Jeffrey and not on them," she said.
In "Broken: Seeking Justice", a follow-on series to "Broken: Jeffrey Epstein", Palmeri gives these women the opportunity to explain the claims they have made and what they allege happened to them.
10. Sweet Bobby
"Sweet Bobby" is not a "regular true crime podcast", said the Financial Times. In this episodic investigation, Alexi Mostrous unpicks what Tortoise Media describes as "one of the world's most sophisticated catfishers".
For more than a decade of her life, Kirat Assi was deceived by a catfish, someone who creates and uses false online identities to lure victims into a relationship with them. It's "an extraordinary story that's made even more powerful by Mostrous's empathetic and wide-ranging reporting", the FT continued.
11. Murder Mile
Walking tour guide and podcast host Michael J. Buchanan-Dunne takes listeners on an exploration of the more than 300 mysterious deaths that have taken place in West London.
He also runs a top-rated true crime tour in Soho but "no matter where you're listening", "Murder Mile" promises "you'll feel like you're actually there". It's a "brilliantly clever idea", said The Telegraph, and each case is "totally gripping".
12. The Teacher's Pet
The Australian's 2018 podcast series "The Teacher's Pet" was downloaded more than 28 million times before being made temporarily unavailable for Australian listeners in May 2019. Over 16 episodes, investigative journalist Hedley Thomas examined the unsolved disappearance of Lynette Dawson, a mother of two who went missing in 1982.
The series "made legal history in Australia after being cited by a judge" as one reason a murder trial of her husband, Chris Dawson, could not take place in 2020, said Vulture. Subsequent developments in the case raised "challenging questions about the apparently insatiable appetite" for true crime, which presents podcast producers with a "legal tightrope", said The Guardian.
13. The Witness
Joseph O'Callaghan was 18 years old when he became the youngest person to go into witness protection in Ireland. In this ten-episode series, O'Callaghan tells his life story, and explains what happened when he assisted the courts in convicting two drug dealers of the murder of a rival gang member, Jonathon O'Reilly.
Executive producer Nicola Tallant has written a book of the same name. "Groomed into gangland and forever a prisoner to his past, Joey tells his story with conviction, honesty and a rawness that I have never heard before or since," she said.
14. Bad Bad Thing
In 2018, Jennair Gerardot walked into a home in the suburbs of Philadelphia and shot Meredith Chapman before turning the gun on herself.
Chapman and Gerardot's husband, Mark, had been having an affair. Over the course of the series, listeners hear recordings made by Jennair in the months leading up to the crime that give insight into her frame of mind. Clinical psychologist Dr Ramani Durvasula joins host Barbara Schroeder to shed her expert insight on these recordings, and the wider case.
15. The Missing
"The Missing" is "a well-researched and ethically sound addition to the true crime genre", said The Guardian. With the help of Missing People charity, host Pandora Sykes, formerly of "The High Low", looks into unsolved cases of missing persons in the hope of bringing new attention to them and help people still searching for their loved ones.
Sykes told Grazia magazine that she's interested in "storytelling with a purpose", and said the podcast "doesn't just exist for our entertainment". Locate International, an organisation of police detectives and criminology students, was also involved in the project, and was looking again at cases that had gone cold.
16. Hoaxed
"Nowadays you can't expect to start a conspiracy about a murderous paedophile cult in an upmarket area such as Hampstead without attracting the attention of a podcast producer," said James Marriott in The Times. And this one, about a satanic cult conspiracy which began in the leafy north London neighbourhood back in 2014, has "attracted the best in the business" – namely, Alexi Mostrous and Tortoise Media.
"Hoaxed" is "thoroughly researched and thoughtful reported", said The New Statesman's Anna Leszkiewicz, but it's "grim entertainment". The six-part series is "lurid in all the awful ways it has to be to keep the momentum of a podcast of this kind going", said Marriott. If you've have been looking "for the next 'Sweet Bobby'", then "this is it".
17. Bad People
In the BBC's "Bad People", criminal psychologist Dr Julia Shaw and comedian Sofie Hagen team up to examine "properly horrible people", said Miranda Sawyer in The Observer: "murderers, cannibals, sexual abusers, corporate psychopaths". In doing so, they shed some light on the human psyche.
The hosts are "loquacious and funny", and Shaw shares "fascinating information" between the pair's "bants". The back catalogue has more than 90 episodes to binge.
18. The Patsy
The 1976 car bombing of journalist Don Bolles is "one of the most famous murders in Arizona history", said Arizona's Family. The unsolved case remains "shrouded in mystery and intrigue", and is the subject of a new podcast, "The Patsy".
A Phoenix local, Max Dunlap, has twice been convicted of the murder, but his daughter Karen Graham claims "there is more to the story", the news outlet added. After reading letters written by her father in prison, Graham believes he became the "scapegoat for powerful men with a motive to kill Bolles". More than 40 years after the crime took place, Graham shares her story for the first time.
19. The Shrink Next Door
Wondery's 2019 podcast explores "what it's like when a relationship with a psychiatrist goes terribly wrong", said Rolling Stone. When journalist Joe Nocera began investigating the relationship between his neighbour, Marty Markowitz, and his neighbour's psychiatrist, Isaac Kerschkopf, he "discovered a deeply layered story of manipulation and betrayal", said Time magazine.
A dark comedy drama of the same name starring Will Ferrell and Paul Rudd was released on Apple TV+ in 2021. A two-star review from Empire suggests crime fans might be better advised to tune into the more highly-rated podcast instead.
20. Crime Junkie
Since its launch in December 2017, Ashley Flowers's "Crime Junkie" podcast "quickly grew to dominate the well-populated true-crime genre", said The Hollywood Reporter. So great is the show's success that Flowers has now started her own production company, and set up a non-profit organisation which funds DNA testing that could help to crack cold cases.
The show "promises to give you your 'fix' of true crime", though it is "little more than" the hosts recounting "Wikipedia entries about gruesome murders, stopping to interject jokes and commentary", said The Guardian. That tried-and-tested format has seen "Crime Junkie" soar to the top of the charts.
21. The Dropout
ABC News' "The Dropout" follows the story of Elizabeth Holmes and her biotech start-up, Theranos. The first series documents the rise and fall of the blood testing company, while the second follows the trial of Holmes, who is now serving an 11-year prison sentence in a facility in Texas.
The podcast succeeds in a "bulletproof retelling" of the story, "without any stylistic flourish", said Podcast Review. It's an investigative work "through and through", with host Rebecca Jarvis's "grilling" interviews of investors making for a "thrilling" listen.
22. Suspect
Arpana Jinaga was killed on the night of a Halloween party in 2008. Her body was found several days later in her home at Redmond, Washington, and the case is still unsolved.
"'Suspect' is about as straightforward as a true-crime podcast can get," said Vulture. Journalists Matthew Shaer and Eric Benson interview people who attended the party, friends of Jinaga's and the wrongfully convicted Emanuel Fair as they explain how the case has since unfolded.
23. My Favorite Murder
Stand-up comedian and TV writer Karen Kilgariff and writer Georgia Hardstark's "My Favorite Murder" "stands out in an endless sea of true-crime podcasts, largely because of the easy camaraderie between its two hosts", said The Observer. "In podcast terms, it doesn't get bigger than MFM," said Elle.
The pair, who now have their own podcast network, begin each episode by discussing a serious crime "before inevitably getting side-tracked into talking about past experiences and current obsessions", The Observer added. Like any loyal fanbase in the 21st century, its followers too have their own nickname: "murderinos".
24. Park Predators
Another offering from audiochuck, the force behind true crime sensation "Crime Junkie", "Park Predators" delves into the "most horrific" and "mystifying" crimes that have "unravelled" in national parks in and around Canada and the United States, said Stylist.
The show dives into a "niche category" of crimes, and the series has "made a name for itself" over the course of its four series, said The Coolist. The concept is "intriguing" and the stories recounted by host Delia D'Ambra "definitely make you think twice about solo camping".
25. Serial
It almost goes without saying that "Serial" is a must-listen for any true crime fans. The Observer's Miranda Sawyer called it "the greatest murder mystery you will ever hear", and The New Yorker's Sarah Larson described the concluding episode as "a major cultural event".
Over the 12-part series, host and "This American Life" producer Sarah Koenig examines the murder of Hae Min Lee in 1999 through a series of interviews with her ex-boyfriend Adnan Syed. If you haven't yet, "you have to start listening to 'Serial'", said Sawyer.
26. Fake Heiress
For years, Anna Sorokin went by the name Anna Delvey, posing as a German socialite with a trust fund of millions of dollars, and leading a lavish lifestyle in New York. In 2018, an article published on The Cut exposed the truth.
The series is "gripping, lively, scandalous and comprehensive", filling listeners in on "all the details you need to know" about the case, said Stylist magazine. The six-part podcast explores how Delvey tricked friends, investors and high-profile figures before her masquerade began to unravel.
27. The Thing About Helen and Olga
Dateline is a good place to start if you're after a new true-crime binge. One of its best, "The Thing About Helen and Olga", is a "twisted tale of two 'sweet old ladies' who became 'coldblooded murderers'", said the Daily Mail. Enter Helen Golay and Olga Rutterschmidt.
Host Keith Morrison told E! that he "jumped at the chance" to revisit a case he first covered some years ago. The story had "always stuck in my mind", he said, the women "waiting years for the right moment" before committing crimes "in the most violent way".
28. Casefile True Crime
What's "perhaps most interesting" about the "Casefile True Crime" podcast "is the mystery of the show's host", said Stylist magazine. The anonymity of the Australian host adds "to the mystery and creepiness of the true crime show", in which the narrator dives into the gruesome details of historic cases.
If that doesn't scare you off, there's a back catalogue dating to 2016 to get stuck into. Speaking on "The Late Show With Stephen Colbert", actor Steve Martin said he was so "obsessed" with the show that he "listened to 158 episodes" in one summer.
29. Who The Hell Is Hamish?
Another production by The Australian newspaper, "Who The Hell Is Hamish?" puts "Hamish McLaren under the microscope" to take a glimpse inside "the elaborate, desperate and manipulative mind of a serial conman", said Cultr.
Journalist Greg Bearup interviews people who knew Hamish, or thought they knew him, from around the globe to unpick his lies and their ruinous consequences. It's "terrifying on so many levels", said Games Radar.
30. Monster: DC Sniper
In October 2002, little more than a year after the 9/11 attacks, "America was on edge", said Rolling Stone. It was at this precarious moment in time that two people went on a "shooting rampage" in Washington DC, causing the deaths of ten people in three weeks, said Vulture.
At the time, the murders "shocked the nation's capital and the nation itself". About 400 FBI agents were assigned to the case, according to the security service's archives. In this 2020 podcast, listeners "relive the panic felt not only by the victims but by people in the DC metro area at large", who had "no way of knowing" who would be targeted next.
31. Looking for something else to listen to?
Have you missed the biggest news of the week? Or at least the stories which will shape our lives in years to come, when the passing hype of the day's headlines have faded from memory. That's the premise of The Week's own award-winning podcast, The Week Unwrapped, which seeks out under-reported stories with unexpected consequences, from the world-changing to the small but personally significant. Join The Week's writers, editors and guests to discover the surprising stories behind topics as diverse as Saudi social media use and locusts' DNA.
Listen to The Week Unwrapped on: Spotify | Apple Podcasts | Google Podcasts

Continue reading for free
We hope you're enjoying The Week's refreshingly open-minded journalism.
Subscribed to The Week? Register your account with the same email as your subscription.