Tried and tasted: best wines to buy in 2021
Wine expert Matthew Jukes gives his verdict on the top tipples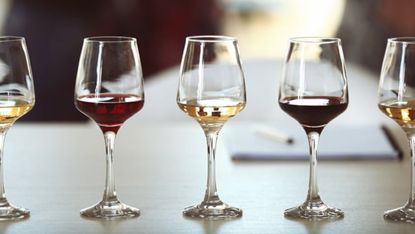 (Image credit: Bigstock)
Matthew Jukes, a winner of the International Wine and Spirit Competition's Communicator of the Year Trophy, picks out the best wines of 2021.
He has been the MoneyWeek wine correspondent since 2006 and his four highly-acclaimed, annual wine reports, Bordeaux, Burgundy, Piemonte and 100 Best Australian Wines are published on his website matthewjukes.com.
These reviews were originally published in MoneyWeek
Subscribe to The Week
Escape your echo chamber. Get the facts behind the news, plus analysis from multiple perspectives.
SUBSCRIBE & SAVE
Sign up for The Week's Free Newsletters
From our morning news briefing to a weekly Good News Newsletter, get the best of The Week delivered directly to your inbox.
From our morning news briefing to a weekly Good News Newsletter, get the best of The Week delivered directly to your inbox.
1. Two very fine Bordeaux blends
2017 Château Capbern, Saint-Estèphe, Bordeaux, France
If you're looking to keep the cash under control while drinking world-class wines this month, then look no further than these fine Bordeaux blends. Firstly, the extraordinary 2017 Capbern. Back in early 2018, during En Primeur week, winemaker Vincent Millet explained there were no problems with frost in Saint-Estèphe, so the yields were perfect in 2017 while others suffered.
The blend is 55% cabernet sauvignon, 39% merlot, 3% cabernet franc and 3% petit verdot. When the wine was "born", the fruit was smooth, clean and forward with classic Saint-Estèphe hall-marks of earthiness balanced with black fruit juiciness, and I strongly tipped it to blossom early in its life. Only a few years down the track, my predictions have come true – this is a stunning wine with amazing plumminess and a depth and nobility rarely found for £20.
Shave two pounds off this price, fly down to Bolgheri, and you will find a wine with a very similar blend (60% cabernet, 40% merlot): 2018 Yantra, Tenuta Sette Cieli, Monteverdi Marittimo, Tuscany, Italy (£18.28, laywheeler.com). It is a cool-climate "claret", loaded with sublime minerality and pristine, energetic fruit. Made with sensational care and attention by the immensely talented Elena Pozzolini, this is a wine that points the way to an epic future for this perfectly situated estate.
2. Two simply perfect pinotages
2018 Beeslaar, Pinotage, Stellenbosch, South Africa
Abrie Beeslaar made this magnificent wine from 25-year-old bush vines, and it was fermented in concrete tanks with regular punch-downs to gain as much extraction from the powerful pinotage skins as possible. It was then aged for 21 months in 40% new French oak barriques. There is nothing particularly unusual about this recipe, so why is this the most attractive pinotage I have ever tasted? It is extraordinarily expressive with silky black fruit and a hugely decadent mid-palate that runs on for minutes and then segues into a stunning, savoury, spicy, earthy finish. There is no pelt, burning rubber or pox of any kind – it is clean, fresh and structured and has more layers than a millefeuille.
All too often, South Africa's most important local grape has a certain sort of funkiness which turns me off completely. Beeslaar has nothing but pristine, gloriously appointed, velvety fruit – it is shaped like a super Tuscan, built like a Cape(d) crusader and I know everyone who feels like me about this tricky grape will go nuts about this wine. Well done, Abrie – you are a veritable magician.
If you would like to dip your toe into the pinotage grape at a lower price point, may I direct you to the 2020 Radford Dale, Vinum Pinotage (£11.50, The Wine Society) – another squeaky-clean red with exquisite, deep, dark fruit and lashings of cocoa. Jo Locke MW, The Wine Society's South African buyer, has done the impossible and found not one but two perfect pinotages this year! This is the most attractive pinotage I have ever tasted – clean, fresh and structured and with more layers than a millefeuille.
3. Farvie's 'difficult second album' is a triumph
2019 Swinney, Farvie Frankland River Syrah, Western Australia
Last year, I alerted you to the inaugural 2018 vintage of Farvie grenache and its sibling syrah. With scores of 19.5/20 and 19/20 respectively, these are two of the finest debut wine labels I have ever tasted. So how did these daring wines fare in the cooler 2019 vintage, and did they suffer from the all-too-familiar "second album syndrome"? I am beyond excited to announce that they are a triumph. The Farvie syrah gains a near-perfect 19.5 mark in my notebook, and Farvie grenache has to make do with a mighty 19!
In top-flight wines from warmer climes, such as South Australia's Barossa Valley and McLaren Vale, and the Rhône and Languedoc in France, syrah and grenache tend to summon up deep black-fruit notes only occasionally spiked with regal red-fruit tones. Spain has more luck with true red-fruit details, especially with bush vine garnacha. But Matt Swinney's epic vineyards in Frankland River coupled with Rob Mann's celestial winemaking mean these two wines taste densely red and labyrinthinely earthy, and therefore like nothing else on earth. Only 176 cases of each were made and you simply must have some in your cellar.
4. An absolute stunner at Aldi
2015 Château Laforge, Grand Cru Saint-Émilion, Bordeaux, France
It is probably bad form to quote one's own previously published work in this column, but here we go. To set the scene, back in April 2016 I tasted this wine out of barrel in preparation for my annual Bordeaux En Primeur Report.
This is what I wrote: "There are a few more members of the Laforge orchestra, in terms of flavour complexity, this year, and there is also more tannin here than I have seen before. This means it is a slightly bigger wine than expected and one that needs a few years before one can drink it. With a dark tone and a lovely luxurious nose, this is a black fruit compote of a wine, and there are even touches of mint here to freshen it up. This is a treat for wine lovers. 17/20."
Made from 92% merlot and 8% cabernet franc and weighing in at around a hearty 14.7% alcohol, it is clear that six years down the track 2015 Laforge is an absolute stunner. Imagine my surprise when I found it in the Christmas line-up at Aldi.
I've searched the internet and can only find it overseas and at double this price! While it might seem a little strange to buy super-fine Right Bank claret in Aldi, I can assure you that this is one of the knockout clarets of the year and at just shy of 20 quid I would back up the estate car in the Aldi carpark and load up with as much as your suspension allows. Hurry, though, and get ahead of the stampede of SUVs starting any minute now.
£18.99, available nationwide in Aldi
5. Snap up this soon-to-be legendary Californian pinot
2018 Littorai, The Pivot Vineyard Pinot Noir, Sonoma Coast, California
The topic of top-end Californian pinot noir might seem a little esoteric, but I cannot get through this week without flagging up this wine for you because I know that there are super-nerd fans out there, and they will go gaga for this wine. The 2018 The Pivot is the finest American pinot noir I have ever tasted.
Made by Ted and Heidi Lemon from a 2.8-acre biodynamic vineyard, this is the most beautifully thought through, carefully judged, respectfully oaked and finely tuned red wine, and it manages to add a whisper of whole-bunch detail (37%), too – Ted and Heidi adding ravishing "seasoning" to their pristine fruit with consummate accuracy. I was so taken by this wine after first encountering it, I immediately bought three bottles and opened them for a series of my most forensic wine pals to enjoy. It passed every analysis with flying colours, accompanied by oohs and aahs.
I then poured it at a corporate event and a further 25 wine lovers fell at its feet. Please do look up Littorai and learn more about the Lemons and their talents because they are a fascinating pair. This wine has yet to secure a wine-shop listing, but two merchants have put their hand up with rather differing prices! My advice is to get in quickly because only 515 cases were made of this soon-to-be legendary wine.
£470 in bond for six bottles, rennaisancevintners.com
6. A simply perfect tawny port
2007 Quinta do Noval, Colheita, Tawny Port, Portugal
I have been struggling to find retailers for this wine, and it is a source of complete bafflement and exasperation for me because this is, without doubt, the most sensational tawny port I have ever tasted. I first sampled it on 8 April, and I still remember every single facet of its excellence. It ought to feature on every serious wine list in the country, but, as I file this copy, Ocado, while listing the 2005 vintage, has taken delivery of the 2007 vintage, and its wine buyer assures me that it will be updated on its website imminently.
The first word I wrote about this vintage tawny in my notes was "paradise". There have only been seven Colheita releases in the 28 years that Christian Seely has overseen the historic Quinta do Noval estate. The single-vineyard, single-harvest wine, bottled after spending 13 years in barrel, is one of the most profound and moving wines of any style I can remember. It is drinking perfectly right now, with just the right amount of venerable, aged characteristics balanced by masses of admirable vigour and boundless energy.
But although my featured port is an absolute stormer, there was no Quinta do Noval Nacional declared in this vintage, so I wonder if we might see a 2007 Colheita Nacional appear on the market one day. If we do, I would feel compelled to give it a 21/20 score on the assumption that it might be a finer wine than this one, to which I have awarded my highest ever score for a tawny port – a perfect 20/20.
7. A stunning red with heart and soul
2019 The Society's Exhibition Crozes-Hermitage, Northern Rhône, France
Alexandre Caso started an agency in the Rhône supplying specialised labour for vineyard work, and his first employee was Guillaume, son of legendary Hermitage winemaker Marc Sorrel. After early successes, it was not long before they decided to branch out and so, in 2009, they rented some neglected vines in Saint-Joseph, followed by a hectare in Crozes-Hermitage in 2011 and a further parcel of Saint-Joseph in Tournon in 2012.
In the same year Nicolas Jaboulet, from the sixth generation winegrowing family in Tain l'Hermitage, joined forces with this intrepid duo, and they later created Maison & Domaines Les Alexandrins. You will find their wines in the best restaurants and wine merchants in the country. The sage palates at the Wine Society know a good thing when they see one. They commissioned this incredible Exhibition Crozes-Hermitage, which combines the remarkable tricks of tasting utterly sensational while sporting a thoroughly competitive price tag.
I cannot think of a red wine with as much heart and soul as this one. It is a sensationally accurate Crozes from a perfume and flavour point of view, as well as being laser-sighted with all autumn/winter recipes. I was going to save this stunning creation for my Christmas special, but I would be devastated if it sold out in the next two months. You are the first to hear about it here.
8. This cosmic creation was well worth the wait
2016 Roda I Reserva, Bodegas Roda, Rioja, Spain
We have all had to wait an eternity for the new Bond film to be released, and I have had to sit tight for a slightly shorter period for my favourite ever Roda I to arrive on our shores, and, in truth, it has felt longer than the 007 delay. But, as the saying goes, good things come to those who wait, and the world's most famous secret agent and this epic Rioja have both hit impossibly high notes with their respective performances. I have followed Bodegas Roda for all of its 34 years, and I have tasted virtually every wine this imperial estate has made, so when I say that this is the most impressive Roda I Reserva I have ever tasted, I hope it spurs you into action. The merchants listed have indicated their enthusiasm for selling this wine, and at give or take 50 quid, it is hard to think of a Spanish red to compare with this cosmic creation.
It is stunningly well-made and everything from the epic nose to the profound palate, to the oak, fruit and depth of flavour is nothing short of astounding. It is still a baby, but is perfectly balanced and can be enjoyed now. This prodigious wine will run for a decade with ease, and it is a true vinous gem that deserves to strut its stuff on the very best dining-room tables in the land.
£38 per bottle, £228 for a case of six, laywheeler.com; £289.67 per case of six, goedhuis.com
9. The finest Vinho Verde I have ever tasted
2020 Soalheiro, Primeiras Vinhas, Alvarinho, Vinho Verde, Portugal
I experienced a eureka moment in August. While dining at a smarty-pants fish restaurant in Portugal, a wine waiter asked me if I wanted to taste a "special wine" they had just received but that hadn't yet made it onto the wine list. Of course, my answer was yes. I am sure many readers will be familiar with Soalheiro – Portugal's most famous, ubiquitous, bargain-priced and, it has to said, delicious Vinho Verde.
Goodness knows how many cases are made of this stuff because it lines up on every supermarket shelf in the country. In fact, it is one of the most exciting things about summer hols! I was aware of a hierarchy of VVs from this terrific winery, but I rarely come across them, and so when I was presented with 2020 Primeiras Vinhas by a sommelier who was bursting with pride and eager to know my thoughts, I was a little more than excited. This is, without any shred of doubt, the finest VV I have ever tasted, and it arrived in the country a few weeks ago.
We tend to drink Vinho Verde ice-cold under a blazing sun, but this top-of-the-range wine, made from the original and oldest vines and seeing the merest hint of oak, is a true epicurean's delight. It is exquisitely expressive in every department without ever overstepping the mark. Chablis fans will know what I mean when I say it is the Raveneau of Vinho Verde. And when you have experienced this epic treat, track down 2020 Granit another sensational wine from the Soalheiro portfolio.
10. A heavenly and exotic Lirac
2020 Lirac Blanc, La Fermade, Domaine Maby, Southern Rhône, France
The wine-tasting invitations are flooding in and, when Yapp sounded the trumpet announcing a specialist Rhône extravaganza, I dropped everything to attend. Yapp has been the most famous Rhône specialist in the UK for all of my 35 years in this wonderful business, and so you will forgive me for writing you a shopping list of essential purchases this week, starting with this heavenly and extremely keenly priced white Lirac. Exotic, smooth, detailed and refreshing, give white Burgundy the heave-ho for a week or so and invite this wine into your repertoire.
In addition, 2020 Argiles Blanc St Gayan (£9.95) is a crazy bargain and a lovely light-white glugger for all-purpose entertaining. The 2020 Châteauneuf-du-Pape Blanc Père Caboche (£25.50) is one of the finest value and most impeccably balanced whites I have seen from this renowned estate. The Crozes-Hermitage Blanc Alain Graillot (£25) is a snip to secure a white Crozes from the most famous of all estates in this dramatic region. The 2020 Le Petit Caboche (£11.50) is an ebullient, forward-drinking red from Vaucluse, and it is already into its stride. The 2019 Lirac Rouge Maby (£15.25) is the red version of my featured white, and it is sensational. The 2019 Sainte-Agathe Domaine Vernay (£24.75) is an epic syrah with Côte-Rôtie-esque pretension. The 2017 Crozes-Hermitage La Guiraude Graillot (£42) was simply jaw-dropping. And finally, the NV Clairette de Die Achard (£17.95) is a hilarious fizzy sweetie.
11. A thrilling Portuguese red wine at a thoroughly reasonable price
2017 Sino da Romaneira, Quinta da Romaneira, Douro, Portugal
I find myself talking up great wines every single day. Last year I talked up 2016 Quinta da Romaneira Reserva on this very page, and it is a magnificent wine slowly evolving into a titan of the Douro. The 2017 vintages are in stock this year, and at 30 fewer pounds per bottle, this grand estate's Sino is sounding genuine alarm bells in the wine trade. So, in contrast to my lifelong, spend-more-and-spend-accurately mantra, I am genuinely talking you down this week so you can experience a thrilling red wine with a thoroughly reasonable price tag.
Romaneira is run by Christian Seely of AXA Millésimes, which controls the interests of legendary estates such as Châteaux Pichon Baron and Suduiraut as well as super-star Douro leviathan, Quinta do Noval. Carlos Agrellos makes Romaneira's ports and wines and while this is a small property and a less starry name, the wines crafted here are stunning.
Sino is made from traditional varieties Touriga Francesa, Tinta Roriz, Touriga Nacional and Tinto Cão, it is matured in old oak for ten months, and it sports a genial 13.5% alcohol level. It is a pure and sonorous wine with immediate charm and drinkability – an epic advert for classic Douro red wines. There is more than a smattering of claret-like flair here – not surprising given Christian's vinous heritage. So save some cash with this alluring, autumnal red wine.
£17.95, reduced to £15.95 by the case; leaandsandeman.co.uk
12. An impeccably balanced Ribera
2016 Áster, Finca El Otero, Ribera del Duero, Spain
This is the fourth wine that I have written up from the La Rioja Alta wine company in the 783 times I have put pen to paper in this column. That's a good percentage of appearances for a single wine company, but this red is not from Rioja. I must admit that I got a little excited as I tasted this masterful Ribera, and then my palate took a step back when I learned that the alcohol percentage is a little over 15% by volume! Hefty, but I can assure you that this lusty fellow is impeccably balanced on the palate. It is one of the most expressive old vine Riberas I have tasted, and given it is only five years old, the fruit and tannin, and the 16 months spent in new French oak, are all very integrated.
My wine-scribe pal Tim Atkin has awarded this beauty a heady score of 96/100. There is a phenomenon in the wine world called score-creep. This is when seemingly mesmerised wine journos hand out nosebleed scores to all manner of ill-deserving wines. This disease is rife in our industry and something which punters have wisely learned to ignore after having consumed far too many wines with high-nineties scores and dreary flavours. Mr Atkin is not one of these fools. If I scored wines out of 100, I would also be up among the clouds. There is another attractive number attached to this wine, too – £35 is a small price to pay for this degree of sophistication.
£38.50, reduced to £35 by the case, Bon Coeur Fine Wines 01325 776446; bcfw.co.uk
13. An exquisite Champagne to celebrate and drink with enthusiasm
NV Louis Roederer, Collection 242, Champagne, France
I am out on a limb this week because, as I write this column, nothing is confirmed. I am crossing my fingers that Waitrose receives its stock on time so that come Monday you can be first in the queue to buy the finest-ever release of this exquisite wine. Hot on Waitrose's heels, thefinestbubble.com should also have receive their allocation of 242.
Roederer is a serious House and the wine trade has held its breath, willing this wine to work. The 2017 vintage is the 242nd at this illustrious wine business and forms the base of this Champagne. Blended into the picture are reserve wines from 2009, 2011, 2013, 2014, 2015 and 2016, and oak is more than present in the whole.
Does it work? Yes, yes and yes again. It is very rare in our helter-skelter existence to have a world-famous wine company launch an affordable wine (yes, £52 in this context is affordable) with this much élan and obvious build quality. The 242 is every inch a Roederer wine, but it is a little more forward, lustier, more expressive and more palate-coating than the more refined, classical vintage releases which we traditionally treasure.
This is Roederer's short-cut wine – it gives us an illusion of flamboyance and decadence, and it lasts just until you take the next sip and this, in itself, is a triumph. This is not a wine to cellar, nor is it one to analyse too closely. It is a wine to celebrate and drink with enthusiasm, and we all need things like this in our lives.
14. A top-flight claret on the high street
2018 Château Deyrem Valentin, Cru Bourgeois Supérieur, Margaux, Bordeaux, France
It's funny how my drinking habits have remained relatively constant over the years, even though my palate veers all over the place on account of the tens of thousands of wines that I taste. I don't think I have dipped into a single claret since writing my Bordeaux En Primeur Report back in May, but I have been quietly willing September to arrive. Each year this glorious month signals to me, at least, that the Bordeaux season is back on, and it will stay with me for the next eight months. While it is always amusing to pluck bottles from the cellar, it is very rare to find top-flight, reasonably priced bottles of claret on the high street, and it is rarer still when they happen to be drinking rather well.
I have long been a fan of Deyrem Valentin, a hidden jewel in the Margaux crown. Made from 50% merlot, 49% cabernet sauvignon and 1% petit verdot, and spending 15 months in 50% new French oak, this classic recipe could result in any manner of flavour, but at Deyrem you can always rely on subtlety, balance, silkiness and style.
My mother told me some 50 years ago that her favourite style of red wine was Margaux. The wines these days are, on the whole, a lot more extracted and powerful than they were a couple of generations ago, but this is the sort of wine she would have adored. Deyrem has never altered its style – honed, engaging, polished and in perfect equilibrium; this is fabulous for autumnal drinking.
£31.99, available at 218 Waitrose stores and at waitrosecellar.com
15. A classy and invigorating Kiwi sauvignon blanc
2020 Dog Point Vineyard, Sauvignon Blanc, Marlborough, New Zealand
Ivan Sutherland and James Healy met at Cloudy Bay over three decades ago. Along with fellow wine legends Kevin Judd and David Hohnen, these visionary gentlemen put the sauvignon blanc grape variety on everyone's lips.
Long before Cloudy Bay launched in the mid-Eighties, Ivan and his wife Margaret were among the earliest Marlborough wine industry pioneers planting grapes in the late 1970s. After leaving Cloudy Bay, the Sutherlands and Healys set up Dog Point Vineyard and launched this stellar label in 2004.
I have followed this brand from day one, and they have only ever released exemplary wines. With this extraordinary history, pioneering spirit and genuine influence on the whole of the wine world and its drinkers, it was exciting to read that Ivan highly rates the 2020 vintage.
"For overall fruit quality, this is one of the best I have experienced in over 30 years in the NZ wine industry," he says. His assessment is spot on: this is as classy, long, lean, brittle and invigorating as any Dog Point Sauvignon I have tasted. The Wine Society has just received a shipment from New Zealand, and the prices seem incredibly keen.
Alongside my featured wine, do pick up some 2018 Section 94 Sauvignon Blanc (£20) with its subtle, resonant oak-influenced palate; and also the majestic 2018 Dog Point Pinot Noir (£25), which is one of the finest and most controlled reds made here.
16. A spine-tinglingly brilliant white from Piemonte
2020 Briccotondo, Langhe Arneis, Fontanafredda, Piemonte, Italy
Even though I have been writing about wine for well over two decades, I still think of myself as a member of the wine trade as opposed to being a journalist. I still consult for a few companies in the hospitality industry and food and wine-matching has always been a cornerstone of my métier.
Every month I select a handful of wines for recipes created by some of the finest chefs in the land for a business called Wild Radish. The idea is that you can learn to cook like an expert and then enjoy your creation with world-class wine. This Arneis is one of the bottles I picked recently, and it is so spectacular that I wanted to highlight it for you this week.
Arneis is a wondrous white grape, and the phenomenal Piemontese terrain gives this floral but tense variety an uncommon degree of beauty and drama on the palate. Fontanafredda is a world-famous wine estate, but it usually rocks peoples' palates with red wines. This time, however, this exquisite white is the star wine in this diverse portfolio. Hauntingly perfumed, spine-tinglingly bright and refreshing and keenly price, too, this is the definitive white to serve this week, ice cool, to slake your thirst at the same time as pricking your interest. If you have never tasted this grape before, you will fall in love in just one sip. If you have, then this wine will take your appreciation of Arneis to a new level.
17. One of the most exciting Aussie pinots of the year
2019 Dalrymple, pinot noir, Pipers River, Tasmania, Australia
As every year passes Dalrymple makes finer and finer wines. The 2011 vintage of this very wine made my 100 Best Australian Wines Report, back in 2013, and beautiful wines from this estate have popped up four times since. Every time they gather more intensity, flair and accuracy. Tassie's climate is perfect for both elite pinot noir and chardonnay and over the last decade or so the wines have graduated from being diverting and enjoyable to seriously collectable and globally relevant.
Winemaker Peter Caldwell is a brilliant chap, humble, great fun, honest, and aware of just how bright the future is for his winery. As he says, "What I've learned is patience. Knowing that a vineyard is an evolving organism buffeted by climate and wind and rain and sun. There are no repeat years. No textbooks. The vineyard and I work together, each within our own limitations". As you can see, Pete is intricately involved in his wines and so it is desperately exciting for me to introduce you to this scintillating 2019 vintage.
A genuine tour de force, this is one of the most exciting Aussie pinots of the year and the value for money is tremendous. With a heavenly black-cherry perfume, stunning depth of fruit on the palate and a liberal dusting of spice, coming from 24% new oak for 11 months, this is a must-buy for pinot freaks everywhere!
£172.20 for six bottles (£28.70 each); vinvm.co.uk
18. Four simply stunning English wines
2018 Danbury Ridge, Chardonnay, Essex, England
I have been waiting a while to taste the amazingly talented Liam Idzikowski's new creations since he left Lyme Bay to work with Michael and Heather Bunker and their exceptionally well-situated, young vineyard in Danbury in Essex. Its wines are everything I hoped they would be and more, and you ought to do everything you can to find a bottle or two. Only 10,132 bottles were produced of my featured wine and the other three in this piece.
The reason for my excitement about these wines is their sheer impact and luxuriousness on the nose and palate. These are wines that do not, in any way, shape or form, seem like they come from a cool climate. My featured chardonnay is terrifically smooth, mildly exotic, juicily oaky, incredibly long, amazingly ripe and fabulously ostentatious. Its big brother, 2018 Chardonnay Octagon Block (£52), is even more structured and concentrated and, even though the oak is ridiculously expressive, it is a sensationally balanced wine. The 2018 Pinot Noir (£34) is equally posh and plush, with Volnay-like appeal and its texture is unlike any English pinot noir to date. The 2018 Pinot Noir Octagon Block (£55) adds even more spice, drama, head-turning fruit density and prodigious length. These are true signposts – pointing the way for us all to a stunning future for English wine.
£32, cambridgewine.com; £32.50, tivoliwines.co.uk, grapebritannia.co.uk, luckinswinestore.co.uk, padstowwinecompany.co.uk; £32.99, lokiwine.co.uk; £33, oldbridgewine.co.uk; £33.10, hedonism.co.uk; £35.50, jnwine.com
19. A delicious and affordable Châteauneuf-du-Pape
2018 Close Encounters, Châteauneuf-du-Pape, Famille Perrin, Southern Rhône, France
This wine is absolutely delicious, it is only £20, it is a Châteauneuf-du-Pape made by the Perrin family – owners of the most famous CHNF (my time-saving abbreviation) of all, Château de Beaucastel – and it is available nationwide. My notes could, and probably should, end here because this is surely enough to get your vinous juices flowing. But there is a little more to the story.
This wine is an homage to an homage. The label refers to a genuine CHNF by-law that prohibits UFOs (or cigare volant, literally "flying cigar" in French) from landing in their vineyards. Back in 1984 Californian wine legend Randall Grahm, owner of Bonny Doon Vineyard, launched a red wine called Le Cigar Volant made predominantly from syrah and grenache, thereby introducing the US to the joys of Rhône varieties.
I remember selling the very first release of this wine at The Barnes Wine Shop back in 1987. Three and a half decades later the Perrins have decided to thank Randall for his vision by making Close Encounters, referencing US cinema and also Randall's own stunning artwork on the label. The story shows just how much respect there is flowing around the wine world – I can almost taste the thought and love that has gone into this wine. Congratulations to Co-op for putting it on our shelves at an affordable price.
£20, in 400 Co-op stores nationwide
20. A simply majestic Australian cabernet sauvignon
2018 Wynns Coonawarra Estate, Limited Release John Riddoch Cabernet Sauvignon, Coonawarra, South Australia
This is the most incredible Wynns Cabernet I can remember. This is a fairly heavy statement because I have been drinking these wines for 35 years and on my website you will find vertical tastings of Wynns epic reds going back to 1957. Wynns is Coonawarra's most famous and historic wine estate and John Riddoch is its flagship wine. This is one of only a handful of Australian wines sold via La Place de Bordeaux, the elite distribution system for top Bordeaux châteaux and a limited number of top-class vins étrangers.
I am convinced this wine will be one of the most sought-after non-French wines since La Place opened up its portfolio to wines like Opus One. With only 35% new French oak barriques and hogsheads involved, the sensational Coonawarra Cabernet is allowed to sing at its purest and most melodic in this spectacular vintage. What amazes me is the extraordinary complexity of perfume, flavour, depth and length in this wine. It expands on the palate in all directions without being a heavy or imposing wine. I have awarded the wine a score of 19.5+/20 in my notes, which puts it in the very highest echelons of cabernet sauvignon in the world. The balance is extraordinary, not least because, at only three years old, it can be swallowed and savoured with ease, and yet there must be three or four decades ahead for this majestic wine.
About £100 from all great fine-wine merchants from 1 September 2021
21. A simply astonishing legendary Italian red
2016 San Leonardo, Trentino, Italy
When we were allowed to venture back into restaurants in May, the very first dinner I attended was at steak-haven Hawksmoor Seven Dials, in London, because on Monday nights it is a fiver for corkage. Feel free to check out my Instagram feed and you will see a bottle of 2004 San Leonardo sitting in a line-up of crazy bottles that my pals and I had been itching to share for over a year. I tasted the soon to be released 2016 San Leonardo a couple of weeks ago and, this time, I am itching to share it with you.
Owner Marchese Anselmo Guerrieri Gonzaga decided that this legendary Italian red, Trentino's finest, deserved an extended period of ageing prior to release and his decision has paid dividends. Made from a blend of cabernet sauvignon, carménère and merlot in very much a Bordeaux style as opposed to a Super-Tuscan or Napa Valley manner, this wine is the epitome of class and restraint and it is just starting to drink, too. At a mere 13% alcohol, it is impeccably balanced and there is so much freshness and brightness on the nose and palate it is astonishing. Ripe cabernet cassis notes joust with greener tones from the carménère and wild lustiness from the merlot, and these elements combine beautifully on the sleek palate. Hurry to secure your stock now.
£352.20 excluding VAT for six bottles and £776.40 excluding VAT for six magnums; honestgrapes.co.uk
22. An epic new wine from Italy
2019 Donna Elvira, Fink Fiano di Avellino, Campania, Italy
Wine samples arrive thick and fast every day and they usually come from importers, distributors, wineries and merchants I already know. Occasionally, bottles appear from new discoveries and, because of the short lead times for this column, I can get them on the page in a trice. From Sarah Fink's first email introduction, via samples, tasting, research, checking and filing copy to these wines appearing here today has taken less than a month. This means you are hot on my heels in making these epic discoveries.
My lead wine, a fiano, is terrific, accurate, exotic, bitingly fresh and genuinely rewarding. I adore this stone-fruit-kissed variety and it sums up an Italian summer perfectly. There are three more beauties to recommend: the 2019 Donna Elvira, Fringilla Falanghina (£15) shows accurate fruit and herb notes and bracing freshness, underpinned by a volcanic tang and steely acidity; the 2019 Donna Elvira, Aegidius Greco di Tufo (£18) is calmer than the other two whites and more lemony in its theme; and a true rarity, the 2018 Donna Elvira, Settemazze Aglianico (£18), a delicious red made from a particularly obtuse, indigenous grape variety that, in the wrong hands, makes some of the driest and most tannic wines around. At Donna Elvira, it is juicy, smooth, intriguing, cherry-and liquorice-soaked and the polite astringency only arrives at the very end of the finish. What a line-up!
23. An epic creation from Argentina
2018 Susana Balbo, Brioso Single Vineyard, Agrelo, Mendoza, Argentina
I usually prefer the entry-level red wines from the top Argentinian wineries to their top-of-the-range creations. More often than not the expensive wines are excessively concentrated and raucously over-oaked. Not so the wines from Susana Balbo. I listed her wines back in the Nineties on my Bibendum Restaurant wine list and she was so pleased she paid me a visit. Susana is not obsessed with scale and power in her reds, but with complexity, harmony and length. Try her 2020 Susana Balbo Tradición Malbec (£12, Marks & Spencer) to get you in the mood for my featured wine.
Brioso is the finest Argentinian red I can remember tasting. It is deep, long, controlled and luxurious, and every element of the 43% cabernet sauvignon, 26% malbec, 17% cabernet franc and 14% petit verdot blend resonates with extraordinary class, refinement and balance. It comes from the Dominio vineyard in Agrelo, situated at 980 metres, and this imbues freshness and poise in the fruit. Amazingly, it is aged for 15 months in 100% new French oak barrels, and the oak nuances have melted perfectly into the wine.
In terms of value, there are few wines in the world to touch this epic creation given its grand "Bordeaux" shape and unmistakable harmony. It is also drinking now –further proof that Susana is one of the planet's most talented winemakers.
24. A simply perfect Australian red
2016 Yalumba, The Caley, Coonawarra & Barossa, Cabernet & Shiraz, South Australia
I am so passionate about the blend of cabernet sauvignon and shiraz that, back in 2006, I started an annual competition in Australia to determine the finest wine that is made from what I call "the blend that defines Australia". I believe that this partnership makes some of the most legendary red wines on earth. Penfolds Bin 389, Wolf Blass Black Label and Yalumba's own Signature are three awe-inspiring interpretations of this historic style of fine red wine.
Back in 2014, an unlabelled 2012 vintage wine from Yalumba won my award and the next year the very same wine won the title again. The chances of this happening are akin to a lottery win. This wine was eventually released as 2012 Yalumba The Caley – Yalumba's inaugural, super-premium, flagship red wine. Each release since has been nothing short of epic. I tasted the 2012, 2013, 2014, 2015 and my featured and soon to be released 2016 the other day and declared it the finest five consecutive vintage "vertical" I have ever tasted. I awarded the 2012 a perfect 20/20 score and this wine's subsequent vintages have never dipped below 19/20.
The 2016 arrives in the autumn and you can reserve your stock now. A maximum of 250 cases are made so it is one of the rarest great red wines on earth. I awarded this 2016 another perfect 20/20 in my notes. You can see detailed tasting notes of each wine on my website.
About £501 for three bottles in bond; frw.co.uk, bordeauxindex.com, bgvintners.co.uk, vinquinn.com, nickollsandperks.co.uk, uk.cruworldwine.com
25. A red made by rebels and shipped by pirates
2019 Quinta do Romeu, Westerlies, Douro, Portugal
Xisto Wines is run by Anton Mann and Lela McTernan and they import wines from Portugal under sail. Working with a new wave of young winemakers, they source sustainable, limited-release, high-quality wines bursting with character and a true sense of place. They have reconnected Bristol with its twin city of Porto, using sailing ships laden with their zero-carbon wine cargo.
I have picked two terrific red wines from their portfolio for you to enjoy – my featured suggestion for this week's column boasts this legend on its label: "Made by Rebels, Shipped by Pirates, Drunk by Heroes!".
My featured "Port O'Bristol" red is bursting with velvety bramble and spice flavours and, in spite of its youth, it is already drinking perfectly. The 2017 Quinta do Boavista Rufia (£17), made from 40% rufete, 40% jaen and 20% touriga nacional, has a sour cherry-cola flavour and a wondrous, bitter acidic kick on the finish.
Both wines are great fun, genuinely engaging and superbly responsible. While their method of transport to our shores is certainly ancient, and to be applauded, the flavours in these delicious red wines are modern, accurate and unlike any others I have tasted.
£15; xistowines.co.uk, 07980-616927
26. An epic pinot noir from Australia
2019 Stonier, Pinot Noir, Mornington Peninsula, Victoria, Australia
The delicious 2018 is perilously low in stock in store (and has sold out online), but I am told there will be no out-of-stock calamities for this wine! The Mornington Peninsula region, situated an hour south of Melbourne, makes arguably the finest boutique pinot noir in the world, outside of the Côte d'Or in Burgundy. I hosted an online masterclass last month and every single wine was a winner. I urge you to seek out examples from Moorooduc Estate, Paringa Estate, Ten Minutes by Tractor, Kooyong, Ocean Eight, Scorpo, Crittenden Estate and my featured Stonier. These are all elite wineries with epic wines and I do not use these descriptors lightly.
Stonier is the least expensive wine in the line-up and yet stood shoulder to shoulder with the big guns. It is, therefore, my nominated "cheerleader". If you are new to Mornington, let Stonier be your guide to the treasures found here. The 2019 draws on fruit from across this unique maritime region and, with 5% of whole bunches used and even 10% new French oak in the mix, it has some of the filigree detail that adds complexity and flair to these exquisite wines.
I have known Stonier winemaker Mike Symons for nearly 20 years and he is one of the most considered, modest and supremely talented chaps in the country. His skill is not to be understated, particularly when you weigh up the value afforded by this impossibly beautiful wine.
£22.99, reduced to £18.99 in a 'mix six'; majestic.co.uk
27. A Marlborough sauv with a haunting appeal
2020 Bob Short for Kate, Sauvignon Blanc, Glover Family Vineyards, Marlborough, New Zealand
Winemaker Ben Glover's sister Kate passed away, after a long battle with cancer, in 2018, and this wine is a wonderful homage to her. The "Bob Short for Kate" label is a reference to a TV show she loved, Blackadder, and it is fitting that this is an energetic, organic, expressive, uniquely fascinating and memorable wine. Ben has been making stunning wines since 1998 and is responsible for hundreds and hundreds of labels, but this is, not surprisingly, his most sincere and considered wine.
On the surface, it might look to the casual observer like just another New Zealand sauvignon blanc, but no. Made from 88% sauvignon blanc and 12% semillon, and sourced from three of the oldest and most famous organic vineyards in the region, these two grapes are co-fermented to combine their aromas and flavours from the very first moment possible. The depth of flavour of the semillon brings gravitas to the sauvignon's levity and the result gives us a Marlborough "sauvignon" with remarkable textural appeal under its haunting citrus and fresh herb perfume.
Fabulous value for money and utterly delicious to boot, I would urge you to taste this wine because it is a pioneering style that, with a handful of other creations, is charting a new course for this region.
28. A far from foolish vinous venture
2019 Howard's Folly, Sonhador Branco, Alentejo, Portugal
The Howard in question is Howard Bilton, an ebullient Yorkshireman with a deep love of great wine and fine art. The Folly part is a warning to anyone who is not aware that making wine is never a very good idea if you are hoping to make profits! Nevertheless, Howard has set up a stunning winery and restaurant in the pretty town of Estremoz, in the Alentejo region of Portugal, where he makes delicious wines with arty labels under the guidance of his talented and highly decorated winemaker David Baverstock. Please do also take a look at the Sovereign Art Foundation to see the amazing charity that Howard set up nearly 20 years ago and the great work it does for disadvantaged children living in Asia.
Howard's Folly brings wine and art together and my featured wine is Howard's most accomplished white to date – and the label is jolly cute, too. Made from ancient vines, with no less than ten indigenous varieties in the mix, and coming from smallholdings situated in the high altitude Portalegre district of Portugal, this is a vinous snapshot of the country's history like no other.
Kaleidoscopically perfumed, finely balanced and with careful oak augmentation adding drama, this is one of the most arresting Portuguese whites I have ever tasted.
£120, for six bottles (£20 each) or £96 for six bottles for members of howardsfollywine.co.uk; £19, pullthecork.co.uk; £14.50, derventiowines.co.uk
29. A violet-kissed, silky red from the US
2018 Hedges Family Estate, CMS Red, Washington State, US
I was delighted to be invited to attend a Washington State Zoom masterclass a couple of weeks ago and, having not visited this wine country myself, I found it very illuminating. This rapidly expanding industry is starting to hit the high notes and, although we tasted ten wines from some of the most famous names, covering riesling, semillon, merlot, cabernet and syrah, it was this red blend that was the standout wine.
Named CMS on account of its tri-varietal make-up – in this vintage it is 76% merlot, 20% cabernet sauvignon and 11% syrah – this is a sensational piece of sensitive winemaking by the brilliant Sarah Hedges Goedhart. The production reached an impressive 24,000 cases of 12 bottles, so you can order as much as you like, which seems a little incongruous in a region cram-packed with boutique producers.
At a third of the price of some of the wines in the line-up, this was still my preferred bottle given its stunning balance, harmonious palate and enviable detail. The violet-kissed perfume and silky red and black-fruited body is nothing short of mesmerising and it is drinking perfectly already.
Its big brother, 2018 Red Mountain (about £38), arrives in the autumn, so if you are a committed Hedges fan by this time, then trade up to yet another heroic red blend from this fascinating estate.
£20, reduced to £18 each by the case; robersonwine.com
30. Three stunning Italian reds
2015 Birba, La Gerla, Tuscany, Italy
Robbie Toothill is a wine buyer at Lay & Wheeler and his palate is impeccable. Here are three stunning Italian reds that Robbie has unearthed, two of which I know well and one which is a brand-new find. My advice is to mix a case and treat your palate to these extraordinarily delicious and competitively priced wines.
In order, from the "lightest" to the "heaviest", first up is the 2017 Vino Nobile di Montepulciano Boscarelli (£20.68), a smooth, seamless sangiovese with little or no tannin and a snap of keen acidity on its finish. It is a cranberry- and sour-cherry-soaked fellow that is eminently gluggable as well as being effortlessly classy. Second is my featured Birba, which means "little rascal" in the local dialect. Made by a fabulous Brunello di Montalcino producer, this is a seriously plush, spicy, ripe and oaky wine that is every inch a Super-Tuscan – superbly luxurious and immensely impressive. If it wore a £50 price tag I wouldn't have blinked. "Little rascal" should be renamed "big beauty"!
Finally, the 2016 Arte Langhe Rosso Domenico Clerico (£24.28) is made by an elite Piemonte estate and this nebbiolo and barbera blend is impactful, stuffed with glamorous black-fruit tones and oodles of attitude. Just starting to drink well and with another ten years in the tank, this is another heroic discovery. Tre applausi!
31. Five superb clarets drinking now
2014 Clos Sainte Anne, Côtes de Bordeaux, France
I am writing this column surrounded by sample bottles from the finest Bordeaux châteaux – Mouton Rothschild to my right, Haut Brion to my left, and rows upon rows of famous names as well as lesser-known estates in between. It is the "en primeur" time of year and wine merchants and commentators alike are wading through hundreds of 2020 vintages to give wine collectors their thoughts on whether it's worth buying a few cases of these vinous futures for investment or simply to drink with their friends. By the time this column is published I will have uploaded legions of notes, free to view, on my website, so please take a look – 2020 is a patchy vintage that needs careful guidance.
But while none of these wines will be drinking for years, I thought you might need to slake your thirst on some great clarets that are drinking right now, and are fabulous value for money and amazingly accurate, too. Clos Sainte Anne is utterly delicious, superbly suave, balanced and bright, and it is a thrilling bargain. While you are at it, grab the following Châteaux from HH&C, too: 2018 Les Reuilles (£10.40) is a fabulous, all-purpose "house claret"; 2018 Garras (£13.50) is a mineral-soaked, violet-tinged beauty from Cadillac; 2018 Haut-Vigneau (£21.40) is a plush Pessac-Léognan brimming with purity and élan; and, finally, 2012 Baron de Brane (£33.75) is a sensual and sensational second wine from a famous Margaux property.
£14.10, reduced to £12.50 each by the case, Haynes Hanson & Clark, 020-7584 7927, hhandc.co.uk
32. A stunning Alpine white
2019 Benedict White, Dveri Pax, Slovenia
The Wine Society sent over a case of tasting samples the other day entitled "Alpine Wines". I was delighted to reacquaint myself with an old favourite of mine, 2020 Chignin Vers les Alpes Jean-François Quénard (£10.95), in this box of goodies. I first tasted the wines from Quénard some 30 years ago and I have never forgotten the shiver down my spine brought on by the racy, rapier-sharp Jacquère grape variety. The new 2020 vintage arrives in the country and it is as bright and steely as any wine I have tasted from this famous Juran estate. As the weather warms up and we search for electrifying dry whites to challenge our senses, this wine seems like the perfect antidote to oceans of samey sauvignon blanc.
I was expecting the Chignin to perform at the highest level too, but I was flabbergasted by my featured white wine. With identical vital statistics to the rapier-sharp Jacquère, this exquisite Slovenian white is made from an inspired blend of pinot grigio, furmint and riesling. The Benedictine monks from Admont Abbey, across the border from Graz in Austria, have been producing wine in today's Slovenia since 1139. Winemaker Danilo Flakus has taken the reins of the elite Austrian estate FX Pichler and this wine continues its tradition of making excellent wines. I urge you to taste these two stunning "Alpine" whites.
33. A thoroughly delicious sweetie from Bordeaux
2013 Castelnau de Suduiraut, Sauternes, Bordeaux, France
One of the first truly fine wines that I ever tasted, back in 1987, was 1983 Château Suduiraut, and one of the most memorable was the 1899 vintage I tasted a few years later. This estate has always been one of my favourite sweet-wine properties. The other day I had the great pleasure of Zooming with Suduiraut's technical director, Pierre Montégut. We chatted about the dry white project here and we tasted the soon to be released 2020 Blanc Sec de Suduiraut. A plush vintage, this is a seriously attractive, dry wine that should certainly help to introduce yet more people to this epic estate.
But it is the sweet wines that rock my boat and, alongside the stellar 2010 Château Suduiraut (£55, vinatis.co.uk), which is drinking perfectly now, we also looked at the "second label" Castelnau. I was delighted to hear that the fully mature 2013 vintage is alive and kicking in our market and so it is my featured wine this week.
The 2013 was a difficult vintage, but it was also a very good one You have both botrytis (noble rot) and also passerillage (dried grapes) notes in this heady sweetie and, alongside the juicy, honeyed, orange-blossom theme, there is neat acidity balancing the 148g/litre sugar. This is a thoroughly delicious wine and I am certain that this cheeky half bottle will make you fall for this property, too.
£14.99, half bottle, reduced to £12.99 each in a "mix six", majestic.co.uk; £15.50, exelwines.co.uk; £16.87, strictlywine.co.uk; £16.80, shelvedwine.com; £16.95, fintrywines.co.uk; £17.77, winepoole.co.uk; £17.99, handford.net.
34. High praise for this graceful, ethereal semillon
2019 Château Climens, Asphodèle, Grand Vin Blanc Sec, Bordeaux, France
Climens's owner Bérénice Lurton makes some of the greatest sweet wines in the world, but her illustrious property had never made dry whites until recently. In 2018 she launched a dry white wine named Asphodèle, after the delicate, wild lilies which grow in the chalky soils on the estate. Biodynamically certified since 2014, this 100% semillon wine is unlike anything I have tasted and the 2019 vintage is a gem.
Semillon as a monovarietal dry wine is, arguably, at its finest in select cuvées from the Hunter Valley in New South Wales, Australia. Wineries such as Tyrrell's, Mount Pleasant and Brokenwood make celestial creations with naturally low alcohol and little oak intervention. They start life water white and then age like clockwork for two or more decades.
Most dry white Bordeaux employ the services of sauvignon blanc alongside semillon in the blend and oak during maturation – when I heard that Bérénice's wine was a pure semillon with no oak used whatsoever, I was extremely excited. This is one of the most graceful, ethereal and delicious French semillons I have tasted. It is silky-smooth, cucumber-tinged and extraordinarily pretty on both the nose and palate. It might seem an odd observation, but this wine does not taste like a Bordeaux interpretation of a Loire style of white wine, but a French version of an elite Hunter semillon. This is the highest praise I can offer.
35. Ancient wisdom makes for better wines
2017 Reyneke Organic, Cornerstone, Polkadraai Hills, Stellenbosch, South Africa
The first time I met Johan Reyneke, nearly 20 years ago, his beaming smile, firm handshake and scintillating wines marked him as someone at peace with his confident, ethical and holistic stance on both farming his land and making his beautiful wines. Johan embodies the spirit of biodynamic farming like no one else I have met. As he wisely noted, "Some people dismiss it as old-fashioned nostalgia, but we like to think of it as ancient wisdom. And we embrace it as much as we can. Not just because it's better for the earth, but because it makes for better wine."
Johan's entire portfolio is a joy to behold and somewhere in the middle of the pack sits this extraordinary Cornerstone, which is not only a stunning "claret-shaped" red, but also a wine the proceeds of which help farmworkers and their families with education, housing and retirement annuities. Made from 54% cabernet sauvignon, 32% cabernet franc and 14% merlot, and maturing for 18 months in French oak barrels, of which 30% are new and 70% are second and third-fill barriques, this is a stunning creation. What makes it so attractive is that it is reaching its peak of maturity and the complexity of the fruit, underpinned by the precise location of these extremely content vines, makes for magnificent honesty and integrity on the palate. It is as accurate as any wine I have tasted.
36. A world-class pinot from South Africa
2019 Restless River, Le Luc Pinot Noir, Upper Hemel-en-Aarde Valley, South Africa
I wrote about winemaker Craig Wessels' extraordinary 2013 Restless River Chardonnay back in September 2016. In my eyes, it was the wine that turned this estate from a new kid on the block, like so many cool brands in the fast-moving South African wine scene, into an estate worth hunting down at all times on all restaurant menus and in all wine shops.
The vineyards were planted back in 1999 and the vines are certainly finding their feet in this idyllic setting at 360-metre altitude, some three miles from the chilly South Atlantic Ocean. Famous for making stalwart cabernet and mind-blowing chardonnay, Craig planted his pinot noir vines in 2013 and this is his finest release to date. Having said this, and please bear in mind that the vines are still only babies, this is one of my favourite Cape pinots of all time. Goodness knows what will happen when these vines mature, driving their roots deeper into the soil, and Craig has even more experience playing with his stellar fruit, but I would urge you to do all you can to taste this wine.
Swig and MoneyWeek are old friends and so all of our readers have been given a special deal. At £39 this is a vitally important world-class pinot that should be opened and assessed by everyone as obsessed with this stellar red grape as I am.
£45, reduced to £39 for MoneyWeek readers, swig.co.uk - use voucher code RESTLESS0221
37. A true Super-Tuscan blend at a fraction of the usual price
2019 Bolgheri Rosso, Grattamacco, Tuscany, Italy
The great red wines of Bolgheri, situated around the village of Castagneto Carducci on the Livorno coast, qualify as rare but wholly indulgent guilty pleasures. Absurdly expensive, ridiculously hedonistic and uncommonly luxurious, iconic labels Ornellaia and Sassicaia bounce around the £200-mark and noted vintages sky-rocket from there. There are two properties in this region that allow you to side-step the fiscal stress afforded by the aforementioned superstars – Tenuta Sette Cieli (from swig.co.uk), which is standing on the brink of stardom, as its name suggests, and my featured Grattamacco.
Sette Cieli's wines are high-altitude, chiselled, age-worthy and mesmerising, made with uncompromising standards, and I am a huge fan. They are also stunning value, in particular Indaco. Grattamacco's releases come from the more fertile soils, halfway down the hill from Sette Cieli, closer to the Med, and this setting brings with it plushness, opulence and early-drinking joy. Made from 50% cabernet sauvignon, 20% cabernet franc, 20% merlot and 10% sangiovese, this is a true Super-Tuscan blend and it is baffling just how approachable and delicious the wine is already. It bursts with heady, black fruit and discreet herb and spice notes. The oak, alcohol and tannin all sit in the background giving This stunning value red bursts gives a truly classy Bolgheri experience at around a tenth of the price of the big guns. £26.95, bbr.com; £24.50, decvin.com
38. An incredible English vintage
2011 Squerryes, Brut (Late Disgorged 2020), Exclusive Vintage Reserve, Sevenoaks, Kent
I am a fan of Squerryes wines, although I don't taste them as often as I would like because they tend to keep a low profile. I have previously written up both the 2010 and 2013 vintages, five and four years ago respectively, in my column in the Daily Mail, and more recently I have tasted the 2014, 2015 and 2016 vintages. All are very nice wines, and they seem cut from the same, fine cloth, but there has been a gradual evolution in their sophistication as the years roll by and this is evidenced in their depth and length of flavour. I put this down to vine age, as the roots search deeper and gather more complexity to embolden the fruit at harvest time.
When I opened my featured wine, however, my whole understanding of Squerryes changed. Where I had been previously experiencing taut, unyielding acidity coupled with the infinitesimal blossoming of fruit tones, this late disgorged wine, which has spent nine years on its lees before release, is downright spectacular. It is smooth, succulent, layered and luxurious – a completely different beast to the regular vintage releases. You must seek it out to experience this incredible flavour. Winemakers and estates will of course be familiar with the concept of extended lees ageing (and the cost of holding back wines for years before release). But when the results are this epic, the agonising wait for vines to come to maturity is well worth it.
£65, reduced to £52 for "members" (there is no joining fee); squerryes.co.uk
39. A simply astounding ripasso
2018 Valpolicella Ripasso, Classico Superiore, Monte Santoccio, Verona, Italy
I have written up a detailed review of the extraordinary portfolio of Monte Santoccio wines on my website, including a preview of a wine never before seen on our shores, the 2013 Amarone della Valpolicella, Classico Black Label, and they are all extraordinary creations. I have chosen to focus this week's column on the ripasso in the range as the value for money afforded here is astounding.
Winemaker Nicola Ferrari was formerly an assistant to the legendary Valpolicella producer Giuseppe Quintarelli, and he and his wife Laura now make their wines from four hectares of organically farmed vines in Fumane. Their wines are as honest and accurate as any I have tasted from this region and yet there is fascinating detail to be found behind every label. Uncommon restraint and calm balanced by grand, layered, enticing and refreshing flavours – this is the Ferrari signature and you will find it on every bottle, from those costing £17.95 up to the £75 ones. This ripasso will act as your ambassador to the range and, given its astounding flavour and the keen price, I am sure you will rejoice when you meet it.
There is an extra dimension of flair and richness at the heart of this red that is truly sensational. Many wines of this style carry extra weight and darker fruit tones, but this elite version parades glorious red fruit and uncommon succulence.
40. An enchanting chardonnay from Belgium
2019 Château de Bousval, Gouttes d'O Chardonnay, Bousval, Jardins de Wallonie, Belgium
Early one evening, just before Christmas, the doorbell rang and a voice shouted out "wine delivery". This is nothing new – it happens ten times a day – but I thought I recognised the voice. The cycle courier turned out to be none other than Jim Eustace, MD and fine-wine guru at Haynes Hanson & Clark. Soaking wet, but grinning from ear to ear, he was clutching two bottles of white each with a dribble of wine left inside. He handed them over and then sped off, shouting, "Happy Tasting, they are from Belgium!".
Until that evening, I had never tasted Belgian wine. After a quick search on the internet, I found that Château de Bousval is situated only a few miles south of Waterloo, where I spent a few years at school when I was a child. This wine is a biodynamically farmed, pin-sharp, pristine chardonnay, and it is absolutely enchanting! Delicate, haunting, packed with vitality and verve, and only tipping the scales at 12% alcohol, this is a rare beauty and it even manages to hide a whisper of oak in its core, too. This is effortlessly classy winemaking from an unexpected postcode and so when the stock arrived in the UK last week I had to sing about it.
While you are at it, pick up its sibling, 2019 Le Petit Gris Pinot Gris (£40.95 a bottle/£36.40 each by the case), which takes this oft-dreary grape to a fascinating destination. What a pair, what a find!
£34, reduced to £30.25 each by the case, Haynes Hanson & Clark; hhandc.co.uk
41. A quartet of remarkable kiwis
2019 Jules Taylor, Pinot Noir, Marlborough, New Zealand
Jules Taylor is a prodigiously talented winemaker and she has just celebrated her 20th year making her eponymous portfolio of wines. I have followed her every step of the way, yet she has never released a set of bottles like the quartet featured in this article, which have just arrived on our shores.
Leading with the remarkable pinot noir (details above), which is so keenly priced it makes all but a handful of pinots in the world look embarrassed, this is a dark-hued and extraordinarily resonant wine. The nose is sensational, with Auxey-Duresses and Monthélie allure, and this sonorous call to arms is followed by admirable restraint on the palate coupled with hints of earth and spice. This is a brilliant wine and one which should be in everyone's cellar given its fruit purity, freshness and thrilling balance.
While you are ordering the pinot noir, load up with 2020 Jules Taylor Pinot Gris (£16.50) – a smooth, tangy, toned and hauntingly refreshing version of this oft-dowdy and dilute white grape. The 2020 Jules Taylor Sauvignon Blanc (£14.95) also bears Jules' trademark delicacy and control, with sleek, lean, citrus fruit, yet with none of the pushy, tropical fruit flavours which make so many Marlborough versions fall flat. Finally, 2019 Jules Taylor Chardonnay (£16.50) is showy, silky, layered and enticing, and yet it still manages to bring vivacity and brisk acidity to the fore in its long finish. Every one of these wines is drinking now, too, so don't delay.
£19.50, reduced to £17 each when bought as a case of 12 bottles; decvin.com
42. A pair of English beauties
2019 Westwell Ortega & Ortega Amphora, North Downs, Kent
I have taken to calling in vast numbers of bottles to my home because the interminable lockdowns have made wine tastings impossible. Although this is somewhat of a logistical pain, the mountains of recycling are worth it when I come across wines as beautiful as my featured pair.
Hidden in a sea of English wine samples were two of the most beautiful labels in our land, on wines made from the little-known ortega grape. Developed in 1948 by crossing Müller-Thurgau and siegerrebe, this white variety has spread from its homeland in the Pfalz and Mosel regions of Germany to other cool-climate wine-growing countries, such as England and Canada. It is not as starry a variety as chardonnay, or even bacchus for that matter, but I adore top-flight versions of this grape and Westwell is a master at bringing out its incandescent beauty.
With delicate peachy notes, hints of mandarin peel and rhubarb stalks, this is a bone-dry and yet all-consuming wine with bracing acidity and stunning poise. Owner/winemaker Adrian Pike learned his craft from Will Davenport (a favourite winemaker of mine) and he has an artist's touch with this grape.
In addition to my headline stunner, Adrian's 2019 Westwell Ortega Amphora (£25) is fermented and aged in terracotta amphorae made by the Artenova pottery in Florence. There is heady fruit here coupled with raucous traction on the palate and this raspy, faintly masochistic sensation is nothing short of electrifying. Seek these wines out because they are like nothing you will have ever tasted before.
43. A top-flight Californian chardonnay
2018 De Loach, Russian River Valley Chardonnay, Sonoma County, California
The problem with tastings on Zoom and YouTube interviews is that there is nowhere to hide when you are asked to tell the audience your thoughts about a wine, particularly if you haven't tasted it before. I always "say what I see" and this doesn't always go down well! On a recent JCB LIVE interview with flamboyant wine magnate Jean-Charles Boisset I was put on the spot with one of his wines. Thank goodness it was stunning! In fact, it was so good that it leapt straight onto this page today.
Of course one has to be prepared for a full-framed style when dealing with Californian chardonnay, so I was impressed to see that under the expressive, cool-climate, Russian River-influenced fruit there is a beating heart of refreshing acidity, which electrifies this dynamic wine. Made from a blend of fruit from three vineyards, each with their specific microclimates, this is a seriously fascinating new release and I was fully prepared for a £50 price tag.
So, if you are searching for a top-flight Californian chardonnay that doesn't cost the earth then here it is, and if anyone puts you on the spot, I can assure you that you have nothing to worry about!
44. Two sensational whites drinking now
2017 Rully Blanc, Monopole Clos Folie, Domaine de la Folie, Burgundy, France
I have written-up recent 2019 Burgundy En Primeur findings in various posts on my website, but we all need beauties to drink now while we are waiting for young wines to mellow. I have a pair of exquisite whites from two world-famous estates and they are both eminently affordable and drinking now.
Folie's history dates back 300 years, but the recent renaissance at this Domaine is thanks to Clémence and Baptiste Dubrulle. It was Clémence's grandfather who made the wines famous in the Sixties and Seventies and, after a prolonged slump, they are back to stellar form. This single-vineyard creation is sensational. Planted with 40-year-old vines, this north-northeast, clay and limestone monopole is regarded as one of the finest chardonnay vineyards in the Côte Chalonnaise. With no oak in the mix, this is a pristine wine with white flowers on the nose and a racy, citrus palate.
My second choice is a hugely stylish piece of artistic winemaking: the 2017 Bourgogne Blanc Bachelet-Monnot (£19.18) bears the indelible signature of brothers Marc and Alexandre Bachelet. This is a tremendous wine with a flavour that could easily command twice the price. Layered, sexy, louche and memorable, it is the perfect counterpoint to the more straight-laced Foli.
45. An absolute diva from Piemonte
2019 Timorasso Piccolo Derthona, Colli Tortonesi, La Spinetta, Piemonte, Italy
Superstar winemaker Giorgio Rivetti is most famous for his trio of masterful Piemonte reds, Barbarescos Gallina, Starderi and Valeirano. He has ventured south to Tuscany, too, where his rich, layered, oak-soaked style of red winemaking works well with his various "Super-Tuscan" incarnations. But his most remarkable recent release is, shock-horror, a white wine, and it comes from the little-known Colli Tortonesi region of Piemonte. Situated some 50 miles to the east of Alba, the wines from the hills to the east of the town of Tortona are starting to register on curious, wine-geek palates.
Best-known for producing workman-like versions of the red grape barbera, it is the super-rare, indigenous white grape timorasso that has shone a spotlight on this region. I always seek out examples of timorasso when I tour Piemonte, but I have never tasted one as spellbinding as this. There are no tricks whatsoever in the winemaking, just a discreet period of lees contact and then it is bottled without delay. Fresh onto our shelves, this is one of the most beguiling wines of the moment. With a flavour silhouette reminiscent of a Premier Cru Chablis, but with more exoticism of stone fruit and honeysuckle on the nose and a fleshier mid-palate, this is an absolute diva of a wine and the value, given its illustrious heritage, is staggering.
46. A perky Austrian white with style and panache
2019 Zwillingslauser, Grüner Veltliner, Winzerhof Sax, Kamptal, Austria
Grüner veltliner is a fabulous white grape and many of us are familiar with its charms. Not long ago you could only find this cheeky grape on trips to Austria, but nowadays most supermarkets stock budget versions and it is fair to say that they rarely let you down if you are after competently made, dry, perky white wines with a little more flavour intrigue than your average sauvignon blanc or chenin blanc.
If you climb to the top of the grüner ladder the wines are often rich and heady and, although gastronomically and intellectually challenging, they are not particularly refreshing. In between the £8 high-street offerings and Hirtzberger (my favourite estate) at around the £40-mark, there are hundreds of largely unfamiliar estates making useful wines. This week, I have found a relatively inexpensive grüner for you with a tremendous amount of character and flair.
Zwillingslauser translates as naughty twins, and twins Max and Rudolph Sax are the winemakers behind this delicious wine. Theirs has been a family business since 1660 and it's fair to say that there is no shortage of experience here so I urge you to seek out this rewarding wine. Smooth, pure, layered and silky, the pear and apple theme is balanced perfectly by zesty acidity. It will shock you with its style and panache.
£13.50; Stone, Vine & Sun 01962-712351; stonevine.co.uk
47. An insanely delicious Kiwi interloper
2018 Kelly Washington, Pinot Noir, Central Otago, New Zealand
Tamra Kelly-Washington is a gifted winemaker and one who goes the extra mile for every one of her carefully crafted wines. Highly experienced, having worked to great acclaim in both Europe and also her homeland of New Zealand, she consults for Michael Seresin's wines in Marlborough and is responsible for giving his portfolio an exquisite, new lease of life. She also works with her husband, Simon, on their family wine label, and this newly released pinot will show you, in just one sip, why she is a force to be reckoned with and a name to follow very closely.
The grapes are sourced from the Monte Rosa vineyard in my favourite sub-region of Central Otago, Gibbston. The wines from this part of Otago are particularly fragrant and graceful, and in slightly warmer vintages they summon up marvellous, stylish juiciness. In 2018, Tamra used 20% whole bunches to bring enviable spice and tension to this silky red, and with 28% new French oak used for 11 months, there is an underlying classiness and flamboyance which echoes the elevated level of ripeness found in this vintage. This is a perfect example of a winemaker using sensitivity, taste and experience to exactly match the terrific calibre of her pinot fruit to the precise recipe needed to create an insanely delicious wine.
Drinking well already, and with a rather chaotic 2019 Burgundy En Primeur circus going on around us this month, find solace in this Kiwi interloper.

Continue reading for free
We hope you're enjoying The Week's refreshingly open-minded journalism.
Subscribed to The Week? Register your account with the same email as your subscription.