What is carbon capture?
The U.S. is investing in technologies that keep CO2 out of industrial emissions — or that remove it from the atmosphere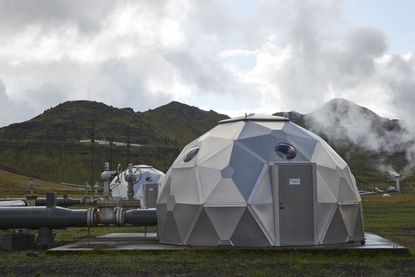 (Image credit: Arnaldur Halldorsson / Bloomberg)
Sign up to our 10 Things You Need to Know Today newsletter
A free daily digest of the biggest news stories of the day - and the best features from our website
Thank you for signing up to TheWeek. You will receive a verification email shortly.
There was a problem. Please refresh the page and try again.
The U.S. is investing in technologies that keep CO2 out of industrial emissions — or that remove it from the atmosphere. Here's everything you need to know:
What is carbon capture?
With greenhouse gas emissions continuing to rise, politicians and scientists are looking at capturing carbon dioxide as a potential solution to help reach net-zero emissions. The Biden administration just announced a $1.2 billion investment in two carbon-capture projects in Texas and Louisiana, its first major investment in the burgeoning carbon-removal industry. Carbon capture aims to trap the CO2 released by power plants and factories and keep it from reaching the atmosphere, either by sequestering it underground or recycling it in the plants. For most of human history, nature has provided its own form of carbon capture: Trees absorb carbon dioxide through the process of photosynthesis. But human civilization is now producing far more CO2 than trees can handle. Is carbon capture new? The idea has been around since at least the 1980s, but it's not yet done on a large scale. That would require a steep rise in government funding. A recent report found that carbon removal technologies would need to increase by a factor of 1,300 by 2050 to limit global temperature rise to 2 degrees Celsius above pre-industrial levels. (The Paris Climate Agreement's increasingly unlikely target is 1.5 degrees.) "No matter how fast we decarbonize the nation's economy, we must tackle the legacy pollution already in our atmosphere to avoid the worst effects of climate change," said Energy Secretary Jennifer Granholm.
How does it work?
There are two types of carbon capture: post-combustion and direct air. The former is the primary method currently used in the U.S. It takes emissions from smokestacks at power plants and factories and separates out the CO2. Direct air capture instead uses a machine that sucks in vast amounts of air like a vacuum and then extracts the carbon with chemicals. The CO2 then gets pressurized into liquid form and transported by pipelines to be used or stored. It can go toward commercial purposes — carbonating drinks, for example — or get recycled back into the energy industry. If sequestered, the carbon is injected into a dense rock layer at least 2,600 feet below ground so that the CO2 doesn't leak out.
Subscribe to The Week
Escape your echo chamber. Get the facts behind the news, plus analysis from multiple perspectives.
SUBSCRIBE & SAVE
Sign up for The Week's Free Newsletters
From our morning news briefing to a weekly Good News Newsletter, get the best of The Week delivered directly to your inbox.
From our morning news briefing to a weekly Good News Newsletter, get the best of The Week delivered directly to your inbox.
Is this process expensive?
Very. Direct air capture is currently too expensive and energy-intensive to work on a large scale — there are only 18 direct air-capture plants currently operating in the world. But the Biden administration plans to invest $3.5 billion in direct air-capture hubs. The World Resources Institute estimates that direct air capture costs from $250 to $600 per metric ton of CO2. But even at $100 per metric ton, it would cost about $780 billion to lower the atmospheric concentration of CO2 by just 1 part per million. The atmosphere's CO2 concentration is now about 420 parts per million — well past 350, the level at which scientists think we can hold global average temperature rise to 1.5 degrees Celsius. So major technological breakthroughs are needed for carbon capture to become a truly useful tool. Scientists at the Pacific Northwest National Laboratory recently discovered a new technique for capturing the carbon produced in power plants that costs only $39 per metric ton — the cheapest ever reported in a peer-reviewed journal.
What are the downsides?
Some scientists and environmentalists argue that carbon capture may distract from the goal of reducing emissions and offers an "out" to energy companies that want to continue burning fossil fuels. Oil and gas companies actually lobbied for carbon-capture funding to be included in the 2021 infrastructure bill. Plus, the carbon-capture process itself produces emissions. A 2019 study found that widespread carbon capture would lower Earth's net emissions by only 10 to 11% once the energy used to capture the carbon was taken into account. There are also environmental and safety risks that come with building new pipelines to transport CO2. "If you're doing too little on the emissions mitigation side," said Glen Peters of Norway's Center for International Climate Research, "then there is no point of carbon dioxide removal."
So why do it?
Most scientists agree that reaching a safe level of carbon in the atmosphere will be incredibly difficult without using carbon capture. Transitioning to renewable energy sources alone may not be enough. The two projects funded by Biden's investment are expected to capture more than 2 million metric tons of CO2 annually, equal to eliminating almost 500,000 gas cars. The International Energy Agency says that carbon capture could eventually lower global CO2 emissions by almost a fifth and decrease the overall cost of minimizing climate change by 70%. "There is no 100% solution," said Howard Herzog of Massachusetts Institute of Technology's Energy Initiative. "We need a lot of 10 and 20% solutions, and this is one of them."
The potential of geoengineering
Two other geoengineering ideas are attracting attention: weather modification and solar radiation modification. Weather modification, also known as cloud seeding, involves injecting microscopic particles of silver iodide into the atmosphere to prompt snow and rain, easing severe droughts. Over 40 projects are already operating in the U.S., and another 200 are in the works. In the solar radiation model, reflective aerosols could be sprayed into the upper atmosphere as "a reflective blanket" to reduce the amount of radiation that hits the earth by about 1%. This technique, which would mimic what happens when major volcanic eruptions cool the planet, hasn't been tried yet. Skeptics warn that artificially reducing sunlight reaching the ground risks triggering unforeseen consequences, such as altering precipitation patterns or causing unwelcome weather changes in other parts of the world. There are also national security concerns: A government could weaponize the technology to alter an adversary's climate. Still, scientists are studying it. "We just need to be really open to recognizing that some kinds of approaches that are fraught with downsides might still deserve to be considered," said Chris Field of Stanford University's Woods Institute for the Environment, "just because the alternatives are so serious."
This article was first published in the latest issue of The Week magazine. If you want to read more like it, you can try six risk-free issues of the magazine here.
Continue reading for free
We hope you're enjoying The Week's refreshingly open-minded journalism.
Subscribed to The Week? Register your account with the same email as your subscription.
Sign up to our 10 Things You Need to Know Today newsletter
A free daily digest of the biggest news stories of the day - and the best features from our website