Race and coronavirus: who is most at risk?
Disentangling ethnicity from the effects of deprivation is complicated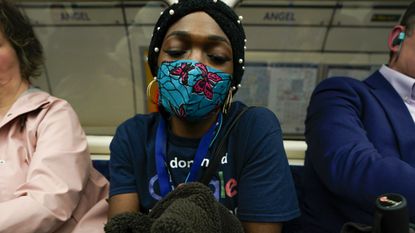 (Image credit: Ming Yeung / Staff)
A study of 24,000 patients admitted to UK hospitals with Covid-19 has concluded that the disease presents a roughly equal threat to people of all races.
"Black and other ethnic-minority Britons are no more likely to die of Covid-19 than white people after taking into account the effects of other illnesses and deprivation," The Times reports.
The research, compiled by Liverpool University and Edinburgh University for the government's Scientific Advisory Group for Emergencies, contradict previous studies suggesting that ethnic minorities do face a higher risk of death even after accounting for socio-economic factors.
Subscribe to The Week
Escape your echo chamber. Get the facts behind the news, plus analysis from multiple perspectives.
SUBSCRIBE & SAVE
Sign up for The Week's Free Newsletters
From our morning news briefing to a weekly Good News Newsletter, get the best of The Week delivered directly to your inbox.
From our morning news briefing to a weekly Good News Newsletter, get the best of The Week delivered directly to your inbox.
Concerns were raised last month when it emerged that three-quarters of NHS and social care staff who have died during the coronavirus outbreak were black, Asian or from another ethnic minority.
What does the new research say?
Scientists grouped people according to more than 20 characteristics, including income, age, sex, body weight and pre-existing health conditions, and then compared the outcomes of people from different races who were otherwise similar.
They found "no excess ICU [intensive care unit] admissions or deaths" among any ethnic group, the report says.
Although a disproportionate number of people from some minorities are dying from Covid-19, we should not "jump to conclusions that there's some special underlying genetic factor that affects all black people", said Calum Semple of Liverpool University.
"We do see more black people and more people from South East Asian ethnicities coming to hospital, and they are over-represented amongst those that go to intensive care," Semple told The Times.
"We've looked very carefully at this a number of different ways. And the more we look at it, the more we think that it is due to insults that have occurred in the community to these people's life chances. [It is] to do with socio-economic opportunities and socio-economic deprivation."
What does the Office for National Statistics say?
Data released last month by the ONS show that black British women in England and Wales are 4.3 times more likely to die of coronavirus than white women and black men are 4.2 times more likely to die than white men.
After taking into account factors such as age, self-reported health and disabilities as well as other socioeconomic factors, the ONS found people from black backgrounds were almost twice as likely (1.9 times) to die of coronavirus than white people in England and Wales.
People of Pakistani and Bangladeshi origin were also found to be at an increased risk of death from the disease after pre-existing factors had been accounted for, with Britons of Pakistani and Bangladeshi origin 1.8 times more likely to die than white Britons if they were men, and 1.6 times more likely to die if they were women.
–––––––––––––––––––––––––––––––For a round-up of the most important stories from around the world - and a concise, refreshing and balanced take on the week's news agenda - try The Week magazine. Start your trial subscription today –––––––––––––––––––––––––––––––
How can the figures be reconciled?
While the ONS report acknowledged that some of the difference in mortality rates could be attributed to socioeconomic factors, it said much of it was "yet to be explained".
Now the study from Liverpool and Edinburgh suggests a more thorough analysis of demographics and health data might account for the rest of the apparent ethnic differences.
Other scientists have suggested the new study's focus on people who were admitted to hospital could explain why it came to a different conclusion.
"It could be the case - and we have no real way of telling from these studies - that the reason for the higher death rates in some ethnic groups in the other studies was because people from some ethnic groups are more likely to be admitted to hospital with Covid-19," said Professor Kevin McConway of the Open University.
"Once they are there, maybe it's possible that, after allowing for confounders, they are no more or less likely to die than people from other groups."
Even if a relationship between race and coronavirus can be established, it is likely to be complicated, says Ross Warwick, a research economist at the Institute for Fiscal Studies and co-author of another report on race and coronavirus.
"There is unlikely to be a single explanation here and different factors may be more important for different groups'" he told The Guardian.
"For instance, while black Africans are particularly likely to be employed in key worker roles which might put them at risk, older Bangladeshis appear vulnerable on the basis of underlying health conditions."

Continue reading for free
We hope you're enjoying The Week's refreshingly open-minded journalism.
Subscribed to The Week? Register your account with the same email as your subscription.