Solving COVID: April 29, 2020
A potential treatment shows promise, Oxford's vaccine seems effective in monkeys, and more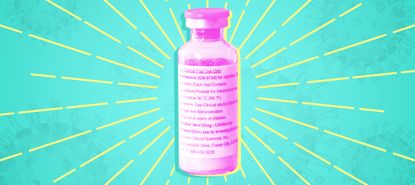 (Image credit: Illustrated | Getty Images, iStock)
1. Gilead says clinical trials show coronavirus patients responding to antiviral drug
A trial of the antiviral drug remdesivir has revealed promising results in treating COVID-19 patients, Gilead Sciences announced this week. The trial involved 397 patients with severe COVID-19 cases. At least 50 percent of the patients treated with a 5-day dosage of remdesivir improved, and more than half were discharged from the hospital within two weeks, Gilead says. There are caveats, of course. The trial wasn't evaluated against a control group of patients who didn't receive the drug. It's also unclear if the high survival and improvement rates may have been natural recoveries from less severe cases. Still, the news is considered encouraging, albeit far from a "home run," as former Food and Drug Administration Commissioner Scott Gottlieb said after seeing the results. He also reiterated that even if remdesivir is effective, it's a treatment, not a cure.
2. Oxford COVID-19 clinical trial aims for a viable vaccine by September
A team at Britain's Oxford University started human trials on a potential COVID-19 vaccine last week, with an aim "to have about a million doses by September once we have the results of our vaccine efficacy tests," says Adrian Hill, director of Oxford's Jenner Institute. The team is trialing an experimental recombinant viral vector vaccine called "ChAdOx1 nCoV-19," one of at least 70 vaccine candidates under development worldwide. Prof. Sarah Gilbert, who is leading the study, said she thinks the vaccine "has a very strong chance of working." Scientists at the National Institutes of Health's Rocky Mountain Laboratory in Montana tested the vaccine on six rhesus macaque monkeys after exposing them to heavy quantities of the coronavirus and found that more than four weeks later all six monkeys remained healthy. Dr. Vincent Munster, the researcher who conducted the test, notes the rhesus macaque is "pretty much the closest thing we have to humans," so the results are at least promising.
Subscribe to The Week
Escape your echo chamber. Get the facts behind the news, plus analysis from multiple perspectives.
SUBSCRIBE & SAVE
Sign up for The Week's Free Newsletters
From our morning news briefing to a weekly Good News Newsletter, get the best of The Week delivered directly to your inbox.
From our morning news briefing to a weekly Good News Newsletter, get the best of The Week delivered directly to your inbox.
3. Researchers test female sex hormones as possible coronavirus treatment
Because male coronavirus patients are getting severely ill and dying at higher rates from COVID-19 than women, some scientists think estrogen and other female sex hormones may hold the key for treatment. So, doctors on Long Island in New York and in the Los Angeles area are launching trials of two different hormones (estrogen and progesterone, respectively) to see if there's any truth to the hypothesis. Research has shown estrogen may have an effect on a protein the coronavirus uses on the surface of cells as an entry route. The hormone has been able to reduce the protein expression in rat kidneys, which certainly does not mean its success in humans is a given, but does signal effectiveness is at least possible. Of course, not everyone is convinced that hormones are a "silver bullet" against the virus, but the hormones in the trials are considered safe, so there seems little reason to nix the idea.
4. DNA technology could block the coronavirus from infecting human cells
Researchers at the University of Louisville believe they've developed a technology that could block the coronavirus from infecting human cells. It's based on a piece of synthetic DNA (also known as an aptamer) that targets and binds with a human protein called nucleolin. Early research and experiments indicate the aptamer may be effective at preventing the coronavirus from "hijacking" nucleolin to replicate inside the body. The Louisville team has applied the same aptamer in a variety of ways, and it has reportedly emerged as a potential therapeutic drug for multiple types of cancer. The university is trying to develop the potential treatment as quickly as possible, including sending an application to the Food and Drug Administration for approval to begin treating patients suffering severe cases of COVID-19.
5. Common heartburn medicine being tested on COVID-19 patients
A generic heartburn medicine called famotidine is being tested on COVID-19 patients in New York City. But don't rush to the drugstore just yet. There is no evidence yet that famotidine is effective at treating COVID-19, but the hope is that it could prevent the coronavirus from replicating by essentially preoccupying it, similar to how protease inhibitors stop HIV. Dr. Kevin Tracey, the head of Northwell Health's Feinstein Institute for Medical Research, said he got the idea to test the heartburn medicine from a colleague who observed improvement among COVID-19 patients in China who were taking famotidine. The drug was also near the top of a computer model's ranking of existing drugs that might work against the coronavirus. If the drug proves effective, "it's generic, it's plentiful, and it's inexpensive," Tracey tells CNN. The trial started March 13 and the first results won't be released for at least a few weeks.

Continue reading for free
We hope you're enjoying The Week's refreshingly open-minded journalism.
Subscribed to The Week? Register your account with the same email as your subscription.