10 things you need to know today: November 15, 2023
The House passes plan to avert a government shutdown, Israeli forces storm Gaza hospital to root out Hamas, and more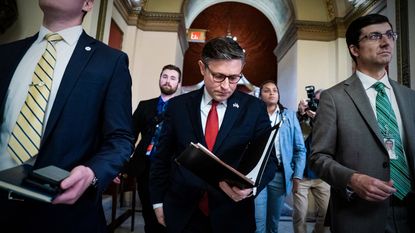 (Image credit: Jabin Botsford / The Washington Post via Getty Images)
1. House passes bill to avert shutdown
The House on Tuesday passed Speaker Mike Johnson's (R-La.) plan to avert a government shutdown, with 209 Democrats and 127 Republicans voting to approve the spending deal over GOP hardliners' objections. The House expedited its vote in a process requiring a two-thirds majority. The move increased the odds that Congress will pass a fix before government agencies run out of funding on Nov. 18. Senate Majority Speaker Chuck Schumer (D-N.Y.) said he was "heartened, cautiously so," by Johnson's proposal, which would fund some government agencies through Jan. 19 and the rest through Feb. 2. Schumer said he and Republican leader Mitch McConnell (R-Ky.) would "figure out the best way to get this done quickly" in the Senate. Bloomberg
2. Israeli troops storm Gaza hospital
Israel said its military entered Gaza's biggest hospital, Al-Shifa, early Wednesday in a "precise and targeted operation" against Hamas. Israel says Hamas has a command center under the hospital, which Hamas denies. Witnesses said Israeli tanks entered the grounds and parked outside the emergency department, and commandos rushed in, searching room by room. Hamas says patients are dying and thousands of civilians are trapped in the hospital, which stopped operating days ago due to a days-long siege and a lack of electricity and supplies. A spokesperson said United Nations Secretary-General Antonio Guterres is calling for an immediate cease-fire, "in the name of humanity." President Joe Biden has called for protecting the hospital. Reuters, The Associated Press
3. 'March for Israel' draws thousands in Washington
Thousands of demonstrators filled the National Mall in Washington, D.C., on Tuesday to show solidarity with Israel during its war in Gaza in response to Hamas' deadly Oct. 7 surprise attack. The "March for Israel" came as reports of antisemitism rise in the United States and humanitarian groups warn of mounting deaths of Palestinian civilians during Israel's attacks against Hamas in the densely populated enclave. Israeli President Isaac Herzog, speaking remotely from Jerusalem, thanked participants, saying they were marching for "good over evil, for human morality over bloodthirst, for light over darkness." Eric Fingerhut, president of the Jewish Federations of North America, said that polls show Americans "overwhelmingly" support Israel. The Washington Post, The New York Times
Subscribe to The Week
Escape your echo chamber. Get the facts behind the news, plus analysis from multiple perspectives.
SUBSCRIBE & SAVE
Sign up for The Week's Free Newsletters
From our morning news briefing to a weekly Good News Newsletter, get the best of The Week delivered directly to your inbox.
From our morning news briefing to a weekly Good News Newsletter, get the best of The Week delivered directly to your inbox.
4. US inflation lower than expected
Inflation cooled more than expected in October, according to the Bureau of Labor Statistics' consumer price index released Tuesday. Prices rose last month by 3.2% compared to a year earlier, down from a 3.7% annualized rate a month earlier and far below the 9% high seen in summer 2022. Prices in October were flat compared to September, the first time that has occurred in more than a year. So-called core inflation, which excludes volatile food and energy prices, was 4% on an annualized basis, the lowest since September 2021. Despite the better-than-expected news, inflation remained above the Federal Reserve's 2% target. ABC News
5. Ukraine accuses Giuliani allies of treason
Ukrainian authorities this week accused two politicians of working with a Russian intelligence agency to help Rudy Giuliani, the former New York mayor who worked for former President Donald Trump as a lawyer, try to link President Joe Biden and his son Hunter Biden to corruption in Ukraine. The suspects included former Ukrainian deputy prosecutor general Kostyantyn Kulyk, who drafted a 2019 memo pushing for an investigation of Hunter Biden for his work on the board of a Ukrainian energy company. A current lawmaker, Oleksandr Dubinsky, and a former one, Andriy Derkach, were also implicated. Both promoted a debunked theory that Ukraine, not Russia, interfered in the 2016 U.S. presidential election, Politico reported. Politico, The New York Times
6. Biden says goal of Xi meeting is restoring communication
President Joe Biden said Tuesday that the goal of his Wednesday meeting with Chinese President Xi Jinping in San Francisco is to restore U.S.-China communications after a tense year. "Being able to pick up the phone and talk to one another if there's a crisis. Being able to make sure our militaries still have contact with one another," Biden said at the White House. "We're not trying to decouple from China, but what we're trying to do is change the relationship for the better." White House officials said Biden and Xi would discuss trade, Taiwan, U.S. export restrictions on some advanced technology, and other controversial issues when they meet on the sidelines of the Asia-Pacific Economic Cooperation forum. The Associated Press
7. Report lays out 'increasing economic costs' from climate change
The U.S. faces "substantial and increasing economic costs" from climate change, according to the Fifth National Climate Assessment, released Tuesday. The impact will hit the elderly, children and low-income families hardest, the study said. Congress requires 13 federal agencies to compile the study every four years with an update on climate change threats to health, the economy, ecosystems, homes and infrastructure. This year's report noted that climate change affected all U.S. regions in a record year for billion-dollar disasters, from wildfires in Hawaii to catastrophic floods in New York. "Anyone who willfully denies the impact of climate change is condemning the American people to a very dangerous future," President Joe Biden said. Politico, ABC News
8. Michigan judge says Trump can stay on primary ballot
A Michigan judge on Tuesday denied a request to disqualify former President Donald Trump from appearing on the state's Feb. 27 primary ballot, saying it would be inappropriate to remove him. "The ultimate decision is made by the respective political party, with the consent of the listed candidate," Michigan Court of Claims Judge James Robert Redford said in his ruling. Three lawsuits called for keeping Trump off the ballot under the Constitution's post–Civil War 14th Amendment, which bars anyone who has "engaged in insurrection or rebellion" from holding office. A group of Michigan voters argued that Trump's effort to overturn his 2020 election loss and his actions surrounding the Jan. 6, 2021, Capitol attack disqualify him. The Detroit News, NBC News
9. Texas bill lets state arrest migrants
Texas lawmakers on Tuesday approved a bill that would let the state jail and, in some cases, deport migrants crossing the U.S.-Mexico border illegally. The law makes it a state crime to enter the United States from Mexico between official ports of entry without proper documentation. Local judges can order the expulsion of migrants who would rather be deported than prosecuted. Federal law already prohibits crossing outside official ports of entry, but thousands of migrants still try to do it, with many formally requesting asylum once they arrive. The Texas law is expected to face a constitutional challenge because the federal government is responsible for immigration policy, not the states. The Texas House also approved $1.5 billion for border barriers. The Wall Street Journal, The Texas Tribune
10. Hockey death leads to arrest in England
Police in England announced Tuesday they had arrested a man on suspicion of manslaughter in connection with the death of former NHL player Adam Johnson, whose throat was cut with a skate blade during a collision in a game in Sheffield. Johnson was 29 when he died on Oct. 28 while playing for the Nottingham Panthers in a game against the Sheffield Steelers. The Sheffield player whose skate blade cut Johnson was Matt Petgrave. "Our investigation launched immediately following this tragedy, and we have been carrying out extensive enquiries ever since to piece together the events which led to the loss of Adam in these unprecedented circumstances," Detective Chief Superintendent Becs Horsfall said. ESPN, CNN

Continue reading for free
We hope you're enjoying The Week's refreshingly open-minded journalism.
Subscribed to The Week? Register your account with the same email as your subscription.