Mike Johnson comes face to face with a familiar crisis
With a government shutdown looming (again), can an untested House speaker pull his party together in time?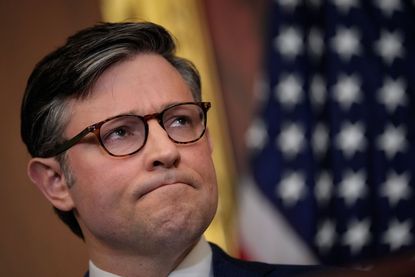 (Image credit: Drew Angerer / Getty Images)
"History," Mark Twain is alleged to have once mused, "never repeats itself." But, as the saying purportedly goes, "it does often rhyme." With that in mind, the coming few days may very well have a familiar cadence to them, as the Republican-led House of Representatives once again grapples with a looming government shutdown and swirling questions as to whether an embattled conservative speaker can corral his fractious party in time to avert financial disaster.
While not identical to the contentious shutdown battle that contributed to former Speaker Kevin McCarthy's (R-Calif.) ouster by members of his own party in early October, the broad circumstances of this current showdown remain largely unchanged; a barely there Republican House majority; a speaker under constant threat of removal from his caucus' most conservative members; a skeptical Democrat-led Senate; and above all else — a fast approaching funding deadline, the breach of which would be disastrous for the entire country.
This time, however, Twain's historical rhyme scheme has placed the speaker's gavel in the hands of Rep. Mike Johnson (R-La.), a relative newcomer to the upper echelons of Republican leadership whose colorful, ultra-conservative biography has largely overshadowed any legislative roll-out over the past several weeks. While McCarthy had long been a prominent figure among top-tier Republicans, Johnson is a comparatively untested quantity as speaker, raising questions as to his ability to shepherd his party — and the House as a whole — to a shutdown resolution.
Subscribe to The Week
Escape your echo chamber. Get the facts behind the news, plus analysis from multiple perspectives.
SUBSCRIBE & SAVE
Sign up for The Week's Free Newsletters
From our morning news briefing to a weekly Good News Newsletter, get the best of The Week delivered directly to your inbox.
From our morning news briefing to a weekly Good News Newsletter, get the best of The Week delivered directly to your inbox.
'How about that? Trust us.'
While many lawmakers in Washington are "upbeat about averting a shutdown," their optimism "runs counter to their lack of progress and the uncertainty of a new House speaker who is still finding his feet," NBC News reported. While Johnson has taken his caucus through "several options" for government funding, "he said the details and next steps of a short-term funding bill remain up in the air."
"I'm not going to tell you when we will bring it to the floor, but it will be in time," Johnson told reporters at a press conference earlier this week. "How about that? Trust us."
With several options for government funding bills being explored by both the House and the Senate, Johnson's "immense political challenge" is to "ensure the government stays open while remaining in office amid the GOP's fierce internal divisions," according to The Washington Post. Moreover, as the Senate works on its own funding plans, Johnson "could find himself in a predicament similar to McCarthy" by having to turn to Democrats for their votes, thereby either antagonizing his rightmost flank or being an obstacle to bipartisan legislation.
While some of those same Republicans who voted against McCarthy have indicated they'll give Johnson "more leeway on a stopgap" solution than his predecessor, the fact that there is still an ongoing debate within the caucus over funding proposals "also suggests Johnson, just like McCarthy, could have trouble unifying 217 Republicans around one plan," The Hill reported this week. When it comes to passing smaller spending bills, Johnson "has faced the same headwinds" as McCarthy, The New York Times agreed, with "politically vulnerable Republicans unwilling to support bills saddled with deep cuts and conservative policy riders."
'Complicating the issue'
After House Republican leadership "abruptly" pulled a financial services spending bill on Thursday, Punchbowl's Jake Sherman summarized the state of play on X, formerly Twitter, noting that with a shutdown just days away, Republicans have "a new speaker who hasn't revealed a spending plan. And a House majority that's yanked two spending bills this week."
Meanwhile, by linking demands for border security issues with future Ukraine aid, Republicans are "complicating the issue" with additional disagreements with Democrats over what will most likely require bipartisan support in the end, the Associated Press reported.
Ultimately, predicted The New York Times' David Firestone, Johnson will probably pass something to keep the government open through the new year, and "throw a condition or two in there just to show that he can't be pushed around."
"Whether you actually get anything of substance doesn't seem to matter" to the rightmost wing of his party, perhaps best embodied by Ohio Rep. Jim Jordan, Firestone continued. "You just have to look like you got a point scored as if you're on the wrestling mat."

Continue reading for free
We hope you're enjoying The Week's refreshingly open-minded journalism.
Subscribed to The Week? Register your account with the same email as your subscription.