10 things you need to know today: September 23, 2023
Sen. Bob Menendez rejects calls to resign following indictment, Ukraine launches missile attack on occupied Crimean city, and more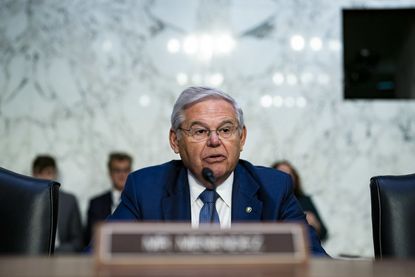 (Image credit: Al Drago / Bloomberg via Getty Images)
1. Sen. Bob Menendez rejects calls to resign following indictment
Sen. Bob Menendez (D-N.J.) rejected calls for his resignation on Friday, hours after he and his wife were indicted on federal charges of bribery and corruption. The couple is accused of engaging in a "corrupt relationship" with New Jersey businessmen, as well as accepting bribes from numerous parties, including the government of Egypt. Federal agents are alleged to have found more than $500,000 and numerous gold bars stashed in the senator's home. This marks the second time that Menendez has been federally indicted, and many in Congress have called for him to step down. In a statement, though, Menendez said he would "continue to fight for the people of New Jersey...I am not going anywhere." The Washington Post, The Guardian
2. Ukraine launches missile attack on occupied Crimean city
Ukrainian forces launched a second missile attack Saturday on the city of Sevastopol, a day after a prior attack on the occupied Crimean locale left dozens dead. Blasts could be heard in the surrounding suburbs of Sevastopol, followed by large plumes of smoke, as Ukraine continued to shell the city. One of the largest cities in the illegally annexed Crimean territory, Sevastopol has become a frequent target of Ukrainian shelling. The prior attack on Friday afternoon struck Russia's Black Sea Fleet headquarters, and Ukrainian officials said many were left dead and wounded, "including senior leadership." Any fatalities from the second attack were unclear. The Associated Press, NBC News
3. GM and Stellantis face parts shortages as UAW strike continues
Two of the Big Three U.S. automakers, GM and Stellantis, are anticipating a struggle to find parts for their vehicles as the United Auto Workers' strike continues. As workers are picketing for higher wages and more benefits, the union expanded the strike Friday to 38 GM and Stellantis parts distribution centers across the country. This could prove to have a major impact on the ability of service centers to acquire parts for repairs. "It's going to become near impossible to get a lot of these parts," Richard Fasulo, a Cadillac diagnostic technician, told Reuters, adding that many shops will "[start] telling their customers, 'We don't know when we can fix your vehicle. It might be indefinitely.'" NPR, Reuters
Subscribe to The Week
Escape your echo chamber. Get the facts behind the news, plus analysis from multiple perspectives.
SUBSCRIBE & SAVE
Sign up for The Week's Free Newsletters
From our morning news briefing to a weekly Good News Newsletter, get the best of The Week delivered directly to your inbox.
From our morning news briefing to a weekly Good News Newsletter, get the best of The Week delivered directly to your inbox.
4. Biden creates White House Office of Gun Violence Prevention
President Biden announced Friday that his administration was creating the first-ever White House Office of Gun Violence Prevention. The office, which will be led by Vice President Kamala Harris, will attempt to address the epidemic of American gun violence and mass shootings. In remarks given during the announcement, Biden said he established the office to "send a clear message about how important this issue is to me and to the country. It matters," adding that his administration "has announced dozens of executive actions to reduce gun violence." The office is the latest push by the Biden administration to crack down on shooting deaths, with the president working to pass bipartisan legislation on gun control. ABC News, CNN
5. GOP to hold 3rd presidential debate on Nov. 8 in Miami
The third GOP presidential primary debate will be held on Nov. 8 in Miami, a spokesperson for the Republican National Committee confirmed on Friday. The third matchup will come more than a month after the second debate, which is slated to occur this coming Wednesday at the Ronald Reagan Presidential Library in Simi Valley, California. The RNC also released new criteria for the third debate, which will likely narrow the field on the stage. In order to qualify for the Nov. 8 debate, candidates will need to poll at least 4% in either two national polls or one national poll and two state polls, up from 3% for the second debate. The Hill, CNN
6. Tropical Storm Ophelia slams North Carolina
Tropical Storm Ophelia made landfall on the East Coast on Saturday, slamming into North Carolina and resulting in storm watches across the region. Ophelia landed in the United States with sustained winds of up to 70 mph, and while it is expected to weaken as it heads inland, experts are expecting a slew of heavy rain and whipping winds for large swaths of the East Coast. "People in coastal areas should take this storm seriously," AccuWeather meteorologist Bernie Rayno told USA Today. "This is going to be a nasty and formidable storm." Ophelia currently appears to be heading north toward Washington, D.C., and will likely pass through Virginia, southern New Jersey and Delaware. USA Today
7. White House reportedly in talks with Vietnam over arms deal
The Biden administration is in talks with Vietnam over a potential arms deal that would be the largest in history between the two countries, Reuters reported Saturday. Two White House sources told the outlet that the deal, which could be consummated as early as next year, would likely see Washington, D.C. sell Hanoi a fleet of F-16 fighter jets. While the exact details of the agreement have yet to be worked out, the talks could potentially result in a deal that serves to stiff-arm a growing Chinese influence in South Asia, particularly in the disputed South China Sea. Vietnam has continued to see tensions with China rise in recent years over territorial claims in these waters. Reuters
8. Colorado judge in Trump ballot case issues protective order
The Colorado judge overseeing the effort to have former President Donald Trump kept off the state's election ballot in 2024 issued a protective order Friday prohibiting threats and intimidation in the case. District Judge Sarah B. Wallace issued the order barring all sides in the case from making threats, saying she understood "everybody's concerns for the parties, the lawyers, and frankly, myself and my staff based on what we've seen in other cases." Wallace will be overseeing the first-of-its-kind case to keep Trump off the presidential ticket in Colorado next year, which was brought by a liberal group arguing that the 14th Amendment prevents the former president from holding office again. The Associated Press
9. WGA and studios to continue meeting in effort to end writers' strike
The Writers Guild of America (WGA) is slated to continue meeting with studio heads on Saturday in a continued effort to end the writers' strike that has been ongoing for more than 140 days. WGA officials have been meeting for the past four days with the Alliance of Motion Picture and Television Producers (AMPTP), which represents the major Hollywood studios. Picket lines have continued across the industry, as no deal has been reached yet despite negotiations appearing to inch closer. The writers' strike, along with the dual actors' strike that has been ongoing since July, has effectively shut down Hollywood. Little movement has been seen in regard to the latter strike coming to an end. Los Angeles Times, Deadline
10. Amazon to implement ads on Prime Video
Amazon's flagship streaming service will soon be implementing a widely seen industry feature, as the company announced Friday that Prime Video will soon feature advertisements. The ad rollout is slated to begin in 2024, though an exact timeframe was not announced. Prime Video has been one of the few remaining streaming services that didn't feature ads, and users will still be able to watch Prime without them — for an extra $2.99 per month. The company added that the price of a standard Prime Video subscription would not be increased. Streaming services like Netflix, Max and Disney+ which were also previously ad-free have similarly shifted to ad-based content. The Hollywood Reporter

Continue reading for free
We hope you're enjoying The Week's refreshingly open-minded journalism.
Subscribed to The Week? Register your account with the same email as your subscription.