2015 election countdown: Cameron still looks a loser
Polling points up two problems for the Tories: Ukip vote stays solid and there's a big swing to Labour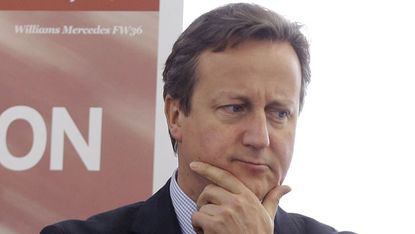 (Image credit: Kirsty Wigglesworth - WPA Pool/Getty Images)
Because I've been house-hunting, I've bumped into an unusually high number of true blue Tories in recent weeks – in the shape of north London estate agents.
When the subject turns to politics (there's only so long you can discuss why someone's asking £1,000 a square foot for a bog-standard flat) and I inquire how they feel about Ed Miliband being the next prime minister, they tend to respond with genuine disbelief.
"Whaaat? But the Tories are doing so well, it's all coming right, the economy is growing, you cannot possibly be serious…"
Subscribe to The Week
Escape your echo chamber. Get the facts behind the news, plus analysis from multiple perspectives.
SUBSCRIBE & SAVE
Sign up for The Week's Free Newsletters
From our morning news briefing to a weekly Good News Newsletter, get the best of The Week delivered directly to your inbox.
From our morning news briefing to a weekly Good News Newsletter, get the best of The Week delivered directly to your inbox.
To calm them down, I nod sagely when they assure me that Cameron and Osborne will sort it out, there's still a long way to go before the election, it'll all work out in the end…
The trouble for these Tory supporters - and indeed for the estate-agent-in-chief, Dave himself - is that time is running out. Unless the argy-bargying over the make-up of a new coalition takes even longer than it did in May 2010, then nine months from now we will know who the prime minister for the next five years is going to be.
And based on the most up-to–date polling, the numbers still point to Miliband being the winner, despite the Tory-Lib-Dem coalition delivering rising growth and falling unemployment, and despite what the public might think of geeky Ed.
There are two particular problems for the Tories, both of them apparent in new polling released yesterday by Lord Ashcroft: Ukip's genuine appeal to blue-collar Tories and Labour's persuasive argument that too few people are feeling the benefits of the economic upturn.
Ukip's appeal:
Ukip simply won't go away – and while it is true that Labour will also lose votes to Nigel Farage's party next May, the threat to the Tories is much greater. Ashcroft's polling of key marginal seats shows that while 10 per cent of those who voted Labour in 2010 are tempted by Ukip, a stunning 17 per cent of those who voted Tory last time now plan to vote for Farage's party.
Ukip is attracting the working-class voters who kept Margaret Thatcher in power in the 1980s. A foretaste of their 2015 election manifesto, revealed yesterday by Tim Aker, head of the party's policy unit (yes, they do have one), is a blue-collar classic.
In a nutshell (Prospect magazine has the detail) Ukip plans to reduce income tax on low wage earners to zero and increase from £41,865 to £45,000 the threshold at which the 40p rate kicks in (very attractive to all those policemen and schoolteachers who, because of 'fiscal drag', have found themselves paying the higher rate). As for the top rate 45p tax, it will be abolished. "We are for flatter, simpler and lower taxes," said Aker.
To save Whitehall expenditure, foreign aid will be severely reduced and the Climate Change Act, which Aker says costs Britain £18 billion a year, will be scrapped.
On welfare, child benefit will be limited to two children, while new immigrants will not be eligible for benefits until they have been paying tax and national insurance for five years. The bedroom tax will be abolished.
On immigration, Ukip will follow the Australian model. "If you come here to do a job, that's fantastic. But you must contribute more than you take out. You must show that you have been working in that profession for 12 of the last 24 months, that you can speak English and that you won't need tax credits."
It may be fanciful – but it certainly beats the 2010 Ukip manifesto, the one Farage famously admitted to not having bothered to read.
And it seems bound to appeal to its target audience, Tory defectors included. As Aker put it: "Our people want to know how we're going to make their lives easier, simpler and how they can just get on and feel more comfortable. That's it. It's a blue-collar platform, but for people that want to aspire to achieve absolutely anything."
Labour's threat:
The headline on Lord Ashcroft's latest polling in what he calls the "battlegrounds" - those marginal seats which the Tories need to hold or gain from Labour if they are to win a Commons majority in May 2015 - reads: "Swing to Labour extends deeper into Tory territory".
In short, in eight Tory-held marginals – Bedford, Carlisle, Dewsbury, Lincoln, Plymouth Sutton & Devenport, Stroud, Warrington South and Weaver Vale – Ashcroft's polling finds an overall 6.5 per cent swing to Labour. It means Miliband's party is set to gain every single one of them.
Ashcroft's polling in four Labour-held marginals shows an overall swing to Labour of 5.5 per cent. It means Labour can expect to hold on to Birmingham Edgbaston, Bolton West and Hampstead & Kilburn. Only Southampton Itchen is too close to call.
Give all that to the number-crunchers and they'll tell you that Labour is on course to win a working majority.
What can one say by way of encouragement to the estate agents of Hampstead? Not much. Labour's Glenda Jackson held onto the seat by a whisker – just 42 votes – in May 2010 and, with the economy looking healthier, the Tory candidate, Simon Marcus, might reasonably have expected to be returned as the local MP in May 2015.
But Ashcroft's polling shows an above average 8.5 per cent swing to Labour across the constituency, with Labour on 48 per cent, the Tories on 32 and the Lib Dems on a miserable 10. The delightfully named Tulip Siddiq, chosen by Labour to replace the retiring Glenda, looks set for victory.
The best hope for my Tory–supporting estate agent friends is to pop down to the bookies and grab the chance of getting 2/1 on Labour winning a majority in May 2015 before the odds shorten any further. Mike Smithson of Political Betting calls it "a great value bet".

Continue reading for free
We hope you're enjoying The Week's refreshingly open-minded journalism.
Subscribed to The Week? Register your account with the same email as your subscription.