Battery electric vs. hydrogen fuel cell vehicles: which are the better zero-emission cars?
EV manufacturers are taking the world by storm, but some industry leaders believe hydrogen is the future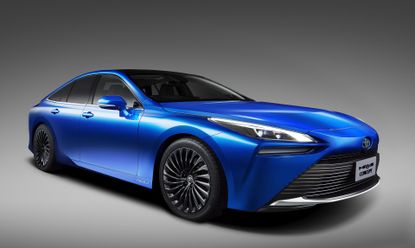 (Image credit: Toyota)
In a world where zero-emission motoring is crucial to reducing pollution, battery electric cars are proving a popular option for carmakers and their customers.
Tesla has sent waves through the market in recent years. The US-based company, backed by Elon Musk, has been synonymous with battery electric vehicles since its Model S saloon launched in 2012, while the Model 3, which launched in the UK earlier this year, introduces the brand to those on a tighter budget.
However, battery electric vehicles aren't the only way to reduce your carbon footprint.
Subscribe to The Week
Escape your echo chamber. Get the facts behind the news, plus analysis from multiple perspectives.
SUBSCRIBE & SAVE
Sign up for The Week's Free Newsletters
From our morning news briefing to a weekly Good News Newsletter, get the best of The Week delivered directly to your inbox.
From our morning news briefing to a weekly Good News Newsletter, get the best of The Week delivered directly to your inbox.
Carmakers have experimented with hydrogen vehicles for decades, using fuel cells to convert the most abundant substance in the Universe into electric energy. Compressed hydrogen is stored in liquid form in a tank, with the only emissions being water.
Though hydrogen fuel cell cars are widely considered too complicated for mass adoption, manufacturers such as Toyota, which debuted its second-generation hydrogen Mirai [top] at the Tokyo Motor Show last, are adamant that the technology is better for the environment than battery electric vehicles.
Here's how they compare:
–––––––––––––––––––––––––––––––
For more motoring news - and a concise, refreshing and balanced take on the week's agenda - try The Week magazine. Get your first six issues for £6
–––––––––––––––––––––––––––––––
Range
Range really depends on the vehicle you purchase – and the general rule of "you get what you pay for" rings true here.
The more expensive mass-produced electric cars tend to offer battery ranges of about 300 miles. For instance, the £80,800 Tesla Model S Long Range has a range of 375 miles.
Other cars, however, can cost significantly less yet offer half the range. The Nissan Leaf Acenta, for example, comes with a £22,690 price tag and a real-world range of 150 miles, says BuyACar.
Hydrogen fuel cell vehicles tend to be more frugal than their battery electric counterparts.
According to Autocar, the Hyundai Nexo comes with a real-world range of 414 miles and filling up takes just five minutes, whereas electric charging can be an hour-long affair at the best of times.
As hydrogen fuel cell vehicles are still in their infancy, there aren't any models at the budget end of the market. But on range alone, hydrogen seems to have the upper hand.
Winner: hydrogen
Emissions
It's a common misconception that electric and hydrogen cars are zero emissions. While no gasses are emitted from their exhausts, the manufacturing process for both types of vehicle still results in CO2 being pumped into the atmosphere.
Jon Hunt, Toyota's head of commercialisation of hydrogen fuel cell cars, told Auto Express that manufacturing a lithium-ion battery for an electric car is a "very energy-intensive" process.
"As an example, a 100kWh battery will give a potential range of 250 miles and, in order to produce that battery, it will take around 20 tonnes of CO2," he said. "A typical battery lasts for 150,000 miles, so that equates to around 83g/km of CO2. Then, when you take into account charging over that same distance, the same battery car will deliver 124g/km of CO2 over its lifetime."
By comparison, Auto Express says that a recent study found that a Toyota Mirai hydrogen fuel cell car produces around 120g/km of CO2 over its lifetime when the manufacturing process is taken into account. But if hydrogen were to be produced by renewable energy, that figure could be reduced significantly.
Hydrogen fuel cell vehicles have their sceptics, though, including Tesla chief Elon Musk.
In 2017, the tech entrepreneur lambasted fuel cell cars for being "mind-bogglingly stupid" and called them "fool cells", according to US broadcaster CNBC.
Toyota chairman Takeshi Uchiyamada remarkably agreed with Musk at the time. In an interview with Reuters, he said that it is "better to charge the electric car directly by plugging in", but added that the two technologies would be needed to overtake petrol-powered vehicles.
Winner: draw (for now)
Cost of ownership
Electric vehicles aren't the cheapest cars on sale. For example, a new Jaguar I-Pace will set customers back about £65,000, taking into account the £3,500 grant given to electric car buyers from the Government.
Meanwhile, a Renault Zoe can be had for around £18,420, says BuyACar. But customers need to take into account battery rental, which costs at least £49 per month, and that the vehicle's range will be somewhat shorter than a conventional combustion-engined vehicle or a more expensive model like the Jaguar I-Pace.
Customers do, however, save money on charging. Car magazine says a charge from empty to full using one of the UK's roadside chargers should cost around £35 for a 100kWh battery, while a home power supply drops that figure down to about £12.
But if you thought that owning an electric car was expensive, think again.
Not only are hydrogen cars more expensive to buy outright, they are also costly when it comes to filling up with hydrogen.
A Hyundai Nexo, for instance, carries a price tag of £66,000 after the government grant. While that isn't drastically more than the Jaguar I-Pace, a full tank in a hydrogen car could cost anywhere between £50 and £75, the RAC notes.
Winner: battery electric
Verdict
While electric cars appear to have the edge in today's environment, a number of manufacturers are still committed to hydrogen fuel cell cars - meaning that the technology may one day find its place in the motoring world.
Green technology news site CleanTechnica claims that hydrogen fuel cell cars are "several years behind battery electric vehicles in terms of innovation", which is why they're so expensive to own and run.
Given enough time and money, hydrogen vehicles may become the more accessible option for "our kids or grandkids", the website says. But electric cars are evolving at a rapid rate, too, and more environmentally-friendly battery options may open up in the future.
For now, though, electric cars appear to be the go-to mode of transport for those looking to do their part in cutting emissions.

Continue reading for free
We hope you're enjoying The Week's refreshingly open-minded journalism.
Subscribed to The Week? Register your account with the same email as your subscription.