Libya: the 'tsunami' that washed away a city
Climate change may have made the storm more likely, but many blame failures of governance for the scale of the tragedy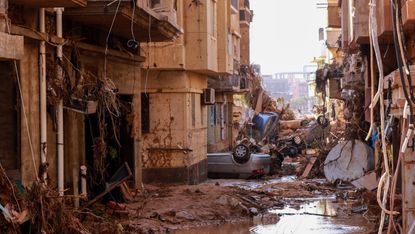 (Image credit: Getty Images)
As the rain drummed down, four siblings living in a waterfront apartment block in the Libyan city of Derna were initially unconcerned. They scrolled on their phones that evening, played games and laughed when the youngest of them put on a life jacket. But in the early hours of 11 September, sirens started to blare. Unable to sleep, they grew fearful.
"The noise was getting much louder," one of them, Amna, told the BBC in a phone interview. "My brother said he could see water covering the street." When it started to rise, she grabbed their passports and they joined neighbours who were migrating from the first floor to the third. Then the water reached the third floor, and the siblings moved higher, and then higher again, until eventually, they were standing on the roof of their seven-storey block.
From that vantage point, they could see people standing on top of a lower block across the road, waving their phone torches; among them was a family with whom they were friends. Then suddenly, that building collapsed into the dark waters. "It felt like an earthquake," said Amna. When, finally, she and her siblings were able to leave the building, they found that their street had completely disappeared. "It was like the earth had split open."
Subscribe to The Week
Escape your echo chamber. Get the facts behind the news, plus analysis from multiple perspectives.
SUBSCRIBE & SAVE
Sign up for The Week's Free Newsletters
From our morning news briefing to a weekly Good News Newsletter, get the best of The Week delivered directly to your inbox.
From our morning news briefing to a weekly Good News Newsletter, get the best of The Week delivered directly to your inbox.
'Nothing less than apocalyptic'
The scenes in Derna are "nothing less than apocalyptic", said The Guardian. Around 20,000 people are believed to have been killed when Storm Daniel dumped around 40cm of rain in the region in 24 hours, overwhelming two dams upstream from Derna, a port city that lies between the Mediterranean and the Green Mountain upland region. The first warning many residents got of the impending catastrophe was the sound of an explosion at 2:30am – believed to have been one of the dams cracking.
What followed resembled a tsunami as a torrent of water several metres high crashed along a dry river valley (or wadi) that runs through the city, destroying everything in its path. Untold numbers of people were swept into the sea; their bodies have been washing up in their hundreds. Others drowned in their homes as the water levels rose, or were killed when buildings collapsed on top of them. Up to a third of the city is believed to have been engulfed by flooding, and many other villages and towns along the coast were also affected.
Some 100,000 people are stranded, said Ethan Chorin in The New York Times, and in urgent need of food, clean water, shelter and medical care. The UN has warned that the lack of sanitation could create disease outbreaks that would amount to a second catastrophe. The level of destruction – with roads and bridges swept away and at least 891 buildings razed – would be "daunting" for a well-equipped functioning state; but Libya, though oil-rich, is far from that.
In chaos since the Nato-backed uprising of 2011, it is split between two rival administrations that were at war until 2019, said France 24: a UN-backed one in Tripoli, and a second based in the east, overseen by the military commander Khalifa Haftar. Both are backed by rival militias; their civilian administrations are weak; corruption is rife. This situation has complicated relief efforts, but in Derna, residents are also demanding an inquiry into decisions preceding the flood. Climate change may have made the storm more likely, but many blame failures of governance for the scale of the tragedy.
'Official response chaotic and lacklustre'
The official response to the impending disaster was chaotic and lacklustre, said Hussein Eddeb on Middle East Eye. Storm Daniel had wreaked havoc in Greece days before it hit Libya; it was clear that torrential rain was coming, and it was known that low-lying areas near the Green Mountain were especially vulnerable. There was also speculation in the media about the state of the dams outside Derna (built in the 1970s, they'd not been maintained since 2002). Yet officials kept insisting that the situation was under control; warnings about a possible dam collapse were not issued; and instead of evacuating Derna, its mayor imposed a curfew.
It's hard to imagine now, but a century ago Derna was known for its "picture-perfect beaches, palm trees and whitewashed villas", mainly inhabited by Italian colonisers, said Dina Rezk on The Conversation. More recently, it has been a "centre of resistance to successive regimes". The regime of Muammar Gaddafi, the former dictator, distrusted its residents, branding it a hotbed of Islamic extremism and depriving it of resources; after his overthrow, it became a centre for jihadists loyal to Islamic State. From 2016 until 2019, it was besieged by Haftar's forces, and relations with his leadership in Benghazi remain tense.
In the face of this disaster, Libya's two governments have come together to an extent, said The Guardian; we must hope the foreign powers that have meddled in Libya on account of its vast fossil-fuel reserves, and in pursuit of their own security objectives, are also generous in their response. "Now, more than ever", Libyans "need real support".

Continue reading for free
We hope you're enjoying The Week's refreshingly open-minded journalism.
Subscribed to The Week? Register your account with the same email as your subscription.