Michel Platini will resign at Uefa's next congress
Former player 'deeply disappointed' as he fails to overturn 'disloyal payment' punishment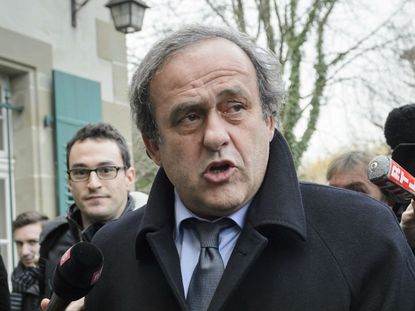 Sign up to our 10 Things You Need to Know Today newsletter
A free daily digest of the biggest news stories of the day - and the best features from our website
Thank you for signing up to TheWeek. You will receive a verification email shortly.
There was a problem. Please refresh the page and try again.
Fifa corruption scandal: what has Chuck Blazer admitted?
04 June
Another day, another slew of damaging revelations about Fifa and its culture of corruption. The latest chapter in the unfolding saga comes courtesy of Chuck Blazer, the former Fifa official turned FBI informer, whose testimony states that he was involved with bribes designed to rig two World Cup votes.
Details of Blazer's evidence emerged on Wednesday shortly before his one-time associate Jack Warner threatened, not for the first time, to unleash an "avalanche" of revelations about Fifa's dodgy dealings.
Subscribe to The Week
Escape your echo chamber. Get the facts behind the news, plus analysis from multiple perspectives.
SUBSCRIBE & SAVE
Sign up for The Week's Free Newsletters
From our morning news briefing to a weekly Good News Newsletter, get the best of The Week delivered directly to your inbox.
From our morning news briefing to a weekly Good News Newsletter, get the best of The Week delivered directly to your inbox.
Blazer is the former president of Concacaf, the body that runs football in North America and the Caribbean, and was a Fifa Executive Committee member for 17 years. Now 70 and suffering from cancer, he agreed to lift the lid on Fifa after the US authorities pursued him for unpaid taxes.
In his evidence, parts of which are redacted, he admits:
"I agreed with others in or around 1992 to facilitate the acceptance of a bribe in conjunction with the selection of the host nation for the 1998 World Cup." The bribe is understood to have come from Morocco, which lost out to France in the bidding process.
"Beginning in or around 2004 and continuing through 2011, I and others on the Fifa executive committee agreed to accept bribes in conjunction with the selection of South Africa as the host nation for the 2010 World Cup."
"Beginning in or about 1993 and continuing through the early 2000s, I and others agreed to accept bribes and kickbacks in conjunction with the broadcast and other rights to the 1996, 1998, 2000, 2002, and 2003 Gold Cups [a US-hosted tournament for Concacaf nations]."
Between 2004 and 2011 "I and others who were fiduciaries to both Fifa and Concacaf... agreed to participate in a scheme to defraud Fifa and Concacaf of the right to honest services by taking undisclosed bribes. I and others agreed to use email, telephone, and a wire transfer into and out of the United States in furtherance of the scheme."
"Blazer's 40-page testimony is one of the most significant documents published in the history of football," claims Henry Winter in the Daily Telegraph. It details "such murky behaviour that the temptation is to turn the pages with tweezers for risk of infection".
It is "more than a smoking gun; it is a flame-thrower setting fire to the remnants of the Sepp Blatter regime," he adds.
But Winter is not the only person with an eye for a dramatic metaphor: Blazer's one time Concacaf comrade Jack Warner has promised an "avalanche" of damaging revelations about his time at Fifa, reports The Times.
In a rambling TV address in Trinidad, Warner, who has been charged with corruption by the US authorities and whose name now appears on an Interpol wanted list, said he had a "a comprehensive and detailed series of documents including cheques and corroborating statements". He claimed some related to Blatter and suggested there were even links to government elections in Trinidad & Tobago.
He later told supporters at a rally: "I have kept quiet, knowing this day might come. I will do so no more. I will no longer keep secrets for them who actively seek to destroy my life. I reasonably actually fear for my life. Not even death will stop the avalanche that is coming. The die is cast. There can be no turning back. Let the chips fall where they fall."
Warner promised something similar in 2011 in the form of a "football tsunami", but nothing has yet materialised.
Fifa corruption scandal: shock as Blatter quits as president
03 June
Sepp Blatter is to resign as president of Fifa. The extraordinary announcement came at a press conference in Zurich, just four days after the 79-year-old Swiss was elected for a fifth term of office, and left the football world in shock.
Blatter's re-election in itself was a remarkable event considering last Wednesday seven of Fifa's leading officials were arrested in Zurich at the request of the United States government. The seven, along with seven other people, faces charges of racketeering, wire fraud and money laundering, all of which are allegedly linked to Fifa.
Though Blatter was characteristically defiant in the wake of last week's arrests – he accused the British media and the US Justice System of a witchhunt, reports The Guardian – the reputation of football's governing body took another heavy blow yesterday. Fifa general secretary Jerome Valcke was accused of making a $10m payment to disgraced Caribbean official Jack Warner that US investigators believe was a bribe from South Africa relating to the 2010 World Cup. The claim puts Blatter closer than ever to the "money-trail".
Additionally, the New York Times alleges that Blatter himself is "a focus of a federal corruption investigation" after United States officials, speaking on the condition of anonymity, told the paper that in trying to build a case against Blatter "they were hoping to win the cooperation of some of the Fifa officials now under indictment and work their way up the organisation".
If true, Blatter made no mention of it on Tuesday evening as he announced his decision to step down after 17 years of charge of Fifa. "My mandate does not appear to be supported by everybody," he stated. "I am very much linked to Fifa and its interests. Those interests are dear to me and this is why I am taking this decision... what counts most to me is the institute of Fifa and football around the world. I have thoroughly considered and thought about my presidency and the last 40 years in my life. These years were closely related to Fifa and the wonderful sport of football. I appreciate and love Fifa more than anything else.
"I only want to do the best for Fifa and my institution. I decided to stand again as the best option for football. The elections are closed but the challenges we face haven't come to an end."
If Fifa went by the book, a new election wouldn't be held until the next ordinary Fifa congress on 13 May, 2016 in Mexico City. Consequently, Blatter, called for an extraordinary congress "at the earliest opportunity" to select a successor. "We must allow enough time for the best candidates to present themselves and to campaign," he added.
According to the BBC the extraordinary congress will most likely occur between December 2015 and March 2016.
Reaction to Blatter's announcement was mix of disbelief and delight. "It was a difficult decision, a brave decision, and the right decision," said Michel Platini, the president of European football's governing body Uefa. His words were echoed in more exuberant terms by FA chairman Greg Dyke, one of Blatter's fiercest critics in recent years. "This is great news for football. It should have happened years ago," he told the BBC. "The timetable doesn't matter. There has to be a root and branch investigation of Fifa. It has all got to be transparent in the future."
Meanwhile one candidate has wasted no time in putting his name forward as Blatter's successor. Speaking to LBC, former France and Tottenham winger David Ginola said he intended to stand for election and he also had a warning for Russia and Qatar. "I think we need to see [about] the future of both World Cups," he said, referring to the 2018 and 2022 tournaments.
The way the World Cups were awarded to Russia and Qatar is the subject of a Swiss federal investigation and Blatter's resignation will raise the possibility that both tournaments could be relocated if evidence emerges of wrongdoing in the voting process.
Fifa corruption scandal: Blatter 'close to Fifa money-trail'
02 June
The Fifa corruption scandal appears to be inching closer to the door of president Sepp Blatter after claims that the "high-ranking Fifa official" accused by the US making a $10m payment central to its bribery investigation is none other than Fifa secretary-general, Jerome Valcke, described as Blatter's "closest aide".
According to the New York Times it was Valcke who, in 2008, made the $10m payment from Fifa to accounts controlled by another soccer official, Jack Warner, "to support football in the Caribbean". Warner, who left Fifa under a cloud in 2011 after allegations of bribery, is one of those arrested in the US probe.
Valcke has not been arrested and is not identified as a co-conspirator, and the NYT points out that the "indictment does not say that the high-ranking official knew that the money was being used as a bribe", but it adds: "The revelation puts the money trail closer to Mr Blatter... than had been previously known."
South Africa has admitted making the payment but insists it was designed to help to develop football in the Caribbean. Investigators believe it was a bribe to help South Africa to win the right to host the 2010 World Cup.
In a statement Fifa denied Valcke was involved and said the payment had been authorised by the then chairman of the organisation's finance committee. The Times identifies him as Argentine Julio Grondona, who died last year aged 82. "Blatter described him as 'a lifelong friend' after his death," says the paper.
The Times adds that Valcke is Blatter's "closest aide" and that the pair of them have "effectively run world football's governing body for much of the past decade".
Although Blatter is not named in the US indictment and Valcke has denied any involvement, the claims "raise further questions about the extent of [Blatter's] knowledge of the allegations".
Valcke, meanwhile, has cancelled a planned trip to Canada for the opening of the Women's World Cup citing the "current situation" at Fifa, which means he had business to attend to in Zurich. The BBC describes the decision as "highly unusual". Blatter, though, will attend the tournament final later in the month.
Uefa ponders Fifa breakaway and 2018 World Cup boycott
01 June
As Sepp Blatter luxuriates in his Zurich bunker having seen off the latest challenge to his reign at Fifa, he must face up to the possibility of a World Cup boycott and even the prospect of a schism in the world game if Uefa decides to break away from Blatter's tarnished regime.
The Daily Mail reports that Uefa had discussed the idea of setting up a competition in opposition to Fifa even before Friday's presidential election, won by Blatter despite the coorruption scandals that have engulfed the organisation.
The "radical plan" was put forward by Danish Uefa Executive Committee member Allan Hansen, says the paper.
"A European Championship every two years with invites to other big football countries outside Europe is one of the proposals Uefa are putting forward in the fight against Fifa corruption," writes Charles Sale for the Mail. "The initiative would see all the top-ranked teams in world football take part in a competition that would not be under the jurisdiction of Sepp Blatter's administration."
Uefa members will meet this week to "plot their next move", adds the paper.
Meanwhile there are growing calls for England to boycott the 2018 World Cup, due to be held in Russia. Labour leadership favourite Andy Burnham said the case for an English boycott was "overwhelming" in the wake of Fifa's decision to reappoint Blatter.
"Burnham spoke out amid growing pressure on the English Football Association to do more than condemn Fifa," reports The Guardian.
His comments came as FA chairman Greg Dyke called on Uefa president Michel Platini to orchestrate a collective boycott of the 2018 World Cup. Dyke told the BBC that unilateral action by the FA alone would be pointless and it would need at least ten countries to make a difference.
In other developments:
Culture secretary John Whittingdale said "no options should be ruled out" in dealing with Fifa and added that Fifa had "hit rock bottom". Writing in the Sunday Times, he said: "With seven of its most senior executives under arrest on bribery and racketeering charges and a president who has lost the few shreds of credibility he had left, it is hard to see how things can get much worse for the organisation," he said.
Whittingdale, though, was writing before South Africa, hosts of the 2010 World Cup, admitted it had paid $10m (£6.5m) to the Caribbean Football Union, then led by Jack Warner, in 2008. The South African FA denied it was a bribe and said, instead, that it had been making a donation to "football development" in the Caribbean.
In another development, The Times reports that Qatar has denied claims that it used bribes to win the right to host the 2022 World Cup and has instead accused the West of "racism, Islamophobia and bias against Arabs and the Gulf state".
Shameless Blatter dodges Fifa blame as FA calls for boycott
29 May
Sepp Blatter has refused to accept responsibility for the corruption scandal that has engulfed Fifa this week in a speech that left his critics flabbergasted.
The 79-year-old Swiss, who has run the organisation for 17 years and is standing for a fifth term in office, insisted that it was "impossible" for Fifa to police all football administrators.
Addressing delegates at the Fifa congress, during which the organisation has been raided by Swiss police and seen seven senior officials arrested in relation to a US corruption investigation, he blamed "certain individuals who have forgotten that Fifa is based on respect discipline and a team sport with the same goal".
Having made it clear he could not be expected to control those within Fifa, he then insisted he was the best man to restore the organisation's shattered reputation.
Reinventing himself as the candidate standing on the reform ticket, Blatter said: "Join us to put Fifa back on the right track and where the boats will stop rocking and go placidly into port."
He also hinted that Fifa's current problems, and the timing of the investigations, were connected to the award of the 2018 World Cup to Russia rather than England, and the 2022 World Cup to Qatar rather than the USA.
The immediate reaction to his speech was withering.
Henry Winter of the Daily Telegraph called it "shameless", and writing for the same paper Charlie Eccleshare commented: "This really is the most spurious load of nonsense, a staggering lack of accountability."
Chief football correspondent of The Times, Oliver Kay was livid, and described the speech as "deluded, rambling [and] irrelevant".
Others described his arguments as "specious" and "delusional".
Earlier Greg Dyke, chairman of the English FA raised the possibility of an English boycott of the World Cup if Blatter wins in Zurich. And he called for other nations to join the protest movement.
He told Sky News: "There would be no point pulling England out if everyone else stays in. It would have no impact. It would just be forgotten.
"But if you could pull Uefa out, that might have an impact. If Blatter gets re-elected, then that should be discussed.
"He might survive this weekend but I don't think he can survive in the long-term. During his period in charge, the level of corruption has been unacceptable. It's just frightening."
Fifa arrests: sponsors turn on Blatter...except Gazprom
28 May
As Fifa reels from the arrest of seven senior officials on corruption charges and news of a criminal investigation into the bidding process for the 2018 and 2022 World Cups, sponsors are distancing themselves from football's governing body.
The scandal-plagued organisation faced its darkest day on Wednesday as the US attorney general Loretta Lynch accused it of "rampant, systemic and deep-rooted" corruption, and the Swiss authorities launched a probe over the 2018 and 2022 voting processes. However, president Sepp Blatter has refused to step down, despite a personal plea from Uefa president Michel Platini.
World leaders have also waded into the debate, with Vladimir Putin claiming that the US probe into Fifa's affairs was politically motivated and backing Blatter.
But with Fifa's reputation in tatters, its financial backers are threatening to pull the plug, as the pressure on president Sepp Blatter, who is seeking a fifth term in office, grows. However he does appear to have the support of one influential backer, Russian president Vladimir Putin.
"World Cup sponsors are in an awkward position because they are under pressure from consumers to distance themselves from any corruption, but such sponsorships are lucrative in the long term," explains The Guardian.
But that makes their intervention even more significant. "Major sponsors actually pulling out of Fifa really would be huge and put the governing body under serious pressure," says the Daily Telegraph.
Here's what Fifa's five biggest sponsors are saying:
Visa - Fifa partner
Lead sponsor Visa left the organisation in no doubt about how it felt about the developments, expressing "profound... disappointment and concern" about Wednesday's developments, and threatening to "reassess" their relationship.
"We expect Fifa to take swift and immediate steps to address these issues within its organization," it said. "It is important that Fifa makes changes now, so that the focus remain on these going forward. Should Fifa fail to do so, we have informed them that we will reassess our sponsorship."
Adidas - Fifa partner
The German sportswear brand told US website Quartz it would continue to support football but added: "We are fully committed to creating a culture that promotes the highest standards of ethics and compliance, and we expect the same from our partners.
"We can therefore only encourage Fifa to continue to establish and follow transparent compliance standards in everything they do."
Coca-Cola - Fifa partner
In a statement that made clear that its patience was wearing thin, the drinks company warned Blatter: "This lengthy controversy has tarnished the mission and ideals of the Fifa World Cup and we have repeatedly expressed our concerns about these serious allegations.
"We expect Fifa to continue to address these issues thoroughly. Fifa has stated that it is responding to all requests for information and we are confident it will continue to cooperate fully with the authorities."
It was the second time in a fortnight Coca-Cola has issued a statement about Fifa, having been forced to address the issue of human rights abuses in Qatar earlier in the month.
Hyundai - Fifa partner
The Japanese car marque was no less brusque in its message to football's governing body. "As a company that places the highest priority on ethical standards and transparency, Hyundai Motor is extremely concerned about the legal proceedings being taken against certain Fifa executives and will continue to monitor the situation closely," it declared.
Gazprom - Fifa partner
The Russian gas company has not commented on the arrests. But it has close links to the Russian government, and Russia's president Vladimir Putin appears to have sided with Blatter. Russia Today says Putin described the US corruption probe as "an attempt to try and stop Blatter from being re-elected as Fifa president, which is a grave breach of the principles of a functioning international organisation".
Other second-tier sponsors such as McDonalds have also had their say. The fast food company described developments as "extremely concerning", while beer brand Budweiser has warned Fifa it expects "all of our partners to maintain strong ethical standards and operate with transparency".
Click on the image below for a who's who of those arrested
Fifa in turmoil: Uefa threat turns the screw on Blatter
28 May
The pressure is mounting on Sepp Blatter this morning to resign as president of Fifa. Following Wednesday morning's extraordinary scenes at Zurich's luxury Baur au Lac Hotel, when police arrested seven members of football's governing body, the 79-year-old Blatter was in characteristically combative form. Yes, he let it be known, Friday's presidential election would go ahead as schedule despite the fact Fifa is embroiled in the most serious scandal in its 111-year history.
To further convey the appearance of 'business as usual', Fifa held its medical conference as planned, but the world's media were in Zurich focusing on an altogether more exciting story.
But if Blatter thinks he can ride this particular storm out, as he has so many since acceding to power 17 years ago, he might be in for a shock. While the Asian and African Football Confederations have shown no sign of withdrawing their unequivocal support for Blatter, other powerful forces are gathering against him, notably Uefa.
The BBC reports that European football's leaders will meet today "in a bid to postpone Fifa's presidential election". A statement issued by Uefa in the wake of Wednesday's arrests, stated that "these events show, once again, that corruption is deeply rooted in Fifa's culture". Describing as a "farce" Blatter's intention to press on with Friday's vote, Uefa added: "The members of the Uefa Executive Committee are convinced that there is a strong need for a change to the leadership... and strongly believe that the Fifa Congress should be postponed, with new Fifa presidential elections to be organised within the next six months."
Prince Ali bin al-Hussein of Jordan, who is the sole candidate standing against Blatter in the election, said on Wednesday that "we cannot continue with the crisis in Fifa", while FA chairman Greg Dyke added his voice to the growing chorus demanding change at the top of organisation.
"Blatter has put out a statement saying now is the time to start rebuilding the trust in Fifa. There is no way of rebuilding trust in Fifa while Sepp Blatter is still there," explained Dyke. "Sepp Blatter has to go. He either has to go through a resignation, or he has to be out-voted or we have to find a third way. I think the time has come where the damage this has done to Fifa is so great that it can't be rebuilt while Blatter is there, so Uefa has got to try to force him out."
Meanwhile The Guardian reports that one of those targeted in Wednesday's co-ordinated raids, former Fifa vice-president Jack Warner, spent the night in a Trinidadian jail "after surrendering to face an arrest warrant issued at the request of US authorities".
Warner had earlier appeared in court in Port-of Spain to hear the judge read eight counts against him. A delay in processing Warner's US$395,000 bail meant he had to spend the night in jail before he was released – minus his passport – with instructions to return to court on 12 July, by which time the US is expected to have issued a formal extradition request.
According to the Guardian Warner, along with former American Fifa executive Chuck Blazer (who later became an FBI informer), is allegedly benefited from a $10m bribe paid by South Africa "to secure the 2010 World Cup" with the cash transferred via a Fifa account.
Shortly before his his surrender to police Warner – now an opposition MP in Trindidad - issued a statement on facebook, declaring: "I want to tell you, that whatever is planned for me, negatively, shall not succeed."
Fifa ploughs on with election but Blatter's world is falling in
27 May
Fifa insists that its presidential election will go ahead as planned on Friday despite the arrest of seven senior officials on corruption charges and the news that a criminal investigation into the 2018 and 2022 World Cup bidding process has been launched.
Blatter has yet to comment on the shocking developments in Zurich but his rival in the presidential race, Prince Ali bin al-Hussein of Jordan, described it as "a sad day for football".
Swiss police raided the Baur au Lac hotel in Zurich at dawn and held the seven Fifa officials on the request of the US Department of Justice, which has issued a 47-count indictment charging 14 defendants with racketeering, wire fraud and money laundering. Nine have, or had, links to Fifa.
Within hours of the raid, Fifa suffered another damaging blow when the Swiss attorney general announced he was to question ten Fifa executives who voted on the 2018 and 2022 World Cup bids. The controversial meeting in 2010 awarded the tournaments to Russia and, sensationally, Qatar.
Switzerland has now launched criminal proceedings "against persons unknown on suspicion of criminal mismanagement and of money laundering in connection with the allocation of the 2018 and 2022 football World Cups".
Fifa tried to put a brave face on the developments. In an official statement on its website world football's governing body claimed it "welcomes actions that can help contribute to rooting out any wrongdoing in football" and even suggested that it had "initiated" the Swiss probe into the World Cup bids.
Fifa's chief spokesman, Walter De Gregorio, then attempted to claim some credit when he said that news of the arrests and criminal investigation "confirms we are on the right track".
Not everyone agrees, and there are plenty who hope that the dramatic events in Zurich signal the beginning of the end for Blatter's regime.
The "faintly vaudevillian" sight of Fifa officials leaving their hotel under bedsheets will serve as a "fitting epitaph for [Blatter's] risible leadership," says Oliver Brown of the Daily Telegraph. "This was the moment when Fifa's dubious courtiers were finally smoked out... It was the day when they at last became acquainted with that quaint little Western concept of being accountable within the law."
It is fitting that Fifa is based in Switzerland, he adds. It is the "place to which the venal and power-hungry have historically flocked to cover up the money trail". But now Fifa has "collided with the long, strong arm of American justice".
It should be no surprise that it is the FBI leading the charge, writes the Telegraph's Ben Wright. "Once again it is the Americans who are acting as the world's police. They have led the charge in punishing misbehaving banks and bankers in the wake of the financial crisis and now they have turned their sights on Fifa."
Piers Morgan, writing for Mail Online, salutes the Americans for getting involved. "The septic tank Sepp Blatter created and filled with filthy lucre is about to be drained so forensically even this slippery, odious little toad can't escape."
It could be the start of "Fifa's great clean-up" says Matt Dickinson in The Times. "Now, at last, the sun might shine on every corner of Fifa business, and not just the cases directly involved in this morning's raids... the biggest cleansing job since Hercules set about those stables has only just begun."
Fifa in turmoil: seven corruption arrests on eve of Blatter vote
27 May
Seven senior Fifa officials have been arrested on corruption charges in Switzerland, plunging football's scandal-plagued governing body into yet more turmoil on the eve of a presidential election, expected to confirm Sepp Blatter as president of the organisation for an unprecedented fifth term.
The seven men, including Fifa vice-president Jeffrey Webb, were held in a dawn raid on a hotel in Zurich, where they were staying ahead of Friday's vote. The arrests were carried out by the Swiss police at the request of the US Department of Justice. Blatter and his rival for president Prince Ali bin al-Hussein of Jordan are not among those arrested.
The arrests are related to a three-year FBI investigation into corruption at Fifa and bribes relating to media rights for major tournaments in the US and Americas. The indictment names 14 people including Jack Warner, the former president of football's governing body in North America, Concacaf.
"More than a dozen plain-clothed Swiss law enforcement officials arrived unannounced at the Baur au Lac hotel, an elegant five-star property with views of the Alps and Lake Zurich," reports the New York Times. "They went to the front desk to get keys and proceeded upstairs to the rooms." The arrests were "peaceful", it adds.
"The indictment names 14 people on charges including racketeering, wire fraud and money laundering conspiracy. In addition to senior soccer officials, the indictment is also expected to name sports-marketing executives from the United States and South America who are accused of paying more than $150m in bribes and kickbacks in exchange for media deals," says the paper.
Fifa has been dogged by allegations of corruption in recent years, particularly since the decision in 2010 to award the 2022 World Cup to Qatar. However, Fifa itself has dismissed claims that its top officials have actged dishonestly and last year its ethics committee brushed aside a report into the 2022 bidding process by US attorney Michael Garcia.
The impact of the arrests could be "significant" for Fifa and this week's election, says Richard Conway on BBC Radio 5 live. "In theory there is no reason why the elections should not go ahead but the impact of this could be seismic. The arrests could have a significant impact on the voters, we will have to see the fall-out."
It could spell trouble for Blatter, who has so far managed to maintain his position as head of the embattled organisation, despite growing unrest among fans and sponsors. "Blatter isn't among those being charged," says CNN. "But he was among those investigated, and officials say that part of the probe continues."
Continue reading for free
We hope you're enjoying The Week's refreshingly open-minded journalism.
Subscribed to The Week? Register your account with the same email as your subscription.
Sign up to our 10 Things You Need to Know Today newsletter
A free daily digest of the biggest news stories of the day - and the best features from our website