How do we calculate mass deaths?
Recent revisions to 9/11, Libyan flood and Covid-19 death tolls raise questions over estimates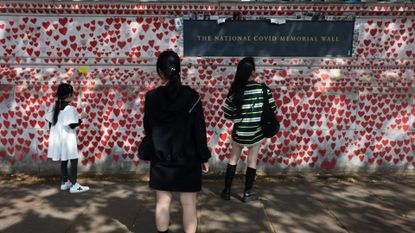 (Image credit: SOPA Images/Getty)
The number of first responders who have died from 9/11-related illnesses is now equal to those who died on the day of the attacks.
Two deaths since the 22nd anniversary of 9/11 bring the death toll of first responders up to 343, the same number who died the day hijacked planes brought down the twin towers of New York City's World Trade Center. Medical technician Hilda Vannata died on 20 September, from cancer, while retired firefighter Robert Fulco died of pulmonary fibrosis three days later. Both illnesses were a "result of time they spent working in the rescue and recovery at the World Trade Center site", the New York City Fire Department said in a statement.
About 11,000 first responders still suffer from 9/11-related diseases, said the department, including 3,500 with cancer. More people have now died from the after-effects of the attacks, than the actual attacks.
Subscribe to The Week
Escape your echo chamber. Get the facts behind the news, plus analysis from multiple perspectives.
SUBSCRIBE & SAVE
Sign up for The Week's Free Newsletters
From our morning news briefing to a weekly Good News Newsletter, get the best of The Week delivered directly to your inbox.
From our morning news briefing to a weekly Good News Newsletter, get the best of The Week delivered directly to your inbox.
Meanwhile, there is confusion over the official death toll of the catastrophic floods that hit Libya on 10 September. Storm Daniel dumped 20cm of rain on the northeast of the country in 24 hours, overwhelming two dams upstream from the port city of Derna. Vast areas of the city were effectively washed away. "Up to 20,000 people" were initially feared dead, The Washington Post reported, out of the city's population of about 100,000 – but those numbers have since been revised twice by the UN.
How do we arrive at a number?
The UN Office for the Coordination of Humanitarian Affairs (OCHA) said on Saturday that 11,300 people had been killed and 10,100 were missing in Derna, after the initial estimates of 20,000 from the Libyan authorities on Thursday. The OCHA attributed the numbers to the Libyan Red Crescent Society. However, its spokesman Tawfiq al-Shukri "rejected" those figures, said Al Jazeera.
On Sunday, the UN released a revised report, saying that at least 3,958 people had died. "We're going with figures just verified by WHO [the UN World Health Organization]," Farhan Haq, deputy spokesman for the UN secretary-general, told CNN on Sunday. "In a lot of different tragedies, we end up revising our numbers."
Initial estimates of deaths from natural disasters are based on a number of metrics, from relief worker assessments to body counts. But in the case of disease – such as the Covid-19 pandemic, or the after-effects of the 9/11 attacks – it can also be difficult to know when to settle on a final figure.
The "standard method" of tracking mortality is in the calculation of "excess deaths", said The Economist: the gap between how many people died in a specific area during a specific time frame, and how many deaths would have been expected if a circumstance, such as a natural disaster, had not occurred.
How many died because of the 9/11 attacks?
While the official death toll of the 9/11 attacks stands at 2,977 victims (plus 19 hijackers), since then 4,343 survivors and first responders have died from related illnesses, according to the World Trade Center Health Program.
About 410,000 first responders, emergency services and survivors "spent days and weeks breathing in air heavy with toxins" from crushed concrete, glass, gases, jet fuel and asbestos at Ground Zero, said Asbestos.com.
Exposure to the toxic materials in the aftermath of the disaster has been linked to heightened risk of cardiovascular disease, respiratory disease, cancer and other diseases. Some illnesses, such as mesothelioma (a rare and incurable form of cancer usually linked to asbestos) have taken about 20 years to develop.
Suicide is also "an ongoing issue for 9/11 survivors", according to a 2022 study. Research has found "higher than expected suicide mortality" among rescue/recovery workers.
And what about Covid-19?
"How many people have died because of the covid-19 pandemic?" asked The Economist. "The answer depends both on the data available, and on how you define 'because'."
Many who die while infected are never tested for Covid, and are not included in official tolls. Other people whose deaths were attributed to Covid had other ailments "that might have ended their lives on a similar timeframe anyway". Some died of preventable causes because hospitals were full; other deaths did not occur when they would have done otherwise, such as those caused by flu.
Out of the 156 countries with populations of at least 1 million, The Economist could obtain mortality data from only 84. Other data is unreliable, with Russia and Turkey's official Covid death tallies well below its excess mortality numbers.
Using a model that estimated excess deaths, based on official data and more than 100 other "statistical indicators", The Economist arrived at an "extremely rough estimate". Although the official global death toll currently stands at about 7 million, "our single best estimate is that the actual toll is 28.4m people".

Continue reading for free
We hope you're enjoying The Week's refreshingly open-minded journalism.
Subscribed to The Week? Register your account with the same email as your subscription.