The pros and cons of Help to Buy: is it worth it?
New figures reveal that people who took advantage of the scheme are paying more for their homes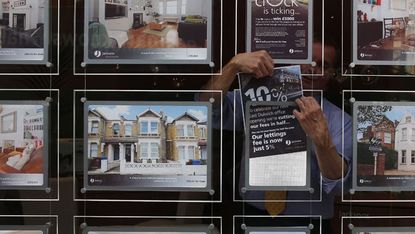 (Image credit: Dan Kitwood/Getty Images)
People using the government's Help to Buy scheme are paying almost 10% more for their homes, according to new figures.
The data, compiled by reallymoving.com, shows that those who took advantage of the scheme to help first-time buyers get on the housing ladder paid an average of £278,000 over the past year, compared with £257,000 for buyers who did not.
This is in addition to a 16% premium for new homes over equivalent older homes, The Times reports.
Subscribe to The Week
Escape your echo chamber. Get the facts behind the news, plus analysis from multiple perspectives.
SUBSCRIBE & SAVE
Sign up for The Week's Free Newsletters
From our morning news briefing to a weekly Good News Newsletter, get the best of The Week delivered directly to your inbox.
From our morning news briefing to a weekly Good News Newsletter, get the best of The Week delivered directly to your inbox.
The figures, from more than 70,000 first-time buyers, "will raise fears that taxpayers' cash is creating a bubble that risks leaving a generation of homeowners stuck in negative equity", says the newspaper.
Rob Houghton, CEO of reallymoving.com, says beneficiaries of the scheme "may face difficulty when selling their property, as it struggles to compete with new homes nearby offering Help to Buy."
The scheme, set up in 2013 to provide state assistance to cash-strapped buyers, has been criticised for driving up house prices and failing to help those who need it the most.
Figures published earlier this year revealed that the programme is increasingly benefiting high earners, prompting calls for it to be scrapped.
Pointing to the increase in new-build property prices since 2013, the Resolution Foundation think tank recommended scrapping Help to Buy, or at least imposing a household income cap to ensure taxpayers' money is not being used to fund wealthy buyers or existing property owners.
"Help to Buy appears to have served a useful purpose when it was first introduced – restoring confidence to developers and promoting a pick-up in house building," it concluded in May, "but its effect looks increasingly distortionary, suggesting that it may be time to phase it out."
What is Help to Buy?
Help to Buy is the flagship property scheme introduced in 2013 by the Coalition government. It has two phases, both of which are aimed at helping buyers with only a 5% deposit onto the housing ladder. The first, a government loan scheme for buyers of newly built properties worth up to £600,000, was introduced in April 2013.
The second phase, which covers new and second-hand homes, is also targeted at those with a 5% deposit, but works through a government guarantee which is built into the mortgage and covers a portion of any losses in the event of foreclosure.
What was the aim of Help to Buy?
The financial crash of 2008 and booming housing market has meant a huge chasm has grown between property prices and wages, and Help to Buy was created to help people on lower incomes afford to buy a home.
The average UK home now costs £224,000, according to figures from the Office for National Statistics (ONS). Therefore a buyer would need a 5% deposit of £11,200 to secure a mortgage.
How does Help to Buy work?
Through the scheme a first-time buyer can borrow up to 20% of the value of a new build home from the government. They would need to put down a 5% deposit and then get a mortgage to cover the remaining 75% of the cost of the property.
The government loan is interest free for the first five years. After that the borrower is charged a fee of 1.75% of the loan's value. That fee then increases every year at 1% above inflation. The loan must be repaid either when the property is sold or when the mortgage period ends.
This branch of the scheme was extended to 2021. There's also a second phase that provides limited guarantees for mortgage lenders, but that is being wound down.
How much can you borrow?
In theory, up to £570,000, but the Daily Telegraph notes that "lenders will apply a strict cap on income multiples (a likely maximum of five times earnings, single or joint) as well as tough limits relating to the amount of income borrowers have spare at the end of the month". That's likely to mean that mortgage payments may not exceed 55% of borrowers' post-tax income.
"Those who qualify for the loans will, in the most part, need to have good jobs and earn substantial incomes" – indeed initial figures show that for Help to Buy as a whole the average wage was more than £40,000, well in excess of the national average. "And the mortgages offered them may be far smaller than they expected or hoped," the Telegraph concludes.
How does the London Help to Buy Scheme work?
People wanting to buy a home in London are able to borrow 40% of the cost - double the UK limit - from the government as long as they can put up a 5% deposit. As before, the loan will be interest free for the first five years.
This means they only require a mortgage for 55% of the value of the property, which would be £472,000 based on the average London property price.
Who is excluded from Help to Buy?
Help to Buy loans are not means tested, but they are not available to people wanting to buy second homes or buy-to-let properties. Prospective borrowers are required to sign documents confirming they are first home buyers or, if they already own a home, that they are in the process of selling it.
What other government schemes are available to help me buy a house?
Alongside Help to Buy there is also the Help to Buy Isa. The Isa is also only available to first-time buyers, who will receive a tax-free bonus from the government to help get on the housing ladder.
You can save up to £200 a month into a Help to Buy Isa then, when you are ready to buy a home, the government will top up your Isa by 25% to a maximum bonus of £3,000. With interest rates of up to 4% available this is a great way to save up for a deposit.
What happens if you can't pay your mortgage?
If you take out an equity loan and find you can't pay your mortgage, you'll probably have to sell the property or the bank will repossess it and sell it for you. Citywire warns prospective borrowers that the 20% equity loan will still need to be paid back to the government.
What are the pros and cons?
Homeowners who got on the property ladder through the Help to Buy scheme face a squeeze on their finances as the first fees due to the government begin to mature.
As the scheme marks its fifth birthday, housebuyers who took out the first loans back in early 2013 are beginning to pay back the fees.
While the threat of an imminent rate rise from the Bank of England has receded, most experts expect a rate hike sometime later this year, and with many also paying off mortgages with commercial lenders, families who hold Help to Buy loans face a "ticking time bomb", warns the Resolution Foundation.
Recent research from estate agency Savills, found just a 1% rise in interest rates would add more than £900 a year to the cost of servicing the average UK mortgage.
Since Help to Buy was introduced in 2013, the size of loans taken out by borrowers has steadily increased, "leaving later borrowers with significantly higher bills", says the Financial Times.
Speaking to the paper, Resolution Foundation policy analyst Lindsay Judge said this could create a "double whammy hit" for borrowers.
"There is a group of people who are exposed, and there will potentially be a significant impact on their living standards," she adds.
So is Help to Buy still worth it?
According to data from the Ministry of Housing, Communities & Local Government (MHCLG), over 300,000 first time buyers have used Help to Buy to get on to the property ladder over the past five years – "but in a low-rate market, is it still an attractive deal?" asks Which?
The major benefit of the scheme is that buyers can access better mortgage rates than they would when applying for a 95% mortgage.
"These deals might be attractive, but it's important to remember that the government will hold a 20% stake in your property until you pay off your equity loan", says Which?.
This means the government will reap the rewards if your property increases in value, and as equity loan interest rates are linked to RPI, you are also in effect on a variable rate, and so at the mercy of interest rate rises.
Second, Help to Buy is only available on new build properties which can be more expensive than buying an older home. Data from the Land Registry shows the average first-time buyer in England spent £204,494 in 2017, compared to £250,000 for those using Help to Buy – suggesting buyers tend to fork out more under the scheme.
Third, remortgaging a home bought using Help to Buy can be difficult, as some commercial lenders take the government's equity loan into account when valuing the property.

Continue reading for free
We hope you're enjoying The Week's refreshingly open-minded journalism.
Subscribed to The Week? Register your account with the same email as your subscription.