Instant Opinion: US was 'lucky to get Trump'
Your guide to the best columns and commentary on Wednesday 11 November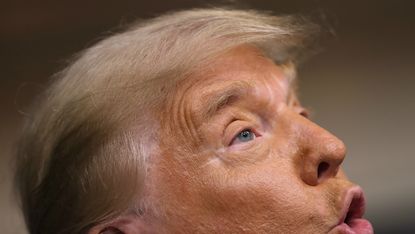 (Image credit: Getty Images)
The Week's daily round-up highlights the five best opinion pieces from across the British and international media, with excerpts from each.
1. George Monbiot in The Guardian
on smashing the neoliberal consensus
Subscribe to The Week
Escape your echo chamber. Get the facts behind the news, plus analysis from multiple perspectives.
SUBSCRIBE & SAVE
Sign up for The Week's Free Newsletters
From our morning news briefing to a weekly Good News Newsletter, get the best of The Week delivered directly to your inbox.
From our morning news briefing to a weekly Good News Newsletter, get the best of The Week delivered directly to your inbox.
The US was lucky to get Trump – Biden may pave the way for a more competent autocrat
"Joe Biden, in his acceptance speech, called for unity and healing. He would work "to win the confidence of the whole people". I just hope he doesn't mean it. If he does, it means that nothing has been learned since Barack Obama made roughly the same speech in 2008. The United States of America is fundamentally divided. It is divided between exploiter and exploited, oppressor and oppressed. There is no unity to be found with kleptocrats and oligarchs. Any attempt to pretend there is will lead to political failure. It will lead not to healing but to a deflected polarisation. If Americans are not polarised against plutocrats, they will be polarised against each other."
2. Mark Almond in The Telegraph
on the cruel humbling of Armenia
Russia and Turkey's hard power in the Caucasus is a wake-up call for the West
"The Kremlin ruthlessly left Russia's nominal ally Armenia to its fate as Azerbaijan's expensively re-equipped military pounded the Armenians with high-end Israeli and Canadian military technology. But above all it was Turkey's Bayraktar drones and Azeri forces trained, even managed by Turkish, and therefore NATO, standard military advisers what won it for the Azeris. Despite diaspora Armenian protests in Paris and Los Angeles, the leaders of Western democracies hardly even shed crocodile tears for an Armenia that only two years ago was praised as a beacon of democracy. The Caucasus may be where Russia and Turkey's spheres of influence meet but until recently America and its allies had been very active there promoting sympathetic political forces and not just to secure the energy corridor from the oil and gas states further east. Now the Putin-Erdogan double act has shown once again that when it comes to power politics rather than gesture politics they are the masters of the game."
3. Jeremy Stern in the New York Times
on fighting for "freedom"
A veteran's search for meaning
"As with similar past flare-ups, this one was quickly extinguished with the mass incantation that America's troops "defend our freedom." It's nice to know people think that, but in the five years I spent in the U.S. military, I never met anyone who seriously thought that's what they were doing. Soldiers who talk that way are usually in basic training, or making up for a lack of combat experience, like the civilian who overcompensates for never serving by lighting Colin Kaepernick jerseys on fire. Truth to tell, very little of a soldier's time is spent guarding the "American way of life," as the Soldier's Creed has it, and motivations tend to be fairly straightforward. Shooting an anti-tank missile at a Toyota Hilux, lighting up a fuel tank with a 50-caliber machine gun, getting blisters and dysentery and going to sleep cold and hungry in a dirt hole — these are all part of a rich personal and fraternal experience that doesn't necessarily require any higher source of inspiration."
4. VS Pandey in the Hindustan Times
on sluggish modern India
People need to raise the bar for politicians
"India is endowed with the most fertile land available anywhere in the world. We also have the largest arable irrigated land in comparison to any other country. Our water and other natural resources are comparable to the most advanced nations in the world. The quality of our human resource is second to none. We are a democratic country and freely exercise the power and authority to decide our own future. Despite all these positive factors, why do we not perform as well, if not better, than some of the other less endowed countries who became masters of their own destiny almost at the same time when we gained our independence?"
5. Editorial board in The Times
on historical re-revisionism
The Times view on Nero, victim of classical cancel culture: An Apology
"His reputation for narcissistic cruelty is nearly as old as western civilisation itself. No longer. Today we clear the name of Nero, for two millennia taken in vain as a shorthand for the worst of imperial depravity. Far from fiddling while Rome burnt in the hot summer of AD64, new research suggests that the emperor himself may well have been the victim of a fiddle. The Great Fire of Rome, it seems, was not so great after all."

Continue reading for free
We hope you're enjoying The Week's refreshingly open-minded journalism.
Subscribed to The Week? Register your account with the same email as your subscription.