'Scandal-hit Boris Johnson remains the Conservatives' least bad option'
Your digest of analysis from the British and international press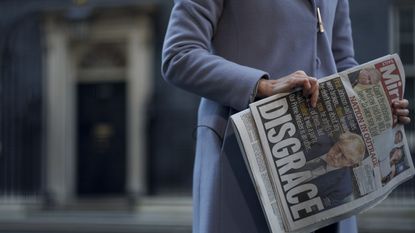 Sign up to our 10 Things You Need to Know Today newsletter
A free daily digest of the biggest news stories of the day - and the best features from our website
Thank you for signing up to TheWeek. You will receive a verification email shortly.
There was a problem. Please refresh the page and try again.
1. The regicidal Tories won't oust Boris until a successor steps up
Fraser Nelson in The Telegraph
on a scandal too soon
A "more impulsive party" might have thrown Boris Johnson out by now "as an act of rage", writes Fraser Nelson in The Telegraph. But the Conservatives are "regicide experts" who "know that success means lining up a successor" and "making sure the transition would work". Even this week's scandal over Downing Street parties has not "resolved the doubts" about his rumoured successors, Rishi Sunak and Liz Truss. The chancellor is still seen as being "too dainty to be a real leader", while Truss is dismissed as an "Instagram poseur who has never had to deliver the free-market vision that she dangles". Michael Gove and Jeremy Hunt are also waiting in the wings but "in truth, none of these candidates could plausibly promise to replicate the Johnson project", argues Nelson, the editor of The Spectator. "How well would Sunak go down in Dudley, Hull or Stockton?" he asks. Could Truss "promise to keep spending up while putting taxes down?" No matter how angry the Tory party is with Johnson, it is "not ready – or even close to being ready" for a leadership contest that "may well result in mutually-assured destruction". Forecasting that the PM "may yet recover", he adds that while he "will not be forgiven by his party", he "may yet persuade them that he is still, for now at least, the least bad option".
Subscribe to The Week
Escape your echo chamber. Get the facts behind the news, plus analysis from multiple perspectives.
SUBSCRIBE & SAVE
Sign up for The Week's Free Newsletters
From our morning news briefing to a weekly Good News Newsletter, get the best of The Week delivered directly to your inbox.
From our morning news briefing to a weekly Good News Newsletter, get the best of The Week delivered directly to your inbox.
2. America is falling apart at the seams
David Brooks in The New York Times
on puzzling poisons
When David Brooks takes a look at America, he doesn't like much of what he finds. Reckless driving is on the rise, the number of altercations on airplanes has "exploded", the murder rate is "surging in cities" and drug overdoses are increasing, he writes in The New York Times. Meanwhile, Americans are drinking more and nurses say patients are "getting more abusive". Hate crimes are up, donations to charity are down and schools are reporting more fights and gun possession. What he is witnessing is "a long-term loss of solidarity, a long-term rise in estrangement and hostility" in a society that is "dissolving from the bottom up as much as from the top down". Admitting that he is mystified over "what the hell is going on", he ventures that "some of our poisons must be sociological – the fraying of the social fabric" – while some "must be cultural". But, he adds, "there must also be some spiritual or moral problem at the core of this. Over the past several years, and over a wide range of different behaviors, Americans have been acting in fewer pro-social and relational ways and in more antisocial and self-destructive ways." In the current climate a columnist, is "supposed to have some answers", he says. "But I just don't right now."
3. Now we know No. 10 broke the rules, Britain needs an amnesty on Covid fines
Owen Jones in The Guardian
on payback time
"During Britain's Covid crisis, the state had little hesitation in cracking down on citizens deemed to violate the rules," writes Owen Jones in The Guardian. "More than 100,000 fines have been handed out to people in England alone for an assortment of offences," he adds. "Needless to say, fines were not evenly distributed, with Black people seven times more likely to be fined by the police for lockdown breaches than white people." Of all the people fined, 371 people "have been slapped with the maximum fee of £10,000 for – and wait for it – hosting gatherings of more than 30 people". While "such a sum is easily payable if you are earning something like – to pluck a random figure – the prime minister's £161,401 salary", for millions of people, "such a sum is financially ruinous". That our prime minister and dozens of his officials were "necking booze in the garden while ordinary citizens were being harassed by police officers is a self-evident affront". But "rather than wringing our hands at this injustice, we should be demanding action", he says. "There should be an immediate amnesty for those charged with breaking lockdown rules and their fines should be withdrawn. Those who have been made to pay often completely unaffordable sums should be reimbursed in full." Otherwise, he writes, it will be clear that "British law exists to crack down on the poor and marginalised, while allowing the rich and powerful to run riot".
4. Sexists in gay armour
Julie Bindel for The Critic
on human shields
Julie Bindel recalls hanging out in gay clubs as a young lesbian during the late 1970s and 80s, when she would "encounter ultra-camp men referring to themselves and each other as 'she' and 'her'". She writes that gay men "would routinely refer to actual women that hung out with them as 'fag hags', a deeply cruel and misogynistic term" and drag queens would often make "the most woman-hating jokes imaginable". She is reminded of those times by some gay men today, who she argues, "lecture women on the trans issue". Writing for The Critic, the feminist author says she takes "serious exception to men telling me women in jail are in no danger from trans men with fully intact genitalia". She argues that "I have been forced to conclude that those gay men most vocal against feminists when it comes to transgender ideology do not care a jot about women; rather, they are taking the opportunity to keep us in our place". She concludes that "the feminist fix for the problem of gay misogynists is to challenge it, however much they scream 'homophobe' and 'bigot'". Their actions are "a ploy to silence us, and as much as these men use their sexuality as a human shield, we should lay the truth bare".
5. Jamie Lynn Spears' tell-all interview shows we've learned nothing about how to treat Britney
Kuba Shand-Baptise on The i news site
on revived rudeness
"Almost exactly two months after the termination of her 14-year conservatorship, it appears some of us have already begun to backslide into familiar territory," writes Kuba Shand-Baptiste of Britney Spears. First, "there have been disparaging remarks about the pop star's Instagram page," writes Shand-Baptiste on the i news site, adding that "the ease with which many of us have switched to mocking her on social media is worrying". "The spectacle we derided in the run-up to Britney's conservatorship hearings seems to be back" and "there's no better example of that than Good Morning America's decision to interview Jamie Lynn Spears – Britney's younger sister – about her new book". "Something about the timing of the interview, and likely details about 'her side' of her sister's conservatorship once again without the input of the person who fought against it leaves a sour taste." Fans of the pop star "have still got some learning to do too" because the writer "keeps seeing TikTok videos and Instagram reels mocking her dancing and styling that verge on the side of the mean-spirited noughties comedy skits that shamed us about our historic treatment of Britney last year". "The star needs as much distance from our cruel tendencies as possible."
Continue reading for free
We hope you're enjoying The Week's refreshingly open-minded journalism.
Subscribed to The Week? Register your account with the same email as your subscription.