'We need to reassess our toxic relationship with flying'
Your digest of analysis from the British and international press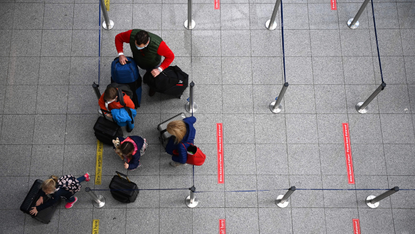 (Image credit: Ina Fassbender / AFP / Getty Images)
1. Want to avoid chaotic airport queues this summer? Here's a radical idea
Helen Coffey in The Independent
on 'staying grounded'
Helen Coffey says she is "not a raving sadist, and so I didn't experience a secret thrill at seeing queues of stressed out holidaymakers snaking out of UK airport terminals this week". Writing in The Independent, she admits "a whisper of relief" washed over her when one recruitment expert warned these "chaotic scenes at Britain's aviation hubs" might last a full year due to airports' "chronic" staffing shortages. Coffey won't be getting on a plane this year. She says she is "quite possibly the only travel editor in the country who has pledged to go flight-free since 2020". Her reasons are "firmly environmental" and she is "convinced we need to reassess our toxic relationship with flying". "Like a curmudgeonly old woman" she sneers at airport queues while train and boat journeys have left her with "unbridled joy". She says: "ditch the flights entirely, and embrace a different pace of travel".
Subscribe to The Week
Escape your echo chamber. Get the facts behind the news, plus analysis from multiple perspectives.
SUBSCRIBE & SAVE
Sign up for The Week's Free Newsletters
From our morning news briefing to a weekly Good News Newsletter, get the best of The Week delivered directly to your inbox.
From our morning news briefing to a weekly Good News Newsletter, get the best of The Week delivered directly to your inbox.
2. Should Russian composers be banned in the wake of the war?
Gillian Tett in the Financial Times
on creativity and politics
"Russian compositions and performers are an integral part of the classical music world," says Gillian Tett at the Financial Times. But there have been "calls for a musical boycott" since Russia's invasion of Ukraine. Some artists who have refused to denounce the war or distance themselves from Vladimir Putin have been "dropped from playbills" and some orchestras have cancelled Russian musical performances altogether. "Does it make sense to ban all things Russian? Or is this a step too far?" asks Tett, who feels "torn". Yes, she wants to show support for Ukraine but banning music written long before Putin was born stikes her as "odd". She says that "music is a complex tool in politics", in part because "melodies that evoke nationalist pride to one set of ears can evoke entirely different emotions to another". Creativity isn't "a zero-sum game" and there remains "much to celebrate about Russia's creative legacy". Tett says "we should not let Putin sully that".
3. Can New York City save its subways?
Hannah E. Meyers in The Wall Street Journal
on underground safety
New York's subway is the "lifeblood" of the city's economy and vitality, says Hannah E. Meyers in The Wall Street Journal. But it's in "a precarious condition". Journeys are down on pre-pandemic levels, and violent crimes have risen despite "the dramatic drop-off in riders". Frank R. James' rush-hour attack at a Brooklyn station this week in which 10 passengers were wounded "deals an enormous blow to the city's efforts to win back riders", says Meyers, a director of policing and public safety at the Manhattan Institute. "The public's desire for policing swings like a pendulum based on the perceived threat," and in recent months, "comfort" with policing underground appears to have increased "as New Yorkers are fed up with disorder". Restoring trust in the city's subway system relies on the public's "appetite for law enforcement to use its tools, and on their will to help them succeed".
4. In the red states, it's open season on women's rights – and these companies are taking action
Jill Filipovic at CNN Opinion
on operational decisions
As the US Supreme Court prepares to make a decision on whether to "overturn or gut Roe v. Wade", conservative states "are ramping up abortion restrictions in anticipation", says Jill Filipovic at CNN Opinion. "In red states, it's open season on women's rights." And this writer says private companies should make a choice: "do they want to invest and operate in states where half of the workforce cannot make their own choices about whether and when to have children" or "do they want to take steps to protect their employees – and take their business to states where women are freer?" Some companies have taken steps to "ease the burden on their employees living in states" that have "misogynist, reactionary laws". Anti-abortion lawmakers "prefer to keep women's lives small, constrained and controlled" rather than "healthy and free". Companies should support their female workers, "or see their talent pool shrink along with the basic rights of women."
5. I feel sorry for Rishi Sunak
Douglas Murray at The Spectator
on self-made success
"I feel sorry for Rishi Sunak over the way he has been treated in recent days," writes Douglas Murray at The Spectator. Becoming an MP means giving up "all hopes of a private life" and "all hopes of making any particularly great living". But Sunak made lots of money before becoming a politician, "and good for him, I say". This writer admires anyone who makes their own money, and is happy that Sunak and his wife are comfortably off. "It is certainly better than if he was a man of notoriously chaotic personal finances, constantly in debt and a subject of ceaseless interest to the bailiffs." Rumours are swirling that Sunak might resign, but Murray hopes he won't. "We need successful people in frontline politics" and "I'd take Sunak any day over a person filled with resentment and spite who imagines Westminster to be a forum to carry out revenge attacks on anyone who has been successful in life."

Continue reading for free
We hope you're enjoying The Week's refreshingly open-minded journalism.
Subscribed to The Week? Register your account with the same email as your subscription.