'Keir Starmer is a breath of fresh air'
Your digest of analysis from the British and international press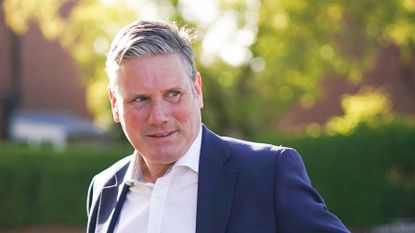 (Image credit: Ian Forsyth/Pool/Getty Images)
1. Keir Starmer shows what integrity can do to change the corrupt life of politics
Paul Routledge in The Mirror
on putting politics second
"Talk about a breath of fresh air," says Paul Routledge in The Mirror. Keir Starmer has shown "what one man's integrity can do to change the corrupt life of politics". In a brief address of "searing honesty" about allegations of breaking Covid-19 rules, the Labour leader "laid bare the difference between his leadership and that of lying, power-obsessed Boris Johnson". Starmer "is willing to stake everything on public faith in his honour". During his televised statement, he "grew in stature by the minute as he put his future as a possible Prime Minister of our country on the line". There were "no ifs, no buts, no excuses, no Downing Street spin, no Tory double-speak". Routledge hopes Starmer won't have to stand down. If he does "at least I put my faith in a man for whom integrity came first, and political ambition second".
Subscribe to The Week
Escape your echo chamber. Get the facts behind the news, plus analysis from multiple perspectives.
SUBSCRIBE & SAVE
Sign up for The Week's Free Newsletters
From our morning news briefing to a weekly Good News Newsletter, get the best of The Week delivered directly to your inbox.
From our morning news briefing to a weekly Good News Newsletter, get the best of The Week delivered directly to your inbox.
2. For Russia, it's all about the Benjamins
Markos Kounalakis in The Wall Street Journal
on big bills
"There's one thing the U.S. Treasury can do to put real political pressure on Vladimir Putin," writes Markos Kounalakis in The Wall Street Journal: "stop circulating and honoring $100 bills in Russia". Wealthy Russians "protect their life savings" by converting rubles to dollars "and stashing them at home", and "for years, Russians' bill of preference has been the $100". "Messing" with the $100 note "causes panic in Russia", he says. Economic sanctions "have failed to dissuade" Putin's military aims, "in part because they do little to affect the well-being of most Russians". Phasing out US bills "could cause real domestic backlash against war in Ukraine". No matter how Putin tried to "obscure or spin this", Russians would know that their leader's actions "led to their savings being wiped out".
3. Jubilee should herald Charles gradually taking more of the strain
Robert Jobson in the Evening Standard
on 'passing the baton'
"Make no mistake," says Robert Jobson in the Evening Standard: today's State Opening of Parliament "is hugely significant in the story of the House of Windsor". Prince Charles has, for the first time, read the Queen's Speech in place of the monarch – a "simple act" that has "marked a sea-change in the transition of the Crown". During the address, "one couldn't help thinking" that the Queen "was passing on the baton". Jobson says the Royal Family "should use this watershed moment to bring matters to a head". The monarch "should not be expected to continue to carry out the mentally taxing and physical demands required of a constitutional head of state". The Prince of Wales "is a man of vision", "dedicated and dutiful" – and "the best prepared monarch in waiting ever". The Queen "deserves the chance to step aside while retaining her crown", and the jubilee celebrations "might be the right time to do that".
4. New Labour risks becoming like Friends – endlessly repeated without new ideas
Stella Creasy in The Independent
on a different world
As a young activist, Stella Creasy describes the 1996 Labour conference as similar to being "at a religious revival meeting – by the end we were all screaming and cheering with wild anticipation of a Labour victory and driving Thatcher's Tories from office". Creasy still recounts "those heady days" to young campaigners, but warns "we fetishise or mythologise New Labour at our peril". Today's Labour Party "must be of this time, this era, in both word and deed" rather than "replicating New Labour". The world today "is different" to that of New Labour's reign, and the party needs "a radical rethink not just of what we offer people, but also how we do it". New Labour "risks becoming the political equivalent of Friends: endlessly replayed as new generations pick apart what was right and wrong while failing to produce new ideas".
5. Vladimir Putin is trapped in his own rhetoric – and has no way out
Owen Matthews in The Telegraph
on dangerous delusion
"In the absence of any coherent political ideology, World War Two has become Russia's secular religion," says Owen Matthews in The Telegraph. "Vladimir Putin is the cult's high priest, and May 9th is its high holiday." Yesterday's Victory Day parade "signalled a radical new turn for Russia" – into "radical isolation and delusion". For the first time, no foreign dignitaries were invited, and the "clear message" from the Russian leader was that the country is "effectively still fighting the Great Patriotic War". Putin's belief that Ukraine is led by fascists "is not just delusional, it's terrifyingly dangerous" as in that scenario "there can be no compromise, only victory". Matthews says that "in the face of his military's humiliation and failure", Putin has raised the stakes. "The truth is that Putin is trapped." Soon, "soaring talk of victory, sacrifice and struggle will collide with the reality of modest gains on the ground at vast cost".

Continue reading for free
We hope you're enjoying The Week's refreshingly open-minded journalism.
Subscribed to The Week? Register your account with the same email as your subscription.